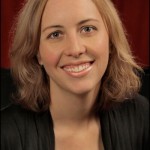 April Tucker: April is a Los Angeles-based re-recording mixer and sound editor who works in television, film and new media. She holds both a Master's Degree and a Bachelor's Degree in Music/Sound Recording. April enjoys doing educational outreach such as writing for industry blogs, giving lectures and presentations. April can be contacted through her website, www.proaudiogirl.com.
Read April's Blog Pro Audio Girl
---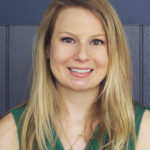 Kate Finan: After receiving a Bachelor of Science in Sound Recording Technology, Kate began her career as a post-production sound effects editor. Over the next several years, she worked her way up to being a supervising sound editor at Warner Bros. and then left to start her own studio, Boom Box Post, with business partner and fellow supervising sound editor, Jeff Shiffman. Together, they lead post-production sound crews for animated television series.  In addition, Kate also acts as the re-recording mixer on several series. Recently, Kate and Jeff have launched an additional venture, Boom Box Library, which creates custom sound effect libraries as well as software to aid in the sound design process.  Over the course of her career, Kate has been nominated for MPSE Golden Reel Awards, Music + Sound Awards, and a Daytime Emmy. You can read more about her company and enjoy additional blog posts at www.boomboxpost.com.
---
---
Interviews and Articles:
La La Land's' (Female) Sound Team Wants More Women Behind the Camera: Young People "Don't Even Know These Roles Exist
La La Land' sound mixer Ai-ling Lee makes Oscar history with an 'invisible' art . . . and car horns
Breaking the Sound Barrier: 4 Top female audio professionals share the secrets of success
The industry is smaller than you think' Grey's Anatomy re-recording mixer shares thoughts on sound
Emmys: 'Game of Thrones' Re-recording Mixers Onnalee Blank & Mathew Waters on the Epic "Battle of the Bastards
Vickie Sampson reflects on a 40-year sound editing career
In the Spotlight… Sophia Hardman, Foley Mixer at Twickenham Studios
In Conversation with Emma Butt
Meet Jane Tattersal: Sound Supervisor for Penny Dreadful
Meet Paula Fairfield Sound Designer on Game of Thrones
Reflections on Production Sound, in the Company of Jan McLaughlin
Interview with Sound Editor, Lucy Johnstone
Making Waves: The Art of Cinematic Sound
Vickie Sampson reflects on a 40-year sound editing career
---
Podcast Episodes
Anna Behlmer on Mixing Sound Effects in Movies
How to Become a Top Notch Sound Designer with the Team Behind 'First Man'
The Tonebenders podcast is a resource for anyone involved in post sound, with insights on everything from field recording to editing, designing and mixing in the studio.
The Right Scuff podcast offers a different look into the world of Production & Post Production.
---
Sites:
Designing Sound The Art and technique of sound design
Soundworks Collection is dedicated to profiling the greatest and upcoming sound minds from around the world and highlight their contributions. The SoundWorks Collection was created in 2009 by filmmaker Michael Coleman as an online destination that takes you behind the scenes and straight to the dub stage for a look into audio post-production for feature films, video game sound design, and original soundtrack composition.