As this is my first SoundGirls blog post, I thought it would be a good idea to make it a bit of an introductory one. So hi! My name is Iida Aino Viljanen, and I'm originally from Finland hence the difficult name. I'm a sound designer (and a composer but work mostly in sound design), and I work in both audio post-production for film/video and in theatre. I don't know if many sound designers like to combine these two areas of work (at least I've not met anyone else but hi to all of you who also do this!), but I think it's an excellent way to keep things exciting. Don't get me wrong, I love working with both, but it's refreshing to being able to switch between the two as, even though the process is very similar, the work is also very, very different. Recently, however, I've been working more with post-production sound, so I'm hoping there will be some theatre projects ahead in the near future! I've also done a little bit production sound recording / boom operating and that's something I'm planning to do more in the future as I found it very interesting.
I wanted to become SoundGirls' blogger as I think this is an amazing channel to find about other audio women's work and support each other. I mostly work with men in my day to day life (however I've recently been working with more and more with women directors yay! But most audio people I work with are still men, so it's awesome and inspiring to read what other women are up to and what their experiences in this industry are. Weirdly enough I've been also really missing writing after graduating from university so writing this blog fills that gap nicely!
I used to work full-time as an Assistant Dubbing Mixer in broadcast in the UK but after recently relocating to Stockholm, Sweden, I've been working as a freelancer. I think both work situations have their pros and cons, but at the moment I am enjoying the possibility of working on very different projects which freelancing allows me to do. Although, it's at times also very stressful as you need to find your own work and can get a bit lonely. I work mostly on my own devices, but luckily I also freelance at a local audio post-production studio a couple of days a week where I can meet other sound people and people in general. So I don't become a complete hermit!
I'm still quite early in my career, learning something new almost every day, and I'd say working as an Assistant Dubbing Mixer in post-production house after graduating from university was a beneficial and educational experience that taught me a lot about the work itself but also about the industry we work in. So, to any students or new graduates, I'd recommend applying for runner or assistant level jobs and internships in post-production houses or even just asking if you could shadow someone. It makes a huge difference even in your confidence to see how more experienced persons do things. It's great to learn from more experienced sound professionals and adapt their workflows to your own. Freelancing can be very lonely, leaving plenty of room for self-doubt, and it helps when you know what you're doing. Even just seeing a senior level Dubbing Mixer's Pro Tools template can be very helpful for your own work. My university course in Glasgow School of Art was excellent (would highly recommend it!) and I learned a lot there but working as an assistant was an even bigger learning curve for me as the tv industry really can be hectic, and you must learn to work fast as well as know your Pro Tools.
I know I would find freelancing more complicated and I would doubt myself a great deal in my work had I not worked in post-production house after graduating. Though, I do realise getting these jobs or even an internship can be tough when there's plenty of other students applying for the same positions. However, my hot tip is to email all the places you know and to research some more. I've noticed that runner and assistant level positions tend not to be advertised very often as annoying as that is, so sometimes they might have been thinking about hiring some help and then boom your email hits their inbox. Just remember to include a showreel or an example of your work to your email – even some university work is good or your final project if you don't have a showreel yet. It's much easier to get noticed when they already hear your work and skill level.
Recently I've been recording quite a lot of foley for short films, and I've enjoyed that! Foley is something I've only done a little bit previously, but after these films, I'd love to do it more often as it's certainly fun. I've already noticed that I'm looking at items in grocery stores with Foley in my mind wondering what kind of sounds different things could make. One thing which is not fun though is footsteps and specifically cutting footsteps. After vocalising my frustration about this one of my friends told me about this fantastic invention called Edward Foley Instrument which is a Kontakt player compatible VST that allows you to create footsteps using a midi keyboard. To me, that sounds like a dream come true and according to my friend, it's genuinely life changing so this is going to be my next investment! At least a video of it looks great, check it out if you too want to cry while editing footsteps.
Oh and as I've found out during my foley experimenting if you ever need to record poop smearing sounds porridge works wonders!
That's about it for this time! As I previously mentioned I have recently relocated to Stockholm so if you're a SoundGirl living in Stockholm, please get in touch via Twitter or you can find my email address from my website! I would love to meet other audio women here.
I thought it would be a fun idea to finish my posts with little recommendation lists of podcasts, videos, and articles about women in audio that I've found interesting. So here goes my first list of recommended content:
Tonebenders – Episode 099. Sound Design for VFX Round Table (Podcast)
(Can also be found on SoundCloud and Podcasts-app.)
Nia Hansen (Avengers films) and Paula Fairfield (Game of Thrones) discuss designing creature and superhero sounds, and honestly, this was one of the most interesting and inspiring discussions I've heard for a while.
Sisters of Sound – Episode 15. Sound Editor Claire Dobson (Podcast)
(Can also be found on Podcasts-app.)
To be honest this whole series is worth listening to as it's all about women in audio – not just in audio post-production but also in music, sound art, engineering, etc. but I thought this episode was especially interesting as they interview sound editor Claire Dobson who's worked for example on The Handmaid's Tale, Vikings and Fargo.
LNA Does Audio Stuff (Youtube channel)
My dear friend LNA had enough of the male dominance of Youtube audio tutorials so she made her own channel. If you are wondering about which speakers to buy for your home studio, how to set up a home studio or how to get started with Ableton then check this channel out! LNA is also open for suggestions so if you have an audio question you'd like an answer for or if you want to know how something is done message her or comment on her videos and she'll make a tutorial for it!
Find more Podcasts with Women in Audio here
If you want to follow me elsewhere here are the links to do so: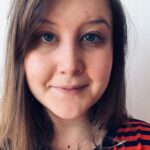 Iida Aino is a sound designer and composer based in Stockholm, Sweden. She's originally from Finland but has spent most of her adult life living, studying and working in the UK and has only recently relocated to Stockholm. She graduated with a Master degree in Sound for the Moving Image from Glasgow School of Art in 2017. Even though she's still early on in her career her work already includes short films, tv programmes, adverts, installations, and theatre shows. Currently, she works as a freelancer and won the Best Sound Design Award at the feminist Underwire Film Festival in London in 2018. Iida Aino enjoys all things audio (especially spatial audio is an area she'd like to experiment more with!) and loves the way women in this industry support each other. iidaainosound.wordpress.com