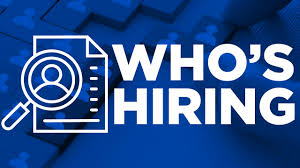 Before applying for jobs or internships – take some time to clean up your resumes and social media
Resources can help freelancers, contractors, entrepreneurs, and side hustlers understand and learn about the self-employment tax process. The guide delves into how the various tax forms that they will need to fill out, when the various tax deadlines are, as well as a variety of other tips and tricks.
Job Postings
 Oct 14, 2021 Update
Updated Listings:
Technical Director – America Public Media Group – St Paul, MN
Runners – Paramount Recording Studio – Hollywood, CA (description below)
We require all applicants to be:
– over 21
– have a reliable car
– have a degree or some schooling in audio engineering with the intention of becoming an engineer
– full time availability
Music/Song Producers – ItyDity – Remote
ItyDity is looking to add several music producers to our vetted producer list. Specifically, we need expertise in Alt Pop, Soul, and R&B.  Special consideration will be given to women and non-gender specific producers. Must be proficient with multiple instruments and able to show high music production competency.  Producers can be located globally, but must be able to work remotely.  ItyDity is a songwriter-producer matching platform.  
To get started, producer should complete this form:  
SUMMARY DESCRIPTION OF POSITION
Independently design and install all audio and video requirements for all Performing Arts Department programming that requires high-level, technical knowledge of the live mixing of theatrical musical performances inclusive of orchestras, wireless microphones, audio monitors, personal monitor mixers and audience amplification.
RESPONSIBILITIES (• denotes essential/primary responsibilities, o denotes secondary responsibilities)
Design and install all audio and video needs for each production in the Fine Arts Center Theatre Company spaces.
Design all sound effects and soundscapes.
Design and implement the audio monitor needs for both the entire playing space as well as the orchestra.
Design and implement the microphone requirements and create a plot for the performers.
Determine the appropriate microphone for each performer including the Equalizing and optimization of their vocals.
Educate and train all performers in correct body mic placement and handling. Independently mix the sound live and serve as sound board operator for all performances/events in the Mainstage Theatre.
Autonomously determine and purchase all audio equipment and perishable supplies within approved budgets.
Manage A2s (onstage audio assistants) and all over-hire audio technicians for each production.
Design all video effects and requirements
Determine, design and implement all video equipment necessary for Performing Arts programming.
Manage and maintain inventory and organization of all audio/visual gear in a professional working order.
Determine all audio needs for rentals and special events programming in the Fine Arts Center Theatre Company spaces.
Attend pre-production meetings.
Participate in all training made available.
Participate when appropriate, in coordinating support arrangements for special functions such as openings, fund-raising activities with other Fine Arts Center departments.
Assist with education tours when necessary.
Participate in the Fine Arts Center Theatre School programming as a teacher and mentor as required.
o Actively support the college's commitment to be an antiracist institution by understanding, engaging with, and promoting diversity, inclusion, and equity in the college community.
o Promote a culture of safety and environmental protection by working in a safe manner; immediately reporting unsafe situations and accidents; following college procedures; and participating in appropriate safety training.
o Demonstrate environmental sustainability by using college resources wisely and supporting the college's sustainability initiatives and innovation.
o Perform other duties as assigned.
REQUIRED QUALIFICATIONS
Bachelor's degree in audio or equivalent experience plus a minimum of three years of the live mixing of theatrical musical performances.; proficient in complex digital audio and video systems; fluent with Mac, PC and complex AV programs and technologies including but not limited to Qlab and MIDI systems; excellent trouble shooting and repair skills; advanced live mixing abilities including wireless microphones, monitor systems, band/orchestras, and effects; familiarity with paging/monitor systems, networking, Clear Com, and video systems/ projectors; strong written and verbal communications skills and excellent collaboration skills; ability to communicate effectively and develop positive relationships with people from different cultural backgrounds; general office skills, including general knowledge of Microsoft office.
PREFERRED QUALIFICATIONS
A Master's Degree in Audio or related field; five plus years of professional live audio experience, experience as an A2 onstage audio assistant.
At the Fine Arts Center Theater Company we are committed to amplifying voices from every culture. We welcome all people to apply regardless of race, ethnicity, age, gender, religion, sexual orientation, gender identity, gender expression, disability, economic status or any other diverse background.
We currently have an approved by Actor's Equity covid plan for our upcoming season. This includes requiring our full company to be vaccinated and provide proof of vaccination. We will be asking our audiences to also provide proof of vaccination in addition to wearing masks during performances. All gear, props, costumes and spaces are disinfected regularly. We will be making updates to our precautions as necessary. 
September 30, 2021
UNITED STATES
Sound Designer – 8 Circuit Studios – Remote
Senior Principal Technical Sound Designer – Tencent – Seattle, WA or Los Angeles, CA
Production Coordinator – Bungie – Bellevue, WA
Senior Audio Engineer – Stitcher, Sirius XM – Oakland, CA
ML Audio Research Engineer – Facebook – Sunnyvale, CA
Associate Audio Designer – Hexany – Los Angeles, CA
Studio Audio Director – Bad Robot Games – Santa Monica, CA
Audio Engineer – Community Bible Church – San Antonio, TX
Music Producer/Audio Engineer – Cold Narly Generation LLC – Columbus, OH
AV Production Specialist – Office of the Assistant Secretary for Public Affairs – Washington, D.C.
Production Builder – Make Noise Co – Asheville, NC   PDF Decription
Audio Engineer – Signature Theater – New York, NY
AV Tech – Museum of Modern Art – New York, NY
CANADA
Senior Audio – Cloud Chamber – Montreal, QC
Senior Technical Sound Designer – Relic Entertainment – Vancouver, BC
UK
Music Lead – Space Ape Games – London, UK
Sept 15
Sennheiser is hiring
USA you can find them all here: https://sennheiser.referrals.selectminds.com/latest-jobs
Key Account Manager, Business Communications – https://sennheiser.referrals.selectminds.com/jobs/key-account-manager-business-communications-641
Sales Manager, Business Communications (Mid-West) – https://sennheiser.referrals.selectminds.com/jobs/sales-manager-business-communications-mid-west-642
Sales Manager, Pro Audio (NY Metro) – https://sennheiser.referrals.selectminds.com/jobs/sales-manager-pro-audio-ny-metro-657
Sales Manager, Pro Audio (Pacific Northwest) – https://sennheiser.referrals.selectminds.com/jobs/sales-manager-pro-audio-pacific-northwest-639
Hawaii's NPR affiliate station.
Sept. 8
WAREHOUSE / LIVE SOUND TECHNICIAN
Zeo Brothers Productions has served the live event industry for over 40 years with its top-notch production services.  We're looking for an experienced audio technician to work on event/job sites and in our warehouse.  Candidates must demonstrate both technical abilities, crew leadership skills, and have the ability to interface with the client in a professional manner.

This position starts as freelance (1099), but could lead to full-time work for the right candidate.
A minimum of one year of verifiable experience in live audio / sound reinforcement is required.  This is NOT an entry level position.
Ability to completely set up a professional-level sound system, which also includes:
Operation of large- and small-format digital and analog mixing consoles

Understanding of setup, flying & rigging of large-format speaker systems

Understanding of digital speaker processors

Ability to safely connect to power, including building power & generators, especially if an electrician is not present.

Ability to troubleshoot issues including: Signal flow issues including failures or noise (buzz or static).

Must also have an understanding of backline equipment & instruments.

Programming experience on DANTE and other software preferred

Understanding microphone placement & technique for speaking or music.

Powered Mixers

Speakers

Wireless Microphones

Wireless/RF Issues (pops or buzz from RF)
EVERYDAY SUCCESS (ALL POSITIONS):
Should have the ability to supervise other personnel.

Should have good written and verbal communication skills.

Should have good presentation skills.

Should have good customer relations skills.

Should be willing to train other technicians.

Should have attention to detail. Make sure that there are no trip hazards, maintain a clean space, and have a critical eye to anticipate client objections.

Should have a sense of urgency. Should work diligently to get the event up and running as quickly as possible.

Should be timely. Prompt arrival to the shop and the client site is very important.

Should have a positive attitude and a desire to succeed.

Should have a commitment to excellence

Should have a basic understanding of inventory control best practices and software (R2 or Flex)
Audio Technicians will be periodically reviewed on the following criteria:
Technical Skills

Interaction with customers

Reliability/Timeliness
The physical demands described here are representative of those that must be met by an employee to successfully perform the essential functions of this job. Reasonable accommodations may be made to enable individuals with disabilities to perform the essential functions.
While performing the duties of this job, the employee is regularly required to use hands to handle objects, tools, or controls.

The employee must be able to stand; walk; climb or balance; stoop, kneel.

The employee is occasionally required to sit.

The employee must regularly lift and/or move up to 50 pounds, frequently lift and/or move up to 100 pounds, and occasionally lift and/or move more than 100 pounds with assistance.
Please submit a resume and cover letter detailing your experience in the event production industry. kristen.b@zeobrothers.com

RENTAL DEPARTMENT ASSOCIATE


Zeo Brothers Productions in the Greater Philadelphia area is seeking a dynamic, detail-oriented audio-visual technician as an associate in our Over-The-Counter Rentals Department. Rental associates comprise most of the rental department and are responsible for fulfilling customer orders under the guidelines set by the Rental Manager.

This is a part-time, entry-level position but could lead to full-time work for the right candidate.

One year of experience in audio, video, and/or lighting  or the educational equivalent required.

Job Description

Greets all customers in a friendly and professional manner.
Services customers' needs in person and via email and phone calls.
Suggests appropriate audio, video, or lighting equipment for customer's event.
Accurately fulfills customer orders.
Addresses customer concerns and questions.
Ships and returns orders.
Assists, and directly answers to, the Rental Manager.
Equipment maintenance, repairs, and cleaning.
On-site and over-the-phone equipment troubleshooting.
Assists in truck loading and unloading.
Occasional deliveries and pick ups.
Occasional retail sales.
Shop maintenance and upkeep.
Must have a valid drivers license.

EVERYDAY SUCCESS SKILLS
Friendly disposition.
Willing to learn.
Proficiency with basic audio, video, and lighting systems.
Good understanding of markets served and services provided.
Accurate use of rental order software.
Accurate handling of payment transactions.
PERSONAL QUALIFICATIONS
The physical demands described here are representative of those that must be met by an employee to successfully perform the essential functions of this job. Reasonable accommodations may be made to enable individuals with disabilities to perform the essential functions.
While performing the duties of this position, the employee is regularly required to use hands to handle objects, tools, or controls.
The employee must be able to frequently stand, walk, climb, balance, stoop, or kneel.
The employee is occasionally required to sit.
The employee must regularly lift and/or move up to 50 pounds, frequently lift and/or move up to 100 pounds, and occasionally lift and/or move more than 100 pounds with assistance.
Performing the duties of this position requires close and distance vision, with or without corrective lenses.
The employee may be asked to drive a company van or box truck.
Interested individuals should send a resume and cover letter, including salary requirements.

kristen.b@zeobrothers.com
September 1
Career opportunities Encore Global to apply and/or review all current job opportunities
Tech Positions available in
Boston, Baltimore, Philadelphia, Seattle, Los Angeles, Anaheim, San Diego, Denver, Phoenix, Salt Lake City, Miami, Ft. Lauderdale, Key West, Jacksonville, Monterey, Marco Island, Sarasota, Alpharetta, Dallas and Austin. – See below
OP213 – Technician, Htl & Br (3.1.18)
August 27
Hiring a sound technologist for Drama. Right now it is only approved for one year but we are hoping it will become a permanent staff position.
Please forward it to anyone you think might be qualified and interested.
SoundGirls San Diego — Call for Volunteers at the Che Cafe
Do you know women in audio who would benefit from experience running live sound at small shows? Would you like to help us train women in sound?
We are seeking the participation and support of women in sound to help us create a supportive learning environment for non-male concert audio engineers.
We're starting up (outdoor) shows again this September and we'd love your help. For more information, please contact Angie Rábia (they/she) at info@checafe.org
Formosa Interactive is looking for a studio host at the West LA location!
Central Coast California lots of positions open at

PCPA

, and a Sound Engineer/Designer is one of them! I'm the Sound Director/Designer (newly hired as of a few months ago) and I want to help spread the word about this position! There are lots of great opportunities in this role. Check out the link for a full job description.
https://www.facebook.com/pacificconservatorytheatre/
August 24
ASU Kerr is seeking an experienced event professional to assist with the coordination of the technical elements of stage production, which include lighting, sound, scenery and equipment rental, and acts as event supervisor of the part-time staff on assigned shows. The ideal candidate must be able to work independently and directly with renters, artists and vendors but some show duties will be in collaboration with the Technical Director, who supervises this position.
System: AVID
Location: Remote
looking for some archival/story help. PA/AP (archival producers or associate producers)/Coordinators welcome to apply.
Rate: 1800/2000 WK
Length: 3 weeks (with the option to extend)
Email resumes/links to: iamnicolerenee@gmail.com
for a one day touring musical style staged concert. Very simple set up on an Digico SD Console and D&B V-series PA, DPA Headsets etc.
The candidate must have proven expeierence of mixing musical theatre and have good understanding of both Digico SD & QLAB along with good people skills. Understanding of D&B's R1 software & Sennheisers wireless systems management is nice but not essential.
Tour Bus provided, travel expenses covered, PD's, decent rate of pay weekly payments and good craic! Must be a team player and actually available for all the entire run.
send your CV/Portfolio/cover letter etc to
Please subject the email FTNY No.1 2021 and then your name
Deadline for applications by August 27th!
August 19
Women TM/FOH for US tour.
Dates are 10/15-11/20, with the assumption of rehearsals prior to the start, and post-tour TM work after.
Resumés can be sent to sinjin@theartisanalliance.com
LD Needed for a tour send resumes and cover letters to matthew.gill@gmail.com
9/14 Travel to tour
15 Union Stage – DC
16 Elsewhere – NYC
17 Sinclair – Boston
18 Underground Arts – Philadelphia
19 Travel home
Travel for the East Coast is in a Ford Transit, no trailer. Shared crew driving for these 4 days. Crew is at least 3 and these are all short drives.
9/22 Travel to tour
23 Troubadour – LA
24 Travel – flight LA-SF
25 Great American Music Hall – SF
26 Travel home
$300 day rate, PD and solo hotel rooms.
New York -The opening is for an Audio Visual Associate and the description can be found on our website.
JOB TITLE: Audio Visual Associate
DEPARTMENT: Audio Visual
REPORTS TO: Director of AV OperationsNew-York Historical Society, a preeminent educational and research institution, is home to both New York City's oldest museum and to one of the nation's most distinguished independent research libraries. N-YHS is dedicated to presenting exhibitions and public programs, and fostering research that reveals the dynamism of history and its influence on the world of today. Founded in 1804, the museum's holdings cover four centuries of American history, and include one of the world's greatest collections of books, manuscripts, graphic materials, historical artifacts, and American art documenting the history of the United States as seen through the prism of New York.JOB SUMMARY:
The audio/visual department at the New-York Historical Society is an integral part of daily operations at N-YHS. At N-YHS, we are fortunate to count numerous priceless works of art in our collection. Operating our A/V equipment requires strict attention to detail and respect for the environment. From exhibition gear oversight/maintenance to our frequently sold-out public program lecture series to our Friday night movie series, as well as our myriad of private events, the N-YHS A/V department bears multiple responsibilities that are often simultaneous. As such, becoming a part-time member of the N-YHS team requires a quick-thinking individual who possesses a refined communication skill set to complement a foundational technical skill set. Verbal communication abilities are given high priority in this employment opportunity.This is a part-time position which will require evening and weekend work. ESSENTIAL JOB DUTIES:
Liaise with administrators, performers, maintenance technicians and museum staff in addition to the members of the general public on a regular basis
Place lavaliere microphones on speakers/performers
Run A1 operations from Midas and Yamaha consoles
Run PTZ camera and livestream hardware operations
Prepare stage for performance (engage security doors, remove stage stair blocker, execute stage plot)
Ensure NYHS A/V gear is not damaged during performance
Return all A/V gear to the respective storage locations
Execute on-stage performative elements during R.O.S. (i.e. removing introduction mic, placing Q&A mics at proper time during performance)
Liaise with performer to ensure they are fully prepared prior to performance
Provide constant real-time feedback and communication with designated personnel
Perform global museum startup and shutdown procedures when requested
Provide immediate technical assistance for all A/V gear within current exhibitions
Provide direct support to A/V personnel as situation dictates
Additional duties as requested
REQUIREMENTS:
High school diploma required (College coursework in audio/visual production preferred)
Minimum of 1 year of Audio/Visual experience (ideally within professional/corporate/educational environment)
High critical thinking capacity and fast problem solving ability
Ability to meet expected requirements within a time-based environment
Ability to operate efficiently both collaboratively and independently
Eagerness to expand audio/visual knowledge beyond specific job requirements
Additional experience (preferred):

Performative experience on Yamaha LS9, Yamaha QL1 mixing boards, Mackie Analog consoles, AMX control surfaces, StageMix iPad application, Reaper Recording software, Pro Tools Software, Panasonic PTZ camera operations, Roland VR-50 swither operations, Livestream experience.
Experience operating audio/visual gear within a museum, corporate or educational environment that has noise/action restrictions
COMPENSATION: $35 per hour
PHYSICAL DEMANDS: The physical demands described here are representative of those that must be met by an employee with or without accommodation, to successfully perform the essential functions of this job.
This position will require the employee to lift (up to 50 lbs.), bend, stoop, walk, speak and stand for up to 8 hours a day.
COVID-19 VACCINATION POLICY: To ensure the overall health and safety of the New-York Historical Society community and in accordance with New York City requirements, all newly hired employees of the New-York Historical Society are required to be fully vaccinated against COVID-19 as a condition of employment, absent qualifying exemptions for medical, religious, or other reasons in accordance with all applicable laws.
The New-York Historical Society is an Equal Opportunity Employer.
Monitor engineer needed for The Maria's' upcoming shows and tours send resumes and cover letters to Gonzo Lubel <gonzo@cosmica-artists.com>
San Francisco Job opportunity AV Tech
For LA-based SoundGirls. A/V Technician opening in Unitarian Universalist Community Church of Santa Monica.
If you're interested, you can email your resume directly to employment@uusm.org & CC: music@uusm.org
FILLED Needed immediately: LA-based FOH and Monitor mixers for touring mid-level artist. Pays 2500-2800 a week based on experience. Please send emails to ben@auntiem.com"
August 13th
UNITED STATES
Warehouse Tech – Eighth Day Sound – Los Angeles, CA Send Resumes and Cover Letters to Whitney Olpin at wolpin@clairglobal.com
Eighth Day Sound Los Angeles is looking for a warehouse tech. It is Full-Time – see description below. 
Job Description: Warehouse position
This position is primarily a shop position, however, from time to time you may be scheduled to assist in the field with troubleshooting, repairs, and as a backup to others. In addition, you may be scheduled to be an audio technician on a show.
Shop: Perform shop duties as necessary
∙ Prep equipment for projects
o Prepare consoles for projects and test for proper operation
o Prepare microphones, accessories and workbox(s) for projects
o Prepare racks(amps, electronics, console & other) for events
o Prepare speakers & rigging for projects
o Load cable trunks per truck pack & provide counts for inventory
o Scan equipment out of inventory system when it leaves building
o Communicate shortages to shop management and/or US project management
o De-prep, Maintenance, Troubleshoot and repair consoles
o De-prep and maintenance equipment returning from Projects
o Scan all equipment back into shop and count cables back into inventory
o Test cables, speakers, microphones & electronics
o Strip racks after events & tours
∙ Other shop responsibilities (as back up)
o Build, Assemble and repair cables, ac, etc.
o Paint speaker cabinets & racks
o Delivery and pickup of equipment as needed
o Arrange Logistics/ Equipment Movements
o Installation Technician for permanent systems as needed
o Assist show crew with technical support
o Arrange Logistics/ Equipment Movements
∙ Act as a team member to other staff
∙ Other items as requested by Management
Qualifications/Requirements:
Valid Drivers License in good standing with insurance company
Lifting Capacity of 50lbs
Forklift Driver (We can provide training if needed)
Monitor engineer needed for The Maria's' upcoming shows and tours send resumes and cover letters to Gonzo Lubel
<gonzo@cosmica-artists.com>
Original Content Project Manager – Scribd – Remote
Jr Sound Editor/Designer – Defacto – Remote
Senior Sound Designer – Team Audio – Remote
Senior Technical Audio Designer – Team Audio – Remote
Guest Services Staff – AEG – Pacific Northwest Region
Production Staff – AEG – Pacific Northwest Region
Maintenance Staff – AEG – Pacific Northwest Region
Multiple Positions – Solotech – US/Las Vegas, NV
Contact Helena at the Solotech Nashville office: Helena.Pygrum@solotech.com with intro/resume for US positions
Audio Systems Engineer (AR/VR Research) – Facebook Reality Labs – Redmond, WA
Technical Sound Designer – Camouflaj – Bellevue, WA
Audio Software Engineer – Zoox – Foster City, CA
Audio Producer III – Planet Technology (Facebook) – Menlo Park, CA
Multiple Positions – Women's Audio Mission – San Francisco, CA
Event Production Manager – Warner Music Group – Los Angeles, CA
Warner Music Group is looking for an Event Production Manager to join the Live Event Production team at their corporate office in DTLA. The role will report directly to the Head of Live Event Production. This is a freelance position.
email Chris Costello with a brief introduction in your email and your resume. chriscostello5@gmail.com
What We Do:
We host a variety of live events including concerts, artist performances, interviews, panel discussions and company conferences. We work with the industry's leading artists such as Ed Sheeran, Lizzo, Cardi B, Janelle Monae, Coldplay, Bruno Mars, Green Day, Blake Shelton, The War On Drugs, Dua Lipa, Gary Clark Jr., and Bebe Rexha as well as high profile company executives and producers. Our suite of record labels consists of Atlantic, Asylum, Elektra, Fueled By Ramen, Rhino, Roadrunner, Warner Music Nashville and Warner Records to name a few.
What You'll Do:
The Event Production Manager will work alongside the Head of the department to manage logistics and production for the events. You'll act as the primary point of contact on the day of the event and be involved in all advance work leading up to the event. The Event Production Manager will ensure that the record label's vision for their event is executed and that they are fully supported from load in to load out. You'll ensure completion of on-site responsibilities by our in-house Event Operations Team (Facilities, Security, etc.) as well as the freelance crew that we hire for the event. It is imperative that the event runs smoothly and everyone walks away happy.
Responsibilities include:
– Running point on production as a whole and being the voice on technical matters for the event.
– Creating Run Of Shows and production schedules with detailed timings from load in to load out.
– Hiring freelance crew such as FOH Operators, Lighting Technicians, Stagehands, etc.
– Renting equipment such as audio, lighting, and staging elements.
– Coordinating with the artist's team on band instrumentation and equipment needs.
– Communicating information and timelines to talent, record labels, and corporate teams.
– Ensuring the day runs on time and on budget.
You must possess the ability to:
– Be highly organized and remember every detail from top to bottom.
– Have a positive disposition and calm demeanor.
– Effectively listen to and understand the record label's vision and requests.
– Raise concerns and red flags when appropriate, yet always find solutions when problems arise.
– Communicate the production plan in a clear, thorough, and detailed manner to the Events team and record label.
– Know how to speak with artists and their management team.
– Know how to speak to high-profile company executives and conduct yourself in a corporate environment. (i.e. this is not the road.)
FOH (Tour) – First Point Touring Co – Los Angeles, CA
LOS ANGELES ONLY FALL TOUR FOH/MONITOR TECH
Mid-size club (300-700 cap)
August 27 – October 25 (various rehearsals mid-August to early-September)
Must be Los Angeles (within 25 mi radius)
$200/tour day
$150/rehearsal day
Tour Crew – Looking for Production Managers, Stage Managers, FOH, Lighting, and anything technical tour-wise. If you fit these description please email your resume to tourcrewjobs@gmail.com
Dialogue Editor – Netflix – Los Angeles, CA
Part Time Audio Engineer – Real Voice L.A. We're a small voiceover, ADR, and podcast facility that also focuses on voiceover education and voice actor services in the Universal City area. The job would be part in studio sessions, part work from home. It would cover a variety of tasks that could change week to week. Everything from running Source Connect sessions to helping with voiceover demo production to assisting with classes to editing audiobook, etc, etc. Pro Tools literacy is a must. Knowledge of voiceover, audio post, and adr workflows is a plus, but not crucial. If you're interested, email owner Mike DeLay directly at mike@realvoicela.com
Studio Engineer – Iron Mountain – Hollywood, CA
Audio Warehouse Tech – 8th Day Sound – Sun Valley, CA (Email Whitney Olpin with Resume wolpin@clairglobal.com)
Temp Sound Designer – Naughty Dog Studios – Santa Monica, CA
Temp Dialogue Coordinator/Editor – Naughty Dog Studios – Santa Monica, CA
Audio Lead – XBOX Game Studios – Santa Monica, CA
Editor and Motion Graphics Designer – Global Tour Creatives – Culver City, CA
Sound Designer – Blizzard – Irvine, CA
Customer Service Assistant – Focusrite – El Segundo, CA
Head Audio Technician – The Old Globe (Sheryl/Harvey White theater) – San Diego, CA
Head Sound Technician – The Old Globe (Lowell Davies Festival Theatre) – San Diego, CA
The Old Globe seeks a highly skilled and experienced theatrical sound engineer to fill its open Head Sound Technician in the Lowell Davies Festival Theatre. The Head Sound Technician is responsible for: the installation, operation, and maintenance of sound equipment; supervising technicians and running crews; and the documentation of show and theatre information.
The position requires demonstrated skill at Broadway-style line mixing using state of the art equipment. Competitive candidates will have several years of live mixing experience for theatres, experience as an A-2, and experience installing sound systems for live theatre. Desired skills and knowledge include: effective leadership and supervision of crews; deep knowledge of theatrical sound systems including operation, maintenance, and troubleshooting; and practical knowledge of leading edge software. A short list of equipment, software, and techniques that applicants are expected to have had experience with includes: DigiCo S10-T Consoles, ClearCom (HelixNet and FreeSpeakII), Qlab, Meyer Compass, DigiCo Studio Software, Vectorworks, Office, Omni Graffle, and Shure Wireless Workbench; Power distribution, Wireless frequency coordination, theatrical networking, low voltage electronics, and video routing.
Successful applicants should be self-motivated, adept at problem-solving, attentive to details and be able to supervise technicians while working efficiently and effectively under pressure. Applicants should demonstrate a commitment to equity, diversity, inclusion and access and anti-racism work in the theatre.
The Head Sound Technician must be present at all times that the theatre's sound system is in use. Flexible schedule, including nights and weekends is required, as is the ability to lift up to 40lb and work at heights up to 40 feet. Must be able to complete and clear a background screening. In order to comply with Actors' Equity Association (AEA) Guidelines for LORT Theatres, this position must be fully vaccinated for COVID-19 unless a medical or religious exemption would apply. This is a seasonal, IATSE Local 122 Union position available immediately through October 2021. If the selected candidate is not a member of the Union, they will be required to join. Hourly rate is $25.75/hr.
The Old Globe is committed to fostering a culture of equity, diversity, and inclusion in all areas of our operation; therefore we strongly encourage applications from populations underrepresented in the theatre field. Multilingual candidates are also strongly encouraged to apply. Send cover letter and resume to HR@TheOldGlobe.org.
Audio Producer – Gearbox Entertainment – Frisco, TX
Assistant Director, Production and Technology – Kennesaw State University – Kennesaw, GA
Associate Producer, MLB – Sirius XM – Washington, D.C
Broadcast Recording Technician – NPR – Washington, D.C
Jazz and Gender Justice Program Coordinator – Berklee College – Boston, MA
SACVM Technical Director – UNC Charlotte – Charlotte, NC
Runner – Wave Studios – New York, NY
Audio Producer, The Daily – NYT – New York, NY
Internship, Streaming – 300 Entertainment – New York, NY
CANADA
Music Designer – Ubisoft – Quebec City, QC
Lead Voice Designer – Ubisoft – Quebec City, QC
Sound Designer – Eidos Montreal – Montreal, Quebec
Audio Director II – EA – Montreal, QC
Multiple Positions – Solotech – Montreal, QC
Narrative and Audio Producer – The Coalition – Vancouver, BC
UK
Deputy Head of Sound and Video (Text Description/PDF Packet)- National Theatre – London, England
Sound and Video Resources Technician (Text Description/PDF Packet) – National Theatre – London, England
Internship Programs (til August 1st) and other positions – Sony Music – London, England
Multiple positions – Fantastically Great Women Who Changed The World UK Theater Tour – London, England
Boom Op (unpaid) – Student Short Film – Manchester
Wednesday 11th August- 5pm until 8pm
Thursday 12th August- all day until 5/6pm
Travel expenses and food is provided!
If you would like more details and/or would be available please contact:
Mobile: 07828622010
Email: L.Rudloff@edu.salford.ac.uk
Associate/Mid-level Audio Programmer – Creative Assembly – Horsham, England
Participant Coordinator – Numbers (Youth Music) – Glasgow, Scotland
The renowned and long-running Scottish label Numbers is hiring a part-time, Scotland-based Participant Coordinator for our project with Youth Music, running from September 2021 – March 2022. This fixed-term role will work closely with the project manager to coordinate and provide hands-on support for self-initiated projects by young professionals aged 18-25 entering the music industries, as they build and develop holistic career skills through a series of workshops, skill sessions and masterclasses. This is a grant-funded position paid in line with experience and the real Living Wage. Applications are open through Sunday, August 8th – to view the complete job description and apply, visit http://nmb.rs/coordinator-apply. Additional questions about the role can be sent directly to applications@nmbrs.net.
EUROPE
Responsible Audio – Keywords Studios – Paris, France
Audio Programmer – PixelAnt Games – Wroclaw, Poland/Remote
Audio Software Engineer – King – Barcelona, Spain
Lead Audio Designer – Redhill Games – Helsinki, Finland
JAPAN
Audio Designer – PlayStation – Tokyo
Updated June 30, 2021
Multiple Positions – Live Nation – US/Europe
UNITED STATES
Sr Director of Product Management – iZotope – Remote
Contract Producer, Spinsters – Blue Wire Studios – Remote
Interactive Audio Designer – Magic Leap – Los Angeles, CA/Fort Lauderdale, FL, Remote
Vitual Music and Library Research Intern, Fall 2021 – Warner Media – Burbank, CA
Dialogue Supervisor – PlayStation – Los Angeles, CA
Freelance Production Positions – 4Wall Entertainment – Los Angeles, CA
Board Operator – Cumulus Media – Oklahoma City, OK
Developer I – Memphis Grizzlies – Memphis, TN
Royalties Administrator, Publishing – WMG – Nashville, TN
Visiting Lecturer of Sound – Michigan Technological University – Houghton, MI
Associate Producer, Post Production – A+E – Stamford, CT
Assistant Manager, Technical Services – University of Pittsburgh – Pittsburgh, PA
Coordinator, Music Programming – SiriusXM – Washington, D.C.
Creative Dubbing Coordinator – The Kitchen – Miami, FL
AV Technicians – Hopewell Theater – Hopewell, NJ
Media Services Technician – NYPD – New York, NY
Broadcast Engineer – Insight Global – New York, NY
Director of Post Production – Sesame Street Workshop – New York, NY
Manager of Production, CNN Audio – Warner Media – New York, NY
Receptionist and Runners – Electric Lady Studios – New York, NY
Electric Lady Studios is looking to add several studio runners and a receptionist to our team.
The runner position focuses on studio operations. Daily tasks include: opening and closing the individual studios, daily cleaning of the studio and facilities, setting/resetting studio rooms for sessions and events, keeping storage and gear closets organized, going on runs for studio/client needs, researching materials for the studio, etc. Those with previous audio and/or technical experience are especially encouraged to apply.
The receptionist position focuses on administrative tasks such as filing artist receipts, coordinating runs with assistants and the runners, handling phone calls, managing the door and client greetings, etc. Applicants must have previous experience working in the music industry.
In order to provide our clients with the utmost privacy, we cannot offer the opportunity to shadow engineers or sit in on sessions.
Anyone interested should send a resume and cover letter to careers@electricladystudios.com.
UK
Sound and Video Technicians (Text description/PDF packet) – National Theatre – London, England
Royalties Assistant – Handle Recruitment – London, England
Marketing Manager, Parlophone – WMG – London, England
EUROPE
Content Development Engineer – Native Instruments – Berlin, Germany
Music Partnership Manager – Oculus – Prague, Czech Republic
AUSTRALIA
Retail Brand Advocate NSW/ACT – Sennheiser – Sydney, New South Wales