Resources for an Inclusive Industry
Women and BIPOC Industry Directories

Bands, festivals, TV shows, traveling Broadway musicals, and other touring groups need competent and diverse personnel who perform their tasks with a high level of expertise and professionalism day-in and day-out. Touring personnel need a way to market their expertise and let their availability be known within the industry. Both groups need a way to broaden the scope of available jobs, resources, and candidates, and break out of the cycle of peer-to-peer referrals and word of mouth as the primary way to hire and get hired.
The directory features over 500 people of color who work in audio around the world. You'll find editors, hosts, writers, producers, sound designers, engineers, project managers, musicians, reporters, and content strategists with varied experience from within the industry and in related fields.
While recruiting diverse candidates is a great first step, it's not going to be enough if we want the industry to look and sound meaningfully different in the future. Let us be clear: this isn't about numbers alone. This is about getting the respect that people of color—and people of different faiths, abilities, ages, socioeconomic statuses, educational backgrounds, gender identities, and sexual orientation—deserve.
A collective fighting for the reduction of the gender gap in the music industry. But we soon realized that the solution is not just activism. We have to go one step further: to connect and empower underrepresented individuals on a large scale, worldwide.
is committed to the cause of equity in the field.  There are significant barriers to accessing a career in theatrical design and we see inequalities of race, socioeconomic status, gender identity, sexual orientation and disability across the field.
Fills creative roles on their productions with women and trans and gender nonconforming (TGNC) artists. In addition to producing their own work, they actively promote other theatre companies that follow their 50% hiring standard.
Uplifting underrepresented communities in the arts. Their main goal is to curate a set of resources to help amplify the visibility of (primarily) People of Color in the arts.
---
Organizations working towards Diversity and Inclusion
Turn It Up is a collective working toward gender parity in music.
---
No More All-Male Panels
There is no shortage of qualified women who are ready and willing to speak on panels about their expertise. Here are a few lists to help you find candidates for diverse panels.
---
Diversity and Inclusion Guidelines for Convention and Conference Policy Committees.
The Recording Academy Task Force on Inclusion and Diversity is announcing the first-ever industry-wide Producer and Engineering Inclusion Initiative. Together with prominent producers, labels, artists, agencies, management companies, and other stakeholders we're making strides to create industry-wide change.
The Initiative asks that at least two women are identified and therefore considered as part of the selection process every time a music producer or engineer is hired. It also asks working producers to agree to take issues of gender diversity within music's technical fields into account when deciding who to mentor and hire for further development.
---
Sexual misconduct remains a difficult crisis for women and men. Fear, social blaming, and isolation continue to be key factors that cause victims to remain silent. JDoe is an encrypted and anonymous reporting platform. By linking victims of mutual offenders with lawyers. JDoe is designed with survivors and witnesses in mind. A detailed index of sexual misconduct laws by state is built directly into the app to help guide users through the reporting process. Quickly browse for nearby resources and the latest policies concerning sexual misconduct.
---
Works with Artists and Management, Industry Professionals, Venues, Festivals, Crews, and Fans to design sexual violence prevention campaigns  Programming includes fan volunteers at each show raising awareness about sexual violence and asking other fans to support the campaign; training before some or all of your shows for volunteers and venue staff; pre-show training with band + 25 fans in select cities; messaging from the stage and social media; partnerships with local rape crisis centers; text hotline; and more. Email Kim Warnick to discuss options.
---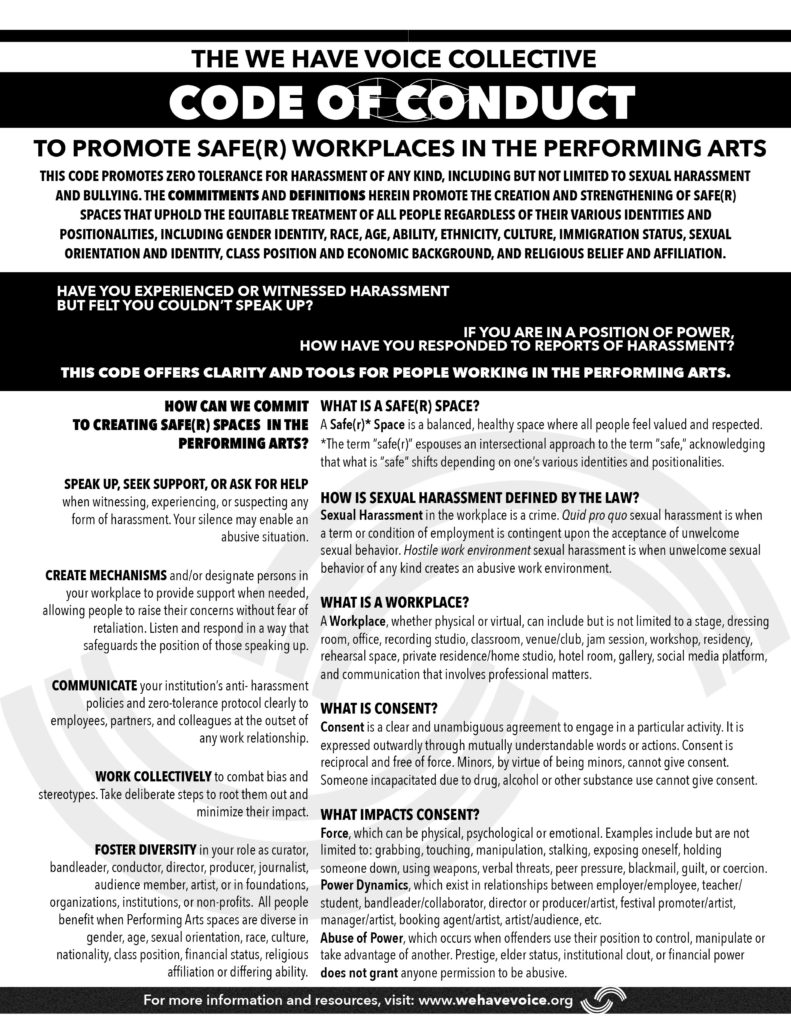 ---
Funding for Trade Conferences and Education