Chelsea Body is a freelance Foley Mixer and Editor, working primarily with Footsteps Foley and Formosa Group (Toronto). Chelsea has been working in Foley for seven years and became a freelance engineer five years ago. Currently, she can be found working among the Foley teams on critically acclaimed productions such as 'Dune (2021)', 'Women Talking (2022)', and 'The Handmaid's Tale (2018)'.
Chelsea grew up taking classical piano lessons from age 10 and worked her way through the Royal Conservatory rudiments to a Grade 10 level. She now considers the bass as her main instrument, which she enjoys. She loved listening to music and going to concerts as a teenager and always admired the tech crew at live shows and thought that would be a really fun job. She attended Mohawk College and Fanshawe College, both in Ontario, Canada, and graduated with an Advanced Diploma in Applied Music from Mohawk College (2012), Diploma in Music Industry Arts from Fanshawe College (2014), and a Post-Graduate Certificate in Audio Post Production from Fanshawe (2015).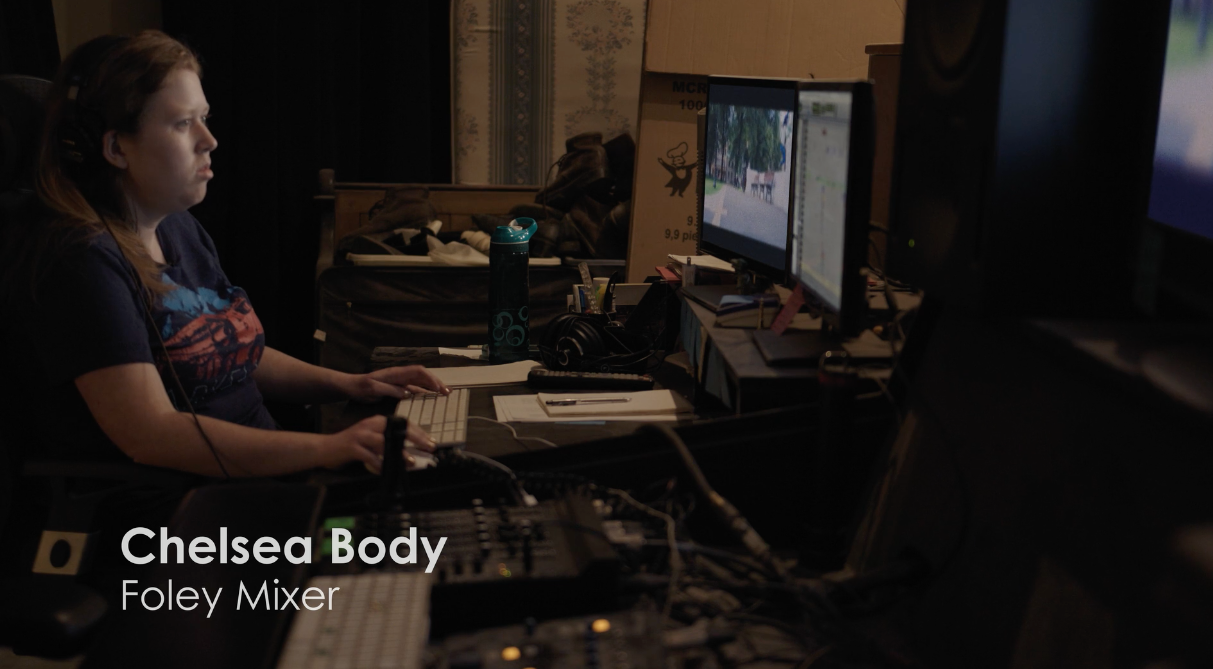 Career Start
How did you get your start?
At the end of college, I was offered a contract at Urban Post in Toronto doing Closed Captioning work. While it wasn't specifically in my field, it was my first foot in the door and I took that opportunity to connect with the staff there and show my interest in audio. After a few months, they were looking for a new Foley recordist and they thought of me for the job. It was a night gig and a position I didn't have much experience in but I jumped at it. I had such wonderful, supportive mentors there and I learned so much from everyone. After about two years, the time came for me to explore other studios and network with the broader Toronto community, and from there I went freelance as a Foley mixer and editor.
What did you learn interning, or on your early gigs?
I especially enjoyed my time working in a post house as I was able to jump between roles and projects. If Foley wasn't busy, I would be editing a reality tv show or was able to take the time and sit in with a re-recording mixer, or an ADR session. Being in that environment, I was able to gain knowledge in many aspects of the post field which really helped me understand the wider process and how to better communicate with other colleagues along the pipeline of a project.
Career Now
What is a typical day like?
Footsteps is about an hour's drive each way from home which isn't ideal but I enjoy being in the city and having that escape to the countryside for work. We work a typical 8-hour day, though I often work longer to tidy things or finish up emails and scheduling. While my main role is Foley mixer and editor, I also manage the scheduling at Footsteps. We work as a team so I find time throughout the day when I can step aside to answer client emails and update our work schedule. We have a small, tight-knit crew there that's extremely collaborative and I enjoy working in a team like that.
How do you stay organized and focused?
I guess I am somewhat organised even if it doesn't feel that way sometimes! I do enjoy finding new tools to help me keep track of everything but it can be difficult to find software geared toward our field that does exactly what we need it to do. I still keep an old-school handwritten planner because I find it faster to jot things down than to open an app on my phone. Finding what works for you is important and planners that I can put stickers in make organising things more fun too!
What do you enjoy the most about your job?
Being able to work on a variety of projects is a real pleasure. One week we'll have a drama, the next, a horror, and then a comedy. All of those genres require a different set of aesthetic and creative mindsets and I love the variability and challenge of jumping between them. Sound editors typically work on a job for weeks or months at a time while our timeline is much shorter in Foley, so we have the opportunity to create sounds for many different projects throughout the year.
What do you like least?
Sometimes the budgets we have to work with can be challenging. We always focus on the high quality of our work and that can be tough to manage when we're on a tight timeline.
What is your favorite day off activity?
On my off days, I enjoy focusing on my hobbies which include yoga, sewing/crocheting, and playing bass in my band.
What are your long-term goals?
I still have a lot to learn and I'm looking forward to being able to do that. I would like to spend some time in different roles in the post field to have an even better, well-rounded knowledge of the work my colleagues do. I know that no matter what, so long as my work is in audio, I will be happy so I'm looking forward to a long career playing with sound.
What, if any obstacles or barriers have you faced?
I feel very fortunate and acknowledge the privileges I've had in my career so far. I think a big thing for me has been having the ability to say 'yes' to pretty well every opportunity that has come my way. I am so grateful for the mentors I've had who have helped guide me and I hope to extend that to the next generation of folks coming into the industry.
Advice you have for women and young women who wish to enter the field?
Say yes to those opportunities. Even if you doubt your ability, say yes and figure out how you're going to manage it after. Apply for those jobs where you don't think you quite qualify because you never know, you could be the best candidate. Don't sell yourself short and be sure to ask for what you deserve. My golden rule is always "don't be a dick", that goes for everyone. If you've got a personality that people want to be around, that's worth more than how much you know about compressors or the frequency response of every microphone.
Must have skills?
Unfortunately, you have to know ProTools for post-audio work. Every studio uses it – though some editors work with other DAWs, so long as you're able to output what your supervisor or client needs from you.
For Foley recording, a good knowledge of different microphones is useful as well as recording techniques including compression and EQ.
Favorite gear?
Hardware:
TLM103
My '92 Lake Placid Blue PBass
Software:
FabFilter Pro Q3 – I put that on EVERYTHING
Whatever the most current Izotope RX Suite is at the time (de-click gets the most use in my work)
*Huge thanks to my parents for sending me to piano lessons and listening to my sometimes painful practicing; for not getting upset when I said I wanted to go to music school; and for generally being super awesome and supportive.*