Aline Bruijns, M.P.S.E, works in Audio Post Production, specializing in sound effects and foley editing, and as a sound designer and re-recording mixer.  Aline has been working in audio since 2007 and owns her own company called AudioRally Sounddesign in the Netherlands.
Early Life
When did you discover audio as a career path?
I knew very early on, at age 16 that I wanted to do something in audio but my interest was first in music. I was in a band and was asked to help out other bands which I really enjoyed so I first thought I wanted to become a music producer. At the time there weren't really studies (that I found) that would be suitable for helping me in that direction so I went to the Conservatory Enschede studying jazz vocals instead to really learn musical language and to be able to collaborate with many musicians. During that study, I bought a Pro Tools license and a computer and started learning Pro Tools to do some recordings in my bedroom. I enjoyed that very much so I wanted to pursue a studio career, so I continued studying at the HKU (High School of the Arts, Utrecht) in the direction of music & technology. However, due to subsidies from the government at that time, I couldn't pursue my main study in music and I was only able to apply a study in the sound design direction with music on the side. That got me introduced to sound design and I was hooked!!!
How did you get interested in audio? 
At my house growing up there was always music. My parents are both music lovers and photographers and have their own company (still!) in photography and video. So I grew up with technique available and music all around.
Educational Background
Did you attend a University/College/Trade School? 
I went to 2 colleges, The Conservatory Enschede for Jazz Vocals and the Music and Technology  Department of the School of the Arts Utrecht (HKU) in the direction of sound design  Graduating with a Bachelor's in Jazz Vocals (got a 9, scale goes to 10) and a Master degree in Sound Design for the HKU.
Musical Background
My mother is an excellent accordionist and my father is a big music lover of all sorts of genres  (jazz, rock, folk, classical, etc.) My brother played bass in a rock band and after having piano, saxophone, and guitar lessons I bought an electric guitar and started a rock band where I sang and played guitar.
Career Start
How did you get your start? 
I was lucky to do 2 internships during my 3rd year at the HKU which gave me a good sight of the actual workfield in the Netherlands. After graduating from HKU I founded AudioRally  (together with a befriended composer friend from the HKU) and we were able to work together with many people we met during our time at the HKU.
How did your early internships or jobs help build a foundation for where you are now? 
It introduced the career side of sound design. Learning how to deal with clients (even just watching other people have conversations about a project), learning how to deal with time and schedules, and also being able to use larger mixing stages for re-recording mixing. Learning why certain choices are made and why some designs work and some don't.
What did you learn interning or on your early gigs? 
That you have to work very hard and if you make mistakes you fix them. And I also learned to stay myself in character but work hard and be punctual and precise. And also how much time do jobs need? I struggled with it in the beginning because I learned how to be creative but the business side of it all was still something I found tough.
Did you have a mentor or someone that really helped you? 
My mentor was my teacher Bart Jilesen on the HKU. Also, the people from the audio post-production company Metasound (now Cinemeta) were and still are lovely and let me use a lot of their facilities to help me with projects.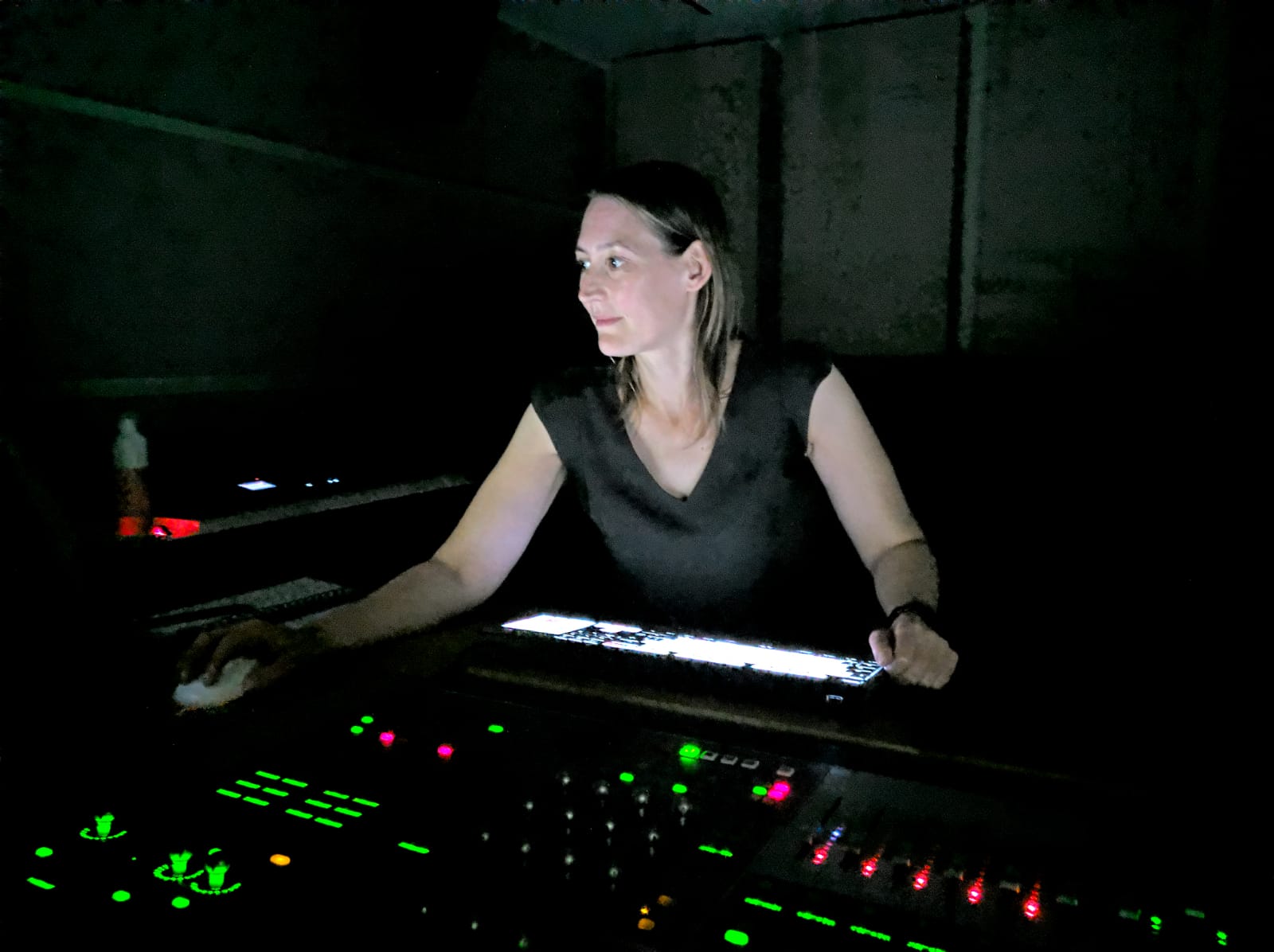 Career Now
What is a typical day like? 
I start up with coffee (def need coffee!!!) and then walk up my stairs to my studio after my kids are off to school and the dog has been walked. My studio is in my house which I love especially with my kids. Then I will start up whatever project I'm working on which divers from an audio tour for the Van Gogh museum, to foley editing of sound effects for a TV series or feature film, or sound design for a project that is about project mapping in a huge venue.
Also If I'm not on a paid job I'm trying to learn new stuff, record sounds or I'm busy working on a podcast about sound in the Netherlands called "Klankmakers" (Soundmakers) which I do together with befriended sound designer Lennart Kleinen. Or I'm doing stuff for the VCA, which is the Dutch Film & TV Audio Society where I'm on the board, or the SoundGirls Netherlands Chapter which I co-run.
How do you stay organized and focused? 
I make sure that I have a clear overview of what I need to do per day in terms of minutes of work for a project. Sometimes that's easy due to knowing the length of a project (TV series or feature film) and sometimes that can be a hassle especially when there are a lot of feedback rounds and adjustments needed due to the creation of sound and images. But I try and keep an overview in my Pro Tools project or my agenda to make sure that I will make the deadline. I work best when I have a certain deadline in mind to keep me going and keep me focussed, but when you see my studio it can be a chaotic mess haha, but I like to call it that I have ideas lying around.
What do you enjoy the most about your job? 
The diversity. Because I work in so many different areas, it's great because I have to use different tools and different approaches and get to work with different people. I like that every project needs its own soundtrack, and its own audible story, so it never gets dull for me.
What do you like least? 
Administration, people who aren't team players and equipment not operating and taking so much time to try to fix…
What is your favorite day off activity? 
I walk my dog, do stuff with my kids & husband, get inspired by other arts, and go to concerts or a movie theater. I hope to be able to make music again in the future but due to lack of time, that's not possible at the moment.
What are your long-term goals?
I hope I'm able to keep doing this work, be creative, and work with other talented people to create something that brings joy or can educate people.
Building a studio next to my house in the future is also on my wish list. A place where I can design, record, and mix. And where I can work with whatever is going on in the neighborhood would be such a dream.
In terms of projects, I hope I can continue working on project mapping projects or do sound design for amusement parks. It is such a great medium and has so much potential to create immersive sound design. I did the sound design for an immersive museum called "Quake" in Lisbon, Portugal which is the Lisbon Earthquake Museum. That was a very challenging project but also great to work on! So I hope to be able to do more of these kinds of projects in the future.
A unique immersive journey through the history of Lisbon
I think as long as I'm able to elevate the story with my sound design or sound effects/foley editing I'm as happy as can be in whatever medium the story is being told in.
What if any obstacles or barriers have you faced? 
Since there were almost no women in audio post-production when I started out in the  Netherlands (I was the first woman in both intern locations) I heard so many times "Oh wow a woman, I have never worked with a woman" (luckily mostly happily surprised) but that was weird at first because I never had the idea that being a woman in the industry would be such a big deal to some. I was always supported by my parents and it never felt to me that I was chasing a career that would be weird to some. Nowadays there are more women around so it's not that big a deal anymore and is starting to become normal. But that made me work harder because you also know that mistakes will be less forgiving and you won't be forgotten for that.
How have you dealt with them? 
In terms of other people connecting with me or reactions to me being a woman in this industry:  Be professional, be kind but also don't let someone walk over you (don't lower yourself in case someone is rude), be a role model for others.
I never had a woman role model in the Netherlands and was so very grateful to find out about  SoundGirls and to meet other women in this great industry. As soon as I found out about the existence I started the Dutch Chapter of SoundGirls and now we have a great network of women,  trans people, and non-binary people working in Dutch music, audio, and post-production.  I'm also on the board of the Dutch Film & TV Audio Society (VCA) representing women in audio and making sure we are heard and trying to be a role model there.
Advice you have for other women who wish to enter the field? 
Reach out to others (sign up to sound or other associations), learn stuff, know your strengths and weaknesses, always set your own boundaries and stay true to them, and keep yourself healthy:  mentally and physically. In this industry, it is so easy to be worn down, so we need to take care of ourselves while kicking ass.
And listen to the world around you. The more you use your ears the more you can get inspired.
Try to sit in a premix or ask for evaluations if you work for others so you learn how your work is helpful for others or if you need to change stuff when you work on a new project.
Must have skills? 
People skills, your network is everything.  If you're a nice person to work with and work precisely and deliver, are good at collaborating with all sorts of departments is so important. Have a mutual respect and understanding of each other's craft and try to make the best soundtrack possible with given circumstances. And know your strengths and weaknesses. Don't be afraid to try out stuff, but don't let it become your downfall on a project. And if something is not your thing don't be afraid to say "no thank you" (and I know I've been there that you say yes to everything on your path because you don't want to lose a client and try to get a foot between the door, but sometimes it's better for yourself to say no to keep yourself sane. And people will respect you for that).
Favorite gear? 
I don't really have favorite gear, but the ones I do want to mention:
My sound devices mix pre 6-II and my mics (LOM's, Schoeps, Røde) so I can go out and record  sounds
My 5.1 PSI speakers, I love those speakers playing with sound in surround and hopefully will  upgrade to a Dolby Atmos in the somewhat near future.
And in terms of software, I try to keep challenging myself.  But I also try not to buy new tools all the time. I already need more time during the day to get to know the ones I have better. But I try to stay up to date with what's happening in the industry although that's challenging with being the sole person at my company.
If anyone wants to come on over to the Netherlands please reach out. Would love to meet you all!