Deb Adair is a freelance re-recording mixer. Deb has been nominated for an Oscar (for the film Moneyball), has won three Emmys and nominated for an additional five, and has won two Golden Reel awards as Sound Supervisor. In the past couple of years, her film credits include Entourage, Pele, and Keanu.
Deb earned a degree from Syracuse University where she studied film production. She worked in the music industry in Nashville before moving to Los Angeles to pursue a career in sound for film.
April Tucker interviewed Deb about her career
Are you primarily mixing dialog/music? Are you ever in the FX chair?
I have been primarily mixing dialogue and music for the last nine or ten years but have also had the opportunity from time to time to work alongside very talented colleagues as the effects mixer.
What's the difference between these roles?
Being the dialogue mixer, you are the person who guides the flow of the mixing process.
Give us a little background on how you got into sound, where else you've worked, went to school, training background, etc.
I attended Syracuse University in the TV, Radio, and Film Production program, wanting to be involved in filmmaking is some capacity.  The classes that focused on sound immediately became my favorites. I started recording bands and mixing live music at some local venues.
Why did you move from music to film?

 How did you transition from tv work to film? Was it something you were seeking out?

I had always wanted to be involved in filmmaking, so music recording was a good way for me to learn the equipment. I started mixing in TV but had always wanted to work on feature films, and I told this to my manager at Sony at the time, Richard Branca. When an opportunity to do additional mixing on a film came up, like helping pre-dub or updating pre-dubs, Richard would bring my experience up to the clients and with the appropriate approvals I was able to participate in the completion process.
Can you explain what a re-recording mixer is, the workflow, who is generally on the stage at your mixes, etc.?
There are usually two mixers on the dub stage. Each handles hundreds of tracks of material whether it be dialogue, music or sound effects.  We work with the sound supervisor and the picture editor or the director or both (depending on the project) to balance all elements to shape the soundtrack of the film.  At some point producers usually come in for playback.
Can you explain the advantage of having two (or more) mixers on a film? How does it make things easier or harder?
Mixing a motion picture is a collaboration of talent and experience learned over many years by both mixers.
Are you usually on the same stage and mixing with the same partner? If not, what dictates who you work with?
Every project is different.  We could be predubbing on separate stages at the same time on each of our assigned disciplines and then come together for several weeks of a final mix. I have worked with various partners and on various stages based on client requests.  The crew is usually chosen based on past working relationships with the director, picture editor, sound supervisor or post-production supervisor.
What's your system working with multiple mixers (especially early in the mix or trying to EQ)? Taking turns, using headphones, etc.? 
Most of the time we pre-dub the material simultaneously on separate stages then work together on the final stage to blend everything together.
How many stage days do you usually get on a film? How often do you see the director and how much time do you get with him/her? How long do you spend on Atmos, 7.1 vs. 5.1, or stereo mix?
The number of stage days varies based on the release date and the budget of the project. At the time of the final mix, there are so many things happening simultaneously for the director like color timing and D.I. so we will get to spend time with them based on their schedule.  Atmos adds some time for deliverables, but a native Atmos mix doesn't necessarily take longer than 7.1 or 5.1.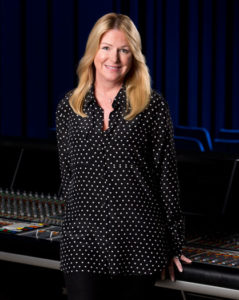 Do you do your own pre-dubs or how many people are involved with a mix before it gets to you?
I prefer to do my own pre-dubs. The number of people depends on the project.  There is usually one music editor and one or two dialogue/ADR editors.
Favorite plugins? 
I'm a big fan of Spanner because it provides a lot of flexibility to adjust separate channels of a single multichannel track.
Any other favorite gear? Are you usually working on the same console?
I'm mostly working on the Avid S6 these days.  It's a great tool. Very intuitive.
Do you think you have to do anything different from your male counterparts on the stage? How about with clients?
No. I think some clients appreciate having a variety of points of view in the room.
Any advice you have for other women and young women who wish to enter the field?
Pursue your true passion. If a new opportunity comes up, volunteer.  Be ready to step out of your comfort zone and tackle new challenges.
What path do you see for someone today to get to the type of job you are in?
As a matter of fact, the Academy recently started the Gold program, which is a mentoring program for people interested in film careers.  Beyond that, I would say start with an entry-level position and work your way up.
What are must-have skills to do your job?
Being a good listener for the client and understanding what they need. Helping the filmmaker tell a story and achieve their vision is the most fulfilling part of the job.
Are you mixing continuously throughout the year? How many films do you do on average and how much time off?
I've been very fortunate to have been busy the past several years, working on four to six films on average.
What is the average time you are working on a project?
Anywhere from one week to eight or nine weeks usually depending on budget.
Is there a time you would be working on two at once?
Schedules sometimes overlap if you are doing temp dubs for previews or creating deliverables like the home theater mix.
What is the difference between mixing for film vs. TV?
Mostly schedule, TV also has strict parameters for levels and compression, etc. for broadcast and streaming.
Any comments on work/life balance? How do you not burn out or keep things interesting?
I love my job, and I get to work with a great variety of really talented people. I have a husband who is very supportive and understanding. When I have time off, I do lots of yoga.
What do you like most about being a re-recording mixer?

 What do you like least?
What I love most about my job is collaboration. What I like the least is traffic!!


What is your favorite day off activity? Any other hobbies or interests?
When I'm off, I love traveling with my husband, and we love snow skiing and motorcycle riding.
What has been one of the most challenging or rewarding films you have worked on?
One of the most challenging films I've worked on is also the most rewarding.  While mixing MONEYBALL, there were many vintage and archival recordings from real broadcasts and baseball games. There were also new recordings with specific information to help tell the story that was much "cleaner" than the archival recordings so we needed to blend the two seamlessly so that the audience wouldn't notice the difference.  This was a challenge, but it also landed my team an Oscar nomination for sound mixing.