Ask the Experts – Film & TV Sound Supervisors
What does a Supervising Sound Editor (Film and TV) do?
After filming has wrapped, sound effects have been added, the music recorded or licensed, and all cuts and changes have been approved, a movie enters the production stage called picture lock. That's when the supervising sound editor begins the painstaking process of fashioning a final soundtrack from a film's many sonic components. These include production sound (the dialogue and ambient noises captured during shooting), foley (reproduced sounds), ADR (automated dialogue replacement), walla (crowd noises), sound effects, and music.
While supervising sound editors may do a certain amount of editing themselves, their primary job is to oversee the work of a full team of dialogue editors, sound effects editors, and music editors, ensuring that post-production sound stays on schedule.
Once the effects and dialogue are pristine and perfectly situated within the film, the supervising sound editor stitches them together with the composer's score and the music supervisor's song selections, creating a complete sound experience to accompany the moving picture. The work is done using a DAW (digital audio workstation), which stores all the sounds in separate files and allows the editor to synchronize each one with particular frames in the film. When the sound editor's job is finished, the completed soundtrack is sent off to a re-recording mixer to be balanced and mastered, a process for which the supervising sound editor is likely to be present.
Join us for a webinar with Katy Wood, Onnalee Blank, Marla McGuire, and Lauren Stephens on July 26 at 11 AM PDT
Moderated By Katie Pagacz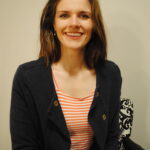 Katie is a sound student, recently getting into the realm of audio post-production for film and television at Sheridan College in Oakville, Ontario.  She's heading into her final year of the Honours Bachelor of Film and Television program.
While Katie has gone through dozens of phases and considered many career paths—singer/songwriter, tattoo artist, pastry chef, makeup artist, comedian, anesthesiologist, and so much more!—she is delighted to have been bitten by the audio bug and is determined to follow this whole thing through to the end, hoping to someday be a Supervising Sound Editor on feature films.
A few assignments during her third year of studies had led Katie to interview several women working professionally in audio.  These conversations were so valuable and inspiring to her and they just happened to coincide with the SoundGirls Podcast's search for new hosts.  Katie daydreamed about landing the gig for weeks and is convinced she manifested this reality.  Being able to continue the trend of speaking with folks working professionally in audio—and now getting to actually share the wealth in these conversations with people through the podcast—is such a worthwhile endeavor.  She feels really blessed and excited to be a part of the SoundGirls community!
Katy Wood
Katy Wood is a freelance sound supervisor and sound editor originally from New  Zealand. Her career in sound for film and television has spanned more than 20  years and four countries. She has worked extensively in the United States, New
Zealand, Australia, and the United Kingdom. Katy has covered all aspects of sound production and post-production on projects ranging from large feature films, such as The Lord of the Rings trilogy, American Sniper, Ant-Man and the Wasp, Just  Mercy, and Birds Of Prey to compelling documentaries like Disarm, Girl Rising and No Dress Code Required. She has a Masters Degree in Film and Television  Specializing in Sound from the Australian Film Television and Radio School. In addition, Katy has taught courses on sound post-production in Australia, Mexico,  the US, and Chile.
Onnalee Blank, CAS – Re-Recording Mixer, Warners Brothers
Onnalee was a ballet dancer before getting into audio. Since then, Onnalee has won several Emmys and Cinema Audio Society (CAS) awards for her work as dialog and music mixer on Game of Thrones. The Underground Railroad's Joi McMillon, Onnalee Blank Featured in THR's 'Behind the Screen' Episode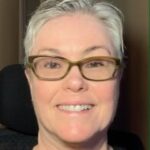 Marla  has worked as a sound editor and supervising sound editor for over 20 years in television and film and has worked on over 70 feature and episodic titles. As such she has seen the many changes the industry has gone through. From 24- track tape to the various digital workstations battling to become the industry standard, she's experienced the evolution to where we are today with pro-tools. She started her career working as part of the production sound team on TV movies. This has proven to be invaluable to her career in post sound.
She has recently served as the supervising sound editor for the long-running series Scandal and How to  Get Away with Murder, as well as the highly acclaimed Showtime limited series Your Honor. Marla has been nominated for two Primetime Emmys for her work on Dead by Sunset and See Jane Run, as well as three MPSE Golden Reel Awards for Jean-Claude  Van Johnson, Prep & Landing, and Commander in  Chief.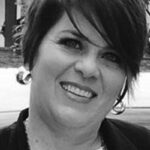 Lauren was the supervising sound editor on Carnival Row. A multiple Emmy-nominee for sound editing on Daredevil, she has also received several Golden Reel Award nominations from her peers. Aside from Daredevil, she's well known for her work on Punisher, The Bourne Identity, Gladiator and For Love of the Game.