Consent
I have been using RF microphones for 15 years. Half of my life I have been putting mics on other people for theatre, tv, and film. When I worked at a children's theatre, I was the go-to for micing up dozens of kids. I got really, really good at the under-shirt swoop because kids are wiggly and I can't ask them to hold still for long. I've had other women tell me that they were relieved to see a female working backstage, so they didn't have to worry about someone behaving inappropriately. The likelihood of me sexually harassing someone is apparently far less than many of my male counterparts (sorry guys?) It's an issue that celebrities are even coming forward about in recent times.
For years I have run workshops and taught labs detailing proper RF usage and lav placement. More importantly, I discuss etiquette and "how to not be creepy." I look each person in their eyes and say "Do not be creepy. Ask before doing. Check for understanding before reaching down someone's shirt." Perhaps you should begin with introducing yourself and asking their experience level, would they feel more comfortable putting it on themselves, or having help? In my experience, people are a lot more comfortable with you being in their personal space when they know your intent. The key here is to be cordial and talk it through.
DIY
As an actor or artist, your body is the focus of the show. Empower yourself and reclaim some personal space by learning some basic skills. For a lapel style mic, make a small loop and wrap it around the clip, this helps keep your mic in place even if the wire gets pulled. Run the cable under whichever layer you won't take off. The transmitter/belt pack can go inside a safe pocket or mic belt.
If you're wearing the other style, you may need to employ some extra tricks. I use a variety of supplies that are easily found in a grocery store or pharmacy. Moleskin is excellent when you need to secure a mic to skin or fabric. It is sticky on one side and flannel soft on the other. Make a moleskin sandwich for your lav, place it wherever is out of sight. I also like to use medical tape to secure lavs; it's hypoallergenic and readily available. You can also use straight pins to secure, but I avoid making holes in costumes. I've run moleskin through the wash, and it held up without even leaving a residue once removed.
Enlist
If you are a female artist who needs to wear a body mic and feel uncomfortable with a guy reaching down your costume, have a female dresser, or someone else place it for you. Asking gives you more control, and it isn't rude. Everyone has a right to feel safe in their workspace. If you're an A1 and your talent wants to do it themselves, relinquish the need to invade their space. Check their work, but leave their bodies to themselves.
---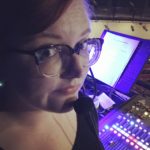 Susan Williams is an educator in Winter Park, FL for a creativity and technology-focused university. Previously she was a local theatre technician and independent micro-budget film producer. She received her Bachelor of Arts degree in Theatre with a minor in Cinema Studies from the University of Central Florida. Susan has spent her career working for various theatres around the country, including the Orlando Repertory Theatre, The Garden Theatre, and the Lake Tahoe Shakespeare Festival. She has also worked as a digital projectionist for the Florida Film Festival. In addition to theatre, she has produced an award-winning short film, "Séance." In 2014, Susan produced her first feature-length horror film, "Interior," which has won many festival awards, including Best Horror Feature Film at Shriekfest 2015, Best Sound Design, NYC Horror Film Festival 2015, and Audience Award for the Knoxville Horror Film Festival 2015. Susan is an active member of the Orlando chapter of SoundGirls.