March marks Women's History Month where we pay homage to the women in the world that make an impact and difference in society. SoundGirls has been an amazing platform for women in the audio industry. In this article, I will be sharing resources for other women-led Non-Profit Organizations that help recognize and support women in music.
Beats By Girlz
Beats By Girlz is a Non-Profit Organization designed to empower women/GNC youth through music technology after-school and summer programs. Youth ages 10-17 can find their local BBG chapter and sign-up for Ableton Live lessons. Are you a music producer wanting to give back to the community? Sign-up to create your own chapter and provide lessons! More information can be found Beats By Girlz
Gear Fanatix
Gear Fanatix is a new platform for women/GNC individuals to review gear and have a safe space for discussion on music technology software and hardware. Think GearSluts minius the misogyny. Gear Fantix is looking for contributors to their platform! For more information about Gear Fanatix can be found Gear Fanatix
Gender Amplified
The mission of the Gender Amplified movement is to provide a platform for the promotion and advancement of women in music production and to identify and motivate the next generation of women music producers. By organizing public events that foster healthy dialogue about the role gender plays in the music-making process, Gender Amplified endeavors to give voice to a subculture of women and gender non-binary people who are using music technology to create their own music and perpetuate their unique identities. Gender Amplified
Hit Like A Girl
Hit Like A Girl is hosting the tenth annual international contest for female drummers, percussionists and beatmakers. Its purpose is to showcase and encourage drumming and lifelong musicianship for girls, women, and gender-expansive individuals, regardless of age, playing level, or geographic location. SoundGirls has teamed up with Hit Like A Girl for this month's contest! More information can be found Hit Like A Girl 
Shesaid.so
The shesaid.so community consists of women and gender minorities from all sectors of the music industry: from record labels, artist management companies, and booking agencies, through to technology platforms, creative agencies, composers, artists and more. With headquarters in London and LA, shesaid.so has 18 global chapters around the world including NYC, France, Italy, and Mumbai. More information can be found Shesaid.so 
Women's Audio Mission
Women's Audio Mission is the only professional recording studio in the world built and run by women/GNC (Gender Non-conforming) individuals. Each month and year Women's Audio Mission provides hands-on training, work experience, career counseling, and job placement for over 2,000 women. More information can be found Women's Audio Mission 
Women In Music
Women in Music is the industry's leading non-profit working to advance the awareness, equality, diversity, heritage, opportunities, and cultural aspects of women in the musical arts through education, support, empowerment, and recognition. Founded in 1985, WIM is now fueled by 100+ volunteers working daily to serve thousands worldwide. More information can be found Women In Music 
---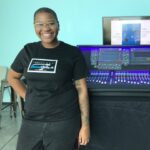 Alyasia Muhammad-Turner: Alyasia is a freelance sound engineer and musician, currently based in Atlanta. Her work consist of running FOH for local Atlanta artist, teaching flute lessons, and editing podcasts. Alyasia's goal is to continue education and training for women, non-binary, and LGBTQ+ in STEM fields.
Alyasia will be blogging about Mental Health and Music Education. She holds a BS in Recording Arts from Full Sail University. As a high schooler, she studied at Berklee College of Music in Boston, MA, obtaining college credits studying Contemporary Music. Her love of music and science fuels her passion and creativity in the audio industry. She's empowered by the community SoundGirls has created and hopes to help pave the way for others. In her free time, She enjoys making playlists, roller skating, being a dog mom, and volunteering at her local LGBTQ+ homeless shelter.