May is Mental Health Awareness Month. A month dedicated to spreading awareness on the importance of mental health and breaking the stigma that comes with it. As creatives in our industry, many of us have dealt with mental health concerns. I am writing this article to spread awareness in our SoundGirls Community and let those who are reading know, you are not alone! Here are some tips to better your mental health this month!
Get Support
Having a support system is very crucial for everyone's mental health. If you are feeling down and out, make a list of the people you know you can call on. Those that will be there for you and not judge you for whatever you're going through at the moment. This could be a therapist, parents, a spouse, or friends! To find more information on developing your support system Click Here.
Indulge in Self-Care
Self-care is vital. How can we expect others to care for us, when we can't care for ourselves? Self-care is anything you do for yourself that makes you feel AMAZING. Self-care looks like: bubble baths, going for a walk in nature, dancing to music, coloring, painting, etc. Here are some SoundGirls versions of self-care.
"I find one of my best things is to rest my ears. I sometimes just sit in the quiet or perhaps read and both my ears and mind get a rest. I'm not afraid to speak to people either and let some of it out." – Diane J.
"Boundaries.Therapy. Industry BFFs. Slide to Power Off" – Samatha P.
"I do run/walks, which are runs until I hit my limit, but then take scenic routes to enjoy nature and my surroundings. I also stretch, hum or do vocal sirens when stressed, meditate, and take me breaks to rest, journal, and yes, sleep." – Allie M.
Don't know what your self-care looks like? Here's a List of 134 self-care activities!
Regulate Emotions
Many times, our emotions get the best of us. Understanding and learning how to cope with our emotions will drastically improve our mental health. Know those emotions come and go, as they say; this too shall pass. If you are feeling depressed or anxious, know these emotions are not set in stone. Ask yourself, "What can I do for myself today, that will make me feel better?" This is where our support system and self-care come in. Here are resources for emotional wellness.
6 Ways to Improve Emotional Wellness 
This article is used to spread awareness on Mental Health, the author is not a licensed mental health professional. If you or a loved one is experiencing suicidal thoughts, please call 911, go to your nearest emergency room, or call the National Suicide Hotline: 800-273-8255. The National Suicide Hotline also has an online chat that can be found Here. If you are searching for a licensed mental health therapist here are a few resources. If you have healthcare, contact your Behavioral Health provider.
Industry Resources
Musicares – https://www.grammy.com/musicares – MusiCares provides a safety net of critical health and welfare services to the music community in three key areas: Mental Health & Addiction Recovery Services, Health Services, and Human Services:
Backline – https://backline.care/ – Backline exists to connect music industry professionals and their families with a trusted network of mental health and wellness providers
The Roadie Clinic – https://www.theroadieclinic.com/ – The Roadie Clinic exists to empower & heal roadies and their families by providing resources & services tailored to the struggles of the touring lifestyle. The Clinic is committed to providing a safe space for roadies and their families to heal while off the road, and to advocate for – and empower them to obtain – a healthy work environment
---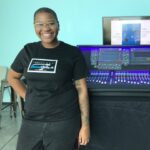 Alyasia Muhammad-Turner: Alyasia is a freelance sound engineer and musician, currently based in Atlanta. Her work consist of running FOH for local Atlanta artist, teaching flute lessons, and editing podcasts. Alyasia's goal is to continue education and training for women, non-binary, and LGBTQ+ in STEM fields.
Alyasia will be blogging about Mental Health and Music Education. She holds a BS in Recording Arts from Full Sail University. As a high schooler, she studied at Berklee College of Music in Boston, MA, obtaining college credits studying Contemporary Music. Her love of music and science fuels her passion and creativity in the audio industry. She's empowered by the community SoundGirls has created and hopes to help pave the way for others. In her free time, She enjoys making playlists, roller skating, being a dog mom, and volunteering at her local LGBTQ+ homeless shelter.