One of the most hated buzzwords of the moment is "networking." Fortunately, I never had a fear of the word or the practice itself, but I can understand why people feel it is awkward or too forced to be in a room of strangers and be expected to make business contacts. I was first thrown into the world of solo networking at the University of Exeter, where in my first year, I found myself turning up to events alone. I would have described my 18-year-old self as shy and reserved (although very few people I know now would believe that!). I attended employability events at the Career Zone within the first few weeks of university, to be met with questions such as: "But you're a first year? Why are you here?" from both members of staff and fellow older students. I, for some reason, had not thought it was strange to attend these events, it felt natural, although I had never been in a situation like that before. My school was good, but there were never formal or official career opportunity evenings. It felt like too good an opportunity to miss out on, this university networking malarkey.
I soon realised I slightly loved attending fresher's week events alone. It was like a fresh start at each meeting/event. Freshers are the first week at UK universities where students are encouraged to try new sports, activities, and clubs. I participated in a wide range of things on offer; it seemed like such an incredible opportunity to meet new people, learn new skills, and increase my confidence. The word networking never entered my head, but ultimately, that's what it was. So, within the first week at Exeter I had been to a French conversation class, clay pigeon shooting (don't ask why lol), many drama groups and too many sports to mention (lacrosse, trampolining, yoga, pilates, beach ball, netball, hockey, etc.) One of the best pieces of advice I received at uni was: try something new. I took this to heart and tried to enjoy the drama groups, but there was either too much dancing involved, or the people were TOO much. Then there were sports which I still try to convince myself I like, but low and behold in my heart of hearts I do not. The French and Spanish conversation classes were good to pop into later in the year, as at the beginning of the year they were far too busy and half the time was spent just introducing your name, age, where you came from. My favourite experience was at student radio.
Since joining the student radio station, my confidence grew immensely, leading me to continue to attend talks, events, and networking events with any speakers from media industries. I tried to speak to as many people as possible at the drinks and networking session that followed, then made sure to follow up with those who were kind enough to give me their email or offer to read my CV. I found these events so inspiring and refreshing and not a waste of time at all. I even used to attend talks in industries I had less of an interest in, for example, banking and finance, just in case, there was something to learn from them or someone interesting to meet. To be efficient and use my time wisely at university, I had no fear of discreetly leaving early or politely explaining that it's not for me but thank you for a great event.
This love of networking events continued throughout the summers when I was home in Newcastle. I attended events with Northern Film and Media, BFI Network and the Tyneside Cinema, where I met like-minded students from Durham and Newcastle University as well as working professionals in the audio industry. I am soon looking to be moving to London to start a new job in the media industry and wish to continue attending networking events as much as possible. For those that find it hard to attend social events alone, I have listed some ideas/tips below that may be of help:
Take a friend! Although most people attend networking events alone, there's nothing wrong with going in a group either; maybe you feel more social when there's already someone else by your side
Look up who the speakers are on LinkedIn and prepare some questions in advance in case there is an opportunity to speak to them, and you don't want to blank on the spot
Have the generic questions ready for other attendees including name, industry, interests, hometown, university city, you never know what you could have in common with someone
Take a notebook, so if you really can't face speaking to anyone, you can look engaged and professional by writing things down, this looks better than being on your phone for sure!
I have been lucky enough to have some great opportunities through networking events. After attending a Women in Business (XWIB) event and speaking to a local CEO and alumni, I was offered a two-day work experience opportunity in PR/marketing/blog writing, which then lead to a one-month summer internship. Also, whilst working at the Edinburgh Festival, I spoke to a leading talent manager in London, who then interviewed me for a job one year later and I got it! Of course, there is luck and being in the right place at the right time in play, and some events may be a complete waste of time, but I would say if you have been put off networking, keep at it as you never know what it could lead to. Perseverance is key. As well as quantity. I have found that the more events I attend, the more people I meet, and the more professional opportunities I am offered. Makes sense! Both Emma Gannon and Steven Bartlett have spoken openly about how most of their work comes to them after speaking at events and being approached afterward. I have seen them both host entrepreneur events/panels, and they are both entrepreneurs and public speakers working at the top of this mad industry.
To conclude, don't be scared of the word networking. You're most likely already doing it without realising. If you wish to start, take the baby steps, a small event here and there, even joining a relevant Facebook group is a great way to learn more about a certain industry and meet new people. Follow tags on social media to find out what's on in your area. Enter competitions, you've got to be in it to win it.
The pictures below are me at various networking events and opportunities. I didn't think I'd have any appropriate pictures to demonstrate my point of this blog post, but luckily I do!
Happy networking!
WHERE ELSE TO FIND ME:
Tri-lingual radio show (Sobremesa): https://www.mixcloud.com/Alexandra_McLeod/
Sobremesa Facebook page: https://www.facebook.com/AlexandraSobremesa/
YouTube and Geography blog: https://alexandrasobremesa.wordpress.com/
LinkedIn: https://www.linkedin.com/in/alexandra-mcleod-79b7a8107?trk=nav_responsive_tab_profile
---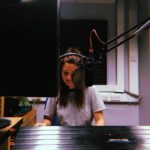 Alexandra McLeod: Alexandra is a recent graduate from the University of Exeter with a degree in BA Geography and Sustainability with Advanced Proficiency in French and Spanish with Study Abroad. Yes, its a lot! However, her main passion throughout university was her role as 'Head of Station Sound' for XpressionFM (student radio) where she created unique events and promotional material for the station. She hosted a weekly tri-lingual radio show and continues to host a comedy/poetry podcast. She has had experience working at BBC Devon, Cornwall and Newcastle as well as PhonicFM (Exeter).