I started listening to podcasts properly at the beginning of 2018 in my final year at the University of Exeter, to inform and/or entertain myself when walking to campus. I listened to some business podcasts such as 'Ctrl Alt Delete,' by author Emma Gannon and 'The Diary Of A CEO' by Steven Bartlett. I also enjoyed 'Keeping it Candid,' by Sophie Milner and Millie Cotton, who discuss the behind the scenes of the blogging and influencer industry. In terms of comedy podcasts, I was inspired by Jamie Laing and Francis Boulle's 'Private Parts' where they read their diaries, and of course, the world famous 'My Dad Wrote A Porno,' fabulously executed by Alice Levine, Jamie Morton, and James Cooper.
Podcasting is a very oversaturated market at the moment, providing copious amounts of content. The amount of listening you could do is endless, similar to YouTube videos. I found that podcasts offer inspiration, ideas and help to make business and life decisions. Perhaps the power of audio can be even more influential than video? You feel connected to a person through headphones, carrying out active listening such as nodding your head or verbally agreeing, to someone that is not even there. It is more productive than mindlessly watching TV whilst scrolling on your phone, as you are listening to a story.
As a member of student radio with interest in all thing's media, I knew I wanted to start a podcast for myself, to learn new skills and to document some of my own life. But, what on earth could I do a podcast about? What will make it different from my radio show? I was hugely inspired by the 'My Dad Wrote A Porno' podcast, as my own Dad has a literary creative streak. He writes comedic poetry. I thought I was the only one with a slightly odd, yet creative father, but it turns out there is a whole community of us. In his spare time, since at least 1996, my Dad has written poems, both hilarious and emotional about life, news events, and special occasions. Luckily my dad is not writing graphic novels, just poems. So, there I had it, 'My Dad Wrote A Poem.' (I did bump into Alice Levine at Edinburgh Festival last summer and told her I had ripped off their brand/title!)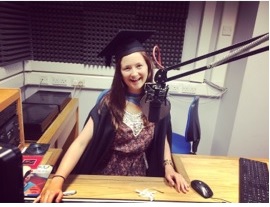 I am always an advocate of creating something that will leave a more positive affect on people's lives. I truly believe audio podcasting brings people closer than TV, film or YouTube ever has. It is an exciting time to be involved with a new wave of creative entrepreneurs that are using a simple medium to build global connections around the world. My Dad's poetry covers a vast range of subjects from politics, to the weather, to house moving drama. I believe that comedy brings people together. People can relate if they have a slightly odd family. Full of typos and grammatical errors, further comedic value is added to the poems. The quick and easy listening style leaves people wanting more. This content is personal to me because I am reading out loud the creative work of my Dad. I am reminded of family and life situations. For example, my brother losing his phone in the Alps and my Mum breaking her ACL. A few example titles include:
Seasons to be cheerful
The Homecoming
Pollution and Inclusion
Scandinavia
I created the short ident using my voice and the musician Dodie's instrumental intro to her song 'In The Middle.' It is short, sharp and catches the attention of an audience. Everyone is looking for relatability and humour in a world full of negative news. My Dad sees the funny side and irony in everything, from Brexit to Trump. The poetic content also includes sentimental poems and readings from funerals. The poems capture emotional thoughts and make them palatable, sincere and easier to digest, to remember the good times. The editing I do is simple; I only edit out long pauses or background noise. I want the content to sound authentic and like a real conversation. I recorded multiple in a row and have since had to take a break as it is difficult to continue now I am no longer at university with all the audio equipment. I definitely wish to pick it up again at some point, as my Dad certainly hasn't stopped writing poems!
WHERE ELSE TO FIND ME: