It's easy to miss the SoundGirls news and blogs, so we have put together a round-up of the blogs, articles, and news from the past week. You can keep up to date and read more at SoundGirls.org
February Feature Profile
Shannon Deane – Post-Production Engineer and Stunt Car Driver
---
The Blogs
Internet Round-Up
---
SoundGirls Jett Galindo and April Tucker interviewed about SoundGirls and The Recording Academy's Diversity and Inclusion Initiative.
"Part of what Sound Girls is trying to do is just show that, 'Hey there's other women out here doing what we're doing. We exist and we're doing the job well,'" Tucker said.
"It's a matter of representation," Jett Galindo said. "Just seeing themselves on these websites, on the Academy Awards, on the Grammys, succeeding…it reminds them that it's doable."
---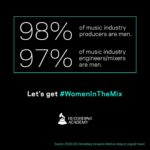 The Recording Academy Task Force on Inclusion and Diversity is announcing the first ever industry-wide Producer and Engineering Inclusion Initiative. Together with prominent producers, labels, artists, agencies, management companies, and other stakeholders we're making strides to create industry-wide change.
The Initiative asks that at least two women are identified and therefore considered as part of the selection process every time a music producer or engineer is hired. It also asks working producers to agree to take issues of gender diversity within music's technical fields into account when deciding who to mentor and hire for further development. You can find women to hire on The EQL Directory
---
SoundGirls News
SoundGirls Launches Initiative for Members Working in Production Sound
---
Shadowing/Mentoring/Internship Opportunities
---
https://soundgirls.org/shadow-foh-ld-on-amanda-palmer-tour/
---
SoundGirls Resources
---
---