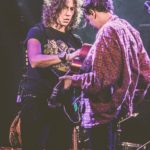 Erika Duffee has invited SoundGirls Members who are interested in learning about Tour Managing and Production Managing to shadow her on the upcoming Scott Hellman Tour across Canada.
Erika has over 20 years experience in international touring and production management working with a wide variety of talent ranging from Canadian platinum-selling artists, Scott Helman and Walk Off The Earth to Italian pianist/composer, Ludovico Einaudi to Brazilian music royalty, Bebel Gilberto. She began her career as a volunteer radio programmer in New Orleans, worked in day to day management and spent 10 years at  Concord Music Group in Los Angeles doing artist development and producing showcases and special events for the label.
Things you need to know
You must apply – Apply Here

Start Time around 3 pm each show.
You will be responsible for your own dinner
Please note you must be 18 years of age to apply for this opportunity.
Shows available