On Being a Woman in Audio in the Middle-East
The first time my parents took me to a concert I was about thirteen years old, and I remember looking at the guy with the huge board full of knobs in the middle of the crowd and thinking: "I want to be that 'guy' someday". I started getting more and more interested in sound and acoustics as the years went on, and most importantly I started attending more and more concerts, and that's where my fascination grew for the field of live entertainment. At the age of 18 I began my undergrad studies in physics, and at the age of 21, I decided to move to France to pursue my master's degree in sound engineering.
The first day of class in sound school I looked around only to realize I'm the only woman there. And that was the first time, as silly as it may seem, that I realized that this is a man's field. Before that day it had never occurred to me that this was a man's, a woman's, both or either's field and even after that it seemed pretty insignificant to me. I wanted to be a sound engineer, and that was all that mattered even if I was going to be the only one in the Middle East.
I moved back to Lebanon in 2014 at the age of 23 and started working in one of the largest sound rental companies in the region, Fida Zalloum sarl. I began with basic tasks mainly stage set-ups and assisting other engineers but soon the opportunities unraveled and the first time I handled a mixer on my own was in the summer of 2015 at the Baalbek International Festival, one of the most prestigious festivals in the region, doing monitors for the Lebanese Philharmonic Orchestra. Since then, I've done monitors for the likes of Tina Arena, Richard Bona, Ibrahim Maalouf, Bob James, Angelique Kidjo, FOH/monitors for Lisa Simone and various visiting foreign and local acts. With stages ranging from small to large scale, bands and orchestras, and attendance ranging from a couple hundred to 20,000 people.
It has not been easy, far from it. Starting out in a country that up until then had not known of female live sound engineers, has forced me to prove myself ten times more than any of the male engineers. People were looking at me curiously; clients were coming up to my boss asking why he hired a female sound engineer and not a "normal" male one. I had countless musicians ask me if I could handle the mixer on my own if no one were helping me. I even had clients refuse to work with me just because I am a woman and supposedly was unable to do what was so far labeled as a man's job. To this day, I still get weird looks while rolling a cable at the end of a concert, or while lifting a case, or while running a mixer and doing other technical tasks. All of that is in addition to sexist comments I heard in the workplace on a regular basis.
All of these obstacles could have pushed me to give up and accept that it is a male's field, but I didn't. Why?  First of all and most importantly this is what I love; this is what "I want to be when I grow up."  The fact that I'm a woman, or more like: the fact that I am not a man had no part to play in me choosing my career and passion. How I did it? Courage and fierceness. I set objectives and sprint towards them disregarding any disturbance around because I understood that in the big picture, all these small difficulties are obsolete. I love my job; I love everything about it from the long hours to the physical exhaustion to the rush I get when I hear the screams of the crowd as the concert is about to begin. This is my passion, and this motivation is what keeps me going.
And to be fair, being the only woman doing this in my country has given me a great deal of exposure. People were talking about "that girl in live sound" and the fact that I was able to prove I was as capable as any male counterpart has made most clients change their prejudice towards females working in this field. More and more people are not only accepting but support it, and I find this to be quite pleasant and rewarding. If I had to sum up my experience in a sentence, it would be one I so often hear at gigs: "the sound guy is a girl, but she's good I swear!"
If I can give a piece of advice to any woman interested in sound, starting out in sound or working in sound is to be courageous and fierce. Don't focus on the obstacles and don't let your fears take hold of you if you are true to what you want to do and what you love you will make it. I am making it with no signs of stopping any time soon, taking it day by day in one of the most hostile regions for women and their advancement, and all I can say is that it is so darn worth it.
---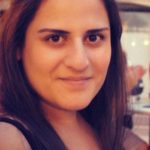 Sana Romanos is a project manager and live sound engineer working in Beirut, Lebanon. Sana will be heading up the Middle-East Chapter of SoundGirls.