August 28, 2013 marked the 50th anniversary of the March on Washington where Dr. Martin Luther King Jr. gave his historic I Have a Dream speech. The original March on Washington for Jobs and Freedom was broadcast in its entirety (fifteen hours) by The Educational Radio Network (ERN) the fore runner to NPR. While WGBH of Boston presented the original broadcast in real time on the 50th anniversary, NPR broadcast live from the Lincoln Memorial.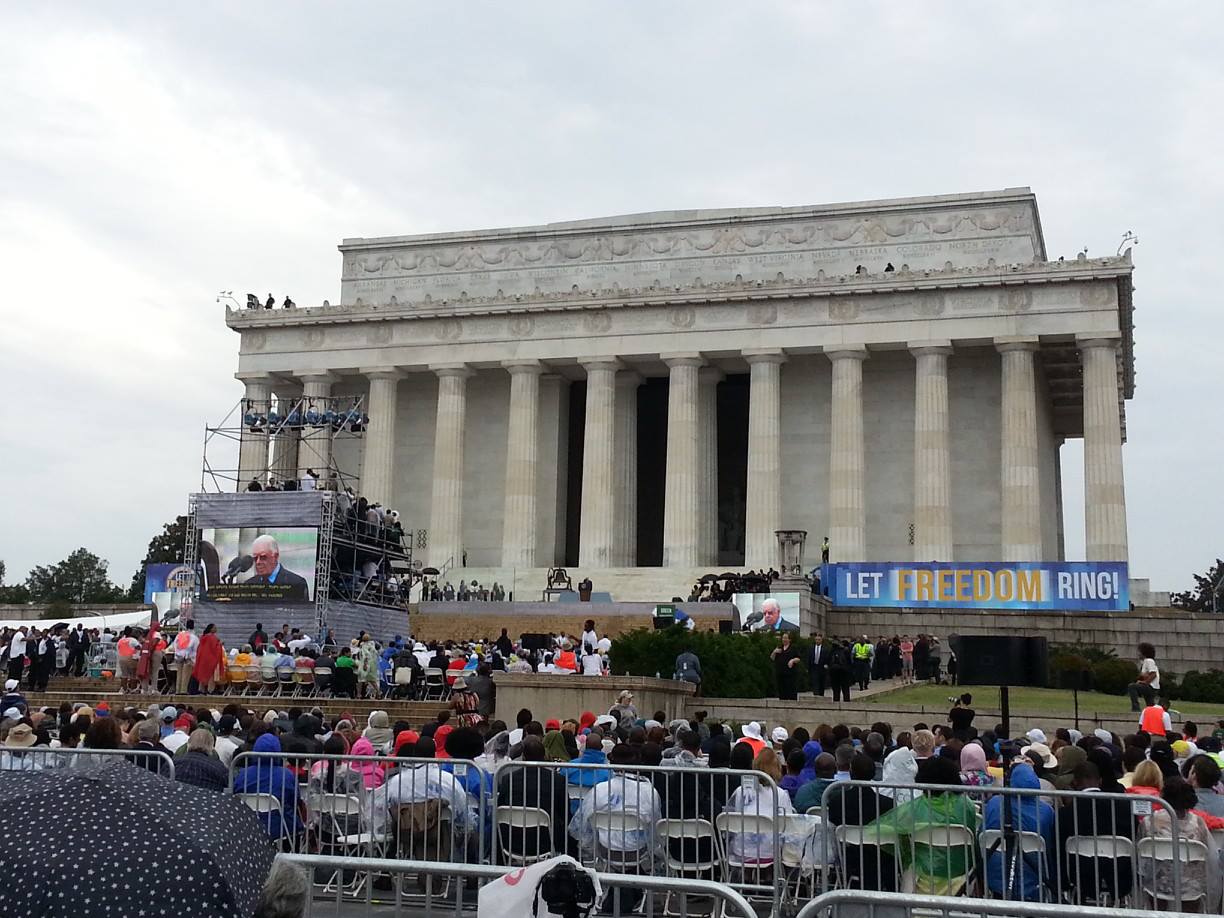 Soundgirls caught up with SG members Angie Hamilton-Lowe and Melissa Marquis who worked on NPR's 50th Anniversary Coverage of the March on Washington. Angie is part of NPR's News Operations team and handles technical logistics, Melissa is a Broadcast Recording Technician (BRT) and works on pre-production and drives live shows.
SG: How much time did you have to prepare for the event?
Angie: NPR decided they would provide a special live broadcast two weeks before the event.
SG: Is that a typical time frame for special events?
Angie: NPR is relatively small compared to most international news organizations and has to keep with the 24/7 news cycle. We don't have anyone dedicated to handling long-term logistical planning but we do have a smart and dedicated team to pull these things off. Although it is stressful.
SG: What logistics did you have to handle?
Angie: For productions like these, my first task is always to determine who is coordinating media logistics for the event. I communicate with that person to inform her/him of NPR's technical requirements for a live remote broadcast. If it's possible to order services through the venue, then I do (because it's much simpler!) but typically, I have to place orders with the local telecom company, which is what I did. I ordered the following through Verizon: one ISDN BRI circuit (for audio transmission to the studio @ HQ), one POTS line (for comm with studio control room) with high speed DSL service (so that staff on location would have Internet access, as well as access to a software program NPR has developed called NewsFlex, which contains scripts, wires, and show rundowns. There was  a backup in case the ISDN line failed, the audio engineer could switch to an IP codec for transmission to studio.  As you may know, telecom companies never promise anything, so there is always anxiety of if/when the lines we need for broadcast will be installed.
SG: The Lincoln Memorial is probably not set up to handle live broadcasts?
Angie: The location of this event posed a particular challenge. It's usually easy to get circuits installed in a venue with pre-existing telecom infrastructure, but this was at the Lincoln Memorial, on the National Mall. The National Parks service wouldn't even allow Verizon access to the site until Monday, two days before the event. So even though Verizon processed my orders a week before the broadcast, no one could guarantee that the lines would even be installed because Verizon wasn't sure where the lines would come into the area until the technicians started working Monday morning.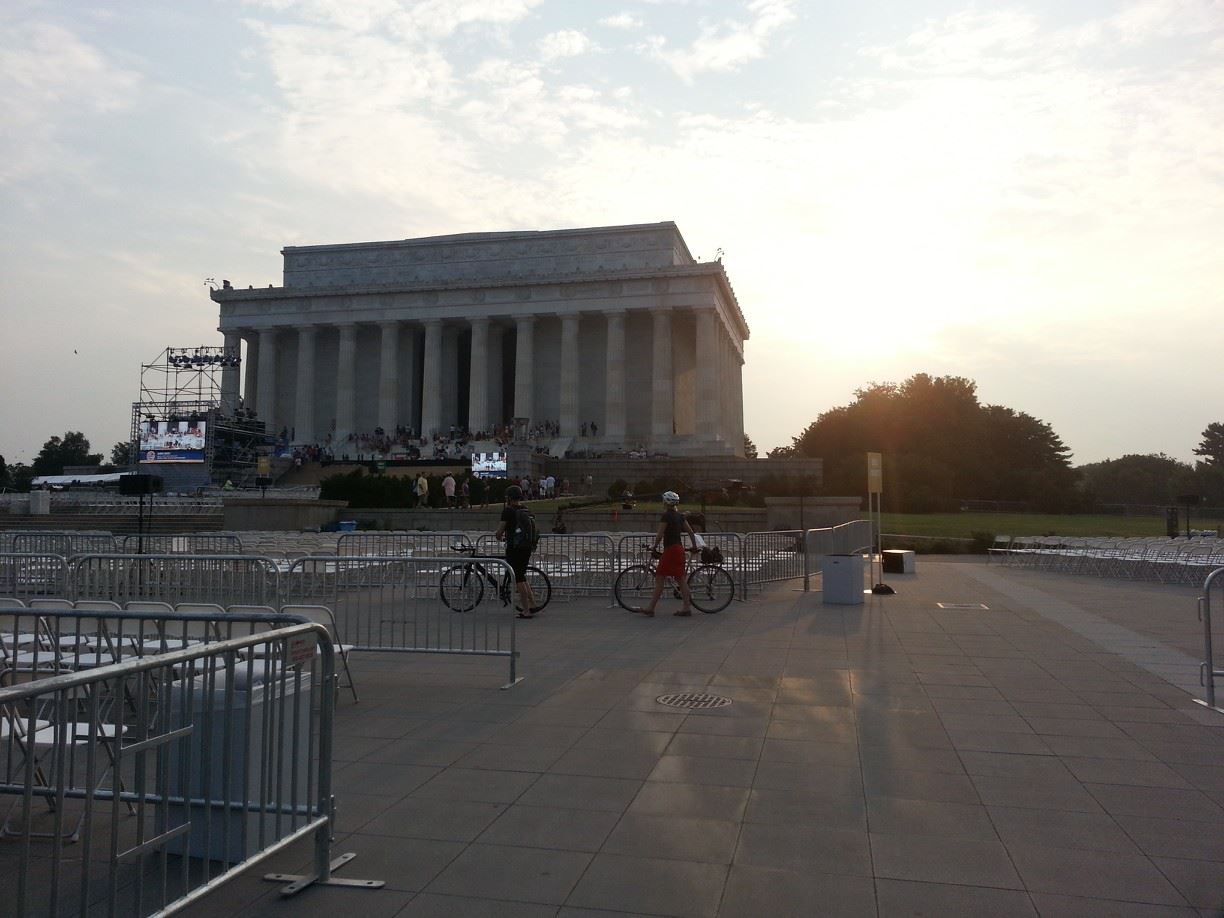 SG: What would happen if lines were not installed?
Angie: Lots of screaming. Kidding. We would have tried to use an IP codec over the Verizon wireless 4G network.  NPR reporters frequently use that technology to do short, live reports, but we've never had to result to wireless for a multi-hour broadcast.  It certainly wouldn't be ideal in a dense metropolis like our nation's capitol, especially at an event where the president is speaking.
SG: How were the telecom circuits installed/pulled to the press area?
Melissa: Chris Nelson, our "Innovation Architect" (he works with new technologies and new workflow methods) would start his day with a stop at the mall that Monday and Tuesday leading up to the event and then made periodic trips over to check progress. He touched base with the Verizon techs, asked a lot of questions from people there, gathered a lot of invaluable logistics info that we wouldn't have had otherwise. Verizon was wrapping up install when we got there around 4 pm Tuesday to test.
ISDN is being phased out by the phone companies, but it is the most reliable method of transmission (and quality) from remote sites. Verizon installed a new type of line called a "Custoflex" which they said would also work for ISDN. This was the first time we had used this type of line, so we didn't know for certain it would work until testing. We also requested internet – the only service available was a 10mb down, 768k up DSL, and a 20 amp power drop plus POTS (Plain Old-Fashioned Telephone Service). ISDN, internet and power are the triumvirate with landline being the ultimate backup and communication tool. We had tried to do LTE connections with a Comrex Access the prior weekend for the march, but wireless connections are incredibly unreliable at events with thousands of people texting, uploading and calling. For example, I was uploading pictures to my Facebook page, and half-way thru the event, they were taking around 45 minutes a shot to upload; kind of negates in-the-moment. We were also using texts to communicate with Chris and confirm we were ready for the next live shot, but we found that there was some delay with transmission with those as well; only minutes in that case, but again, that can be problematic when you are hitting deadlines.
SG: Angie you work at NPR West – not being on-site – How did you make sure Verizon was able to install the lines?
Angie:  All day on Monday & Tuesday, NPR Audio Engineering assigned someone to the Mall to claim space, scope out the set-up, befriend the Verizon technicians & make sure that our lines actually were installed.  If you aren't proactive, reminding the telecoms that you're there & have an order, there's a good chance you'll be forgotten.  We've learned that from experience. It wasn't until late Tuesday that I received confirmation that the ISDN line had been successfully tested & that the Internet connection worked. That's when I breathed easily again, because my work, from the other side of the country, was done.
SG: Melissa you were on-site for the broadcast – what were your job duties?
Melissa: I acted essentially as an A2.  Tom Marchitto (a fellow tech) and I worked with Chris to determine what we would need for live inserts and filing audio and then tried to think of the ifs.  If we lost power, if it rained, if our ISDN unit died, if…
After unpacking, running cables and hanging the additional antennas, I set up our "tent," helped the producers and reporters with problems like needing LTE wireless modems for their laptops cards or batteries for their recorders, corralled next up for live shots, and made sure everything was staying dry. Tom monitored the audio feeds, stood by on IFB (interruptible feed-back) and dealt with live inserts while I worked with the producers and reporters.
SG: What types of equipment and gear did NPR bring in?
Melissa: For audio transmission back to HQ, we brought a Musicam Suprima (ISDN), a Comrex Access using the internet connection as backup, and then had a Musicam Road Warrior and another Comrex Access standing by. The LTE USB modems (used with the Access and producer/reporter laptops) worked fairly well until mid-afternoon when wireless traffic got heavy. At that point, the producers took turns plugging into the router to upload.
We brought a Prospect K-series 4-wire talkback unit for IFB. We had both wired IFB boxes and the wireless Lectrosonics that we sent out with Booker (Brakkton Booker is an Assistant Producer for NPR's Washington Desk).  We were able to talk to Booker independent of the reporter doing live shots. We used an SM57 plugged into a Lectrosonics transmitter for Booker out in the field and a Sennheiser HMD 26 headset/mic combo for the reporters at our station.
We used a Mackie mixer and brought a UPS (uninterruptible power supply) in case we lost power. It was a fairly basic setup. Half of the things we brought were "in case" including about twice as many cables as we needed plus a case of water that Tom dropped by the night before and a bag full of nuts and bars.
SG: You mentioned that no one at the event was handling RF coordination – Did that create problems?
Melissa: Chris and Tom, both of whom had worked on inaugurations, pulled up the paperwork from the last inauguration and we went with what we had used then. The hope was that everyone else would do the same. Surprisingly, we didn't really have any problems at all. We used the wireless IFB and mic for one of our producers to talk to spectators on the mall. I believe he got about a quarter of the way down the Reflecting Pool- around 230 meters from where we were set up. The wireless mic was breaking up a little, so Tom used two antenna fins I had run to the back of the media platform and connected to the receiver in a diversity setup. Booker was collecting vox reaction, did a live insert into "Here and Now" with a 70 year old lady who had been at the original march. The only problem we had was the muffs falling off her headphone moments before air, and she didn't miss a beat. We didn't know anything went wrong until Booker came back.
SG: Did the weather – rain pose any problems?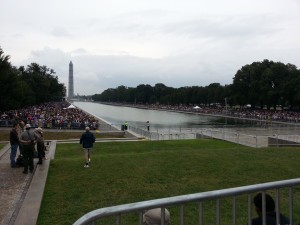 Melissa: It drizzled on and off all day, but none of the possible thunderstorms with winds gusting up to 40 miles an hour mentioned in one of the forecasts, thank goodness. We brought tarps, clothesline, bungee cords, gaff tape, paper towels and bummed 10 large clear garbage bags from work. Also umbrellas and rain jackets. We borrowed the idea from CBS Radio behind us of building a tent for our equipment with one of our tarps and using road cases to prop up so that we could still get to the mixer and other equipment.  As soon as it started drizzling, I passed out garbage bags to our reporters and producers to protect their laptops. In fact, we brought enough and were able to loan a tarp and garbage bags to the BBC to protect their equipment.  It was also very hot as well as drizzly. I was amazed that the crowds stayed all day, standing in the rain, listening on their phones (there wasn't any PA or video past the front of the Reflecting Pool) and still so attentive, reactive and in good spirits.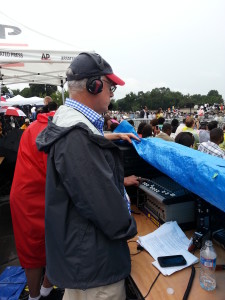 SG:  The anniversary featured President Obama, and former Presidents Jimmy Carter and Bill Clinton, did the heightened security pose additional logistical concerns or problems?
Melissa: A pain, more than anything else. The mall wasn't blocked off until the 3a security sweep, so we didn't want to leave too much there the day before and count on it being there (risking both screwing up the day and our inventory for future events.) We briefly considered one of us staying the night but decided that we could hump our pack in and hope that we got thru security in a timely manner. One of the guys dropped Tom and I off with our pack (we had a couple hundred pounds worth of equipment with us) at the media gate at 7am with the hope that they would let us in earlier than the announced 9 am if they were done with their security sweeps.
The Mall had a fence around it with soldiers posted around every 30 to 50 feet. They didn't end up letting us in before 9am, but it was a good thing we got there so early, as there ended up being at least a hundred more media people behind us in line plus several hundred ticket holders. Once we got in the gate, we then got into another line to go thru detectors. We had to partially unpack and have our equipment searched, and we didn't get to the stands until almost 10 am with our first live shot at noon.  Some of the news outlets standing in line were planning to do live shots starting at 9:30 am, so we were lucky.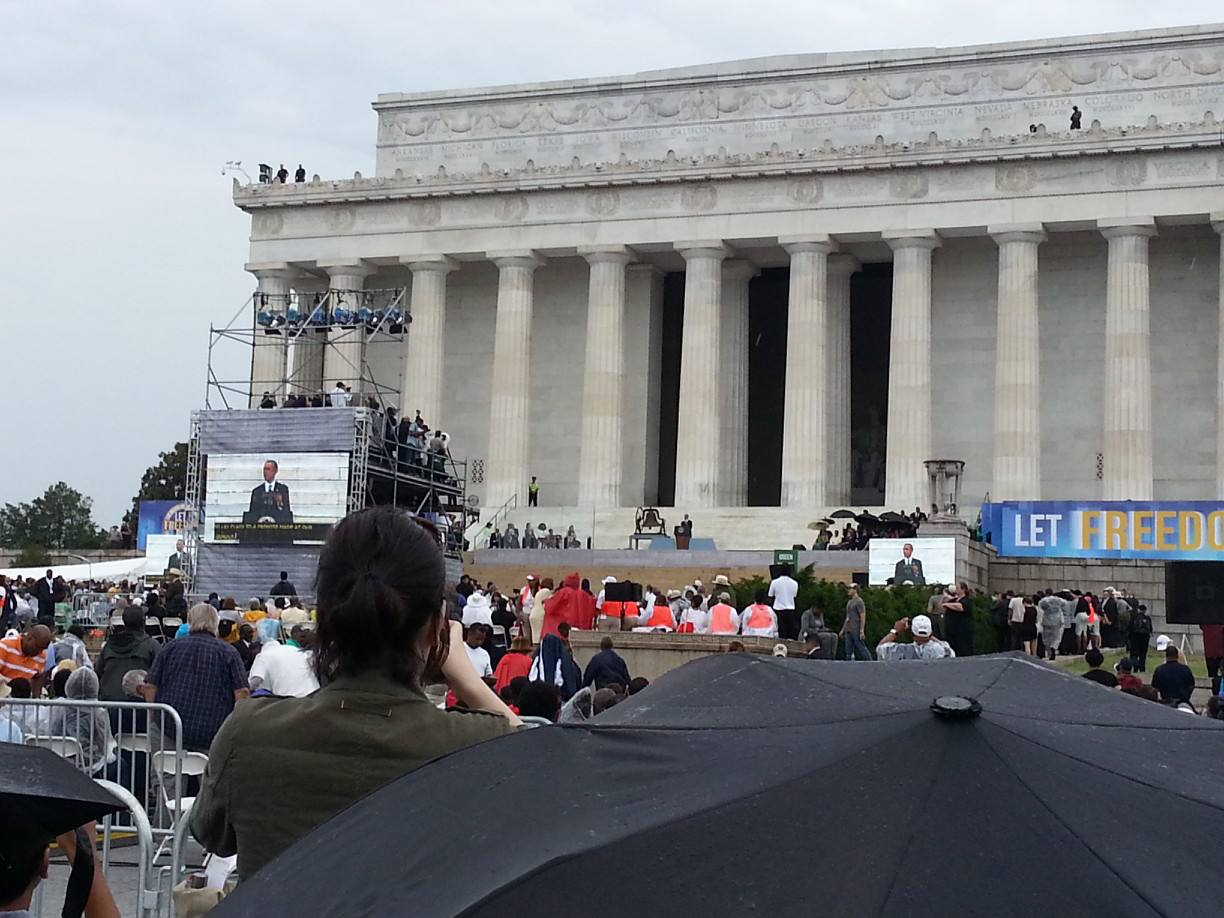 About halfway thru the event, I realized that there were half a dozen people stationed on the top of the Lincoln Memorial itself, and Booker had to have an escort when he went down the Mall talking to people- security was pretty intense. At the end of the day, the fences and so on were still up, so we had to roll/carry our equipment about a quarter mile to the closest point our ride could pick us up (well, according to Google Maps- it felt like a mile.)  At that point, we had more equipment than we could carry in one trip (with the two extra bags from the night before), but Brian Naylor ( Naylor is a correspondent on the Washington Desk) stuck around after his live shot for All Things Considered to file some spots, and he helped us carry equipment back. All I can say is, I work with really great people. Seriously. UPS are heavy buggers.
SG: There were several events during the week leading up to August 28th broadcast, how did NPR cover these events?
Angie:  NPR produced a series, The March on Washington at 50, which featured special content on the news magazines and talk shows, discussions on the CodeSwitch blog, and multimedia content on NPR.org throughout the week: http://www.npr.org/series/213897602/the-march-on-washington-at-50
Photos by: Angie Hamilton-Lowe