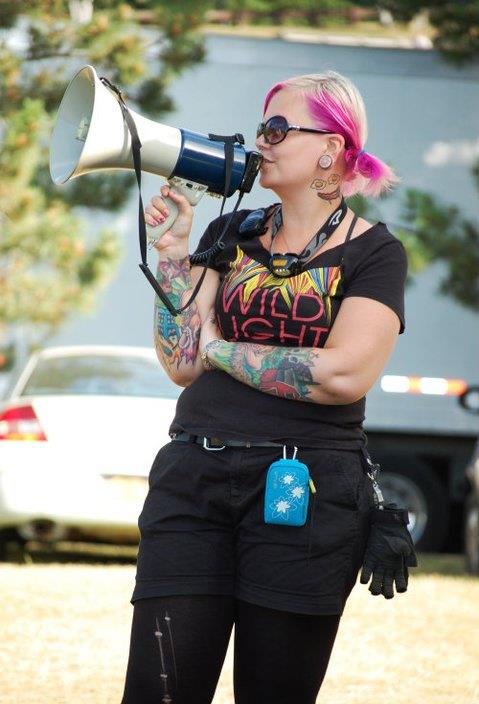 Chez is an independent sound engineer based out of Los Angeles that enjoys work surrounding FOH, including mixing, teching, and designing sound systems. She is currently touring with the artist, LP (iamLP.com) as her Tour Manager and FOH Engineer.
Chez started her career in sound by attending the Art Institute of Seattle where she studied Audio Production and received an Associate Degree in 2003. During her coursework at the Art Institute, Chez found a passion for live sound under the mentorship of the late Tom Pfaeffle. Chez helped construct and interned at The Tank, Tom's recording studio in Black Diamond. When the studio was completed, Chez recorded a rough demo that helped a band land an independent record deal. She had started a production company with some friends, recording, managing, and booking local bands but soon thereafter, she was involved with her first live show, and she was hooked. "I loved the fast-paced action, live troubleshooting, and the performance experience," She recalled. After the excitement of live sound, there was nothing else on her radar.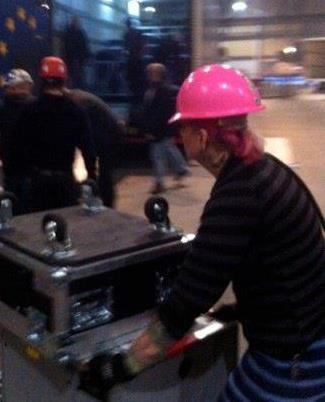 While still studying at the Art Institute, Chez began work at the Seattle-based sound company, Carlson Audio Systems. She learned and absorbed as much information as she could, taking part in many trainings that included working with new consoles, wireless technology, and rigging. "Carlson was an amazing company to work with, they had a great crew, great gear, and had amazing gigs," she recalls of her time there. Chez owes her basic skills in troubleshooting, stage patching, and teching to her time at Carlson Audio.
While at Carlson, she teamed up with fellow SoundGirl, Christina Moon for nearly every major festival in the Pacific Northwest for many summers. Christina mixed monitors while she ran the stage and hung PA. She was quickly promoted to the position of Production Manager at Carlson until she left for life on the road in 2008. While she was Production Manager at Carlson, she learned a lot about dealing with venues and their personnel, advancing, building gigs from the ground up, and booking and managing the crew.
She did her first tour as a stage tech in 2007 with the band, Zappa Plays Zappa. It was only a regional tour in the PACNW, and she was hooked. In 2008, she joined Eighth Day Sound and began touring full-time as a PA Tech. She toured with many acts from theater tours with Duran Duran to stadium runs with Madonna. In 2010, she toured as the FOH tech for Slayer and developed a love for FOH, and soon left the stage behind. She went on to FOH tech for The Black Keys, The National, Avicii, Marilyn Manson, and Volbeat. Recently, She headed up the FOH mix for the Dylan stage at the Made In America Festival in downtown Los Angeles which included "a lot of mixing on the fly with little information and man, it was super fun!!". She has also dabbled with monitor teching for Tool and most recently, QOTSA, but FOH always called her back.
This year, she joined her first club tour in a long career of arenas and stadiums as the FOH engineer for the band, Uh Huh Her. The sound systems at each club were unique, varying from high-end equipment to systems that required her to use her troubleshooting skills. She reflected, "there were days on tour where I'd pink through the PA and MON systems and find that half the PA had no midrange and each monitor mix was completely different… Some days, everything just worked." She enjoys the challenge of making the act she's touring with sound the best, no matter what the system limitations. "working for a woman-fronted band, with amazingly talented artists blew me away. It was a completely different environment than I had ever experienced on the road with only dudes, and I'm lucky enough to have landed myself a new gig with another amazing female artist, LP."
Other than making everything louder than everything else at FOH, her favorite aspect of touring is the travel and being in a different place every night, even if all she sees is catering and the airport. "I love putting up massive rigs and rocking the house in huge venues or pushing tiny club systems to their limit and everything in between." On her days off she loves to find cute coffee shops, parks for reading and local Pho joints. Crossing borders on back-to-back shows are on her list of drawbacks of touring as well as the difficulty of maintaining relationships.
Aside from the hassles of back-to-back gigs with border crossings, she has found much frustration in the sexism, racism, and homophobia that can run rampant in the music industry. During her career, she has fielded many sexist jokes, comments, and male team members being uncomfortable with females in sound roles. As have most women in this business, she has walked into many a venue and been approached by locals asking if they could take her bag and escort her to the offices. She has experienced her crew chief not wanting to work with women and the company contracting her being totally okay with that kind of blatant sexism. While frustrating, Chez recognizes the importance of being a female in an industry she loves. When the sexism gets old, she relies on women mentors and friends for advice and venting sessions with lots of apples.
What advice do you have for women who want to work in audio?
My advice for anyone entering the business is that you really need to have a passion for what we do. Touring is not easy, and it's not always lucrative either. You really must love doing what we do to be out here. You have to have thick skin and a serious work ethic to make it. Align yourself with as many awesome women as you can because even if you're the type that considers yourself "just one of the guys," the misogyny gets really old, really fast.
What are the must-have skills someone would need to enter audio?
Signal Flow, Signal Flow, Signal Flow. Second only to gain structure. Seriously, if you cannot troubleshoot because you don't know signal flow you are just going to frustrate those around you. It's also really handy being able to nap in nearly any circumstance.
What's your favorite gear?
Gear that works!  If I had an endless budget, I'd always carry a Pro Series Midas and a giant D&B system with me. In the real world, a great multimeter, AES and Analog cable testers, a Gerber tool, and a good pair of gloves are just as priceless as having a million-dollar PA. And, of course, a solid pair of ears! (the kind in your head, not the kind you plug into your iPhone on flights-haha). On my recent gigs with LP, since we're doing mostly fly dates abroad with local gear, all I carry is my earplugs for support acts, headphones and a USB stick with my show files.
She would like to keep mixing and not have to work as hard physically, and also thinks about moving into production and stage managing. "I love to learn new skills and have considered going back to school for other non-audio-related things in more progressive, feminist-friendly industries, but I keep being drawn back into audio-I can't stay away!"  The main focus in her career right now is working in female-friendly environments and supporting amazing artists with her audio and tour management skills.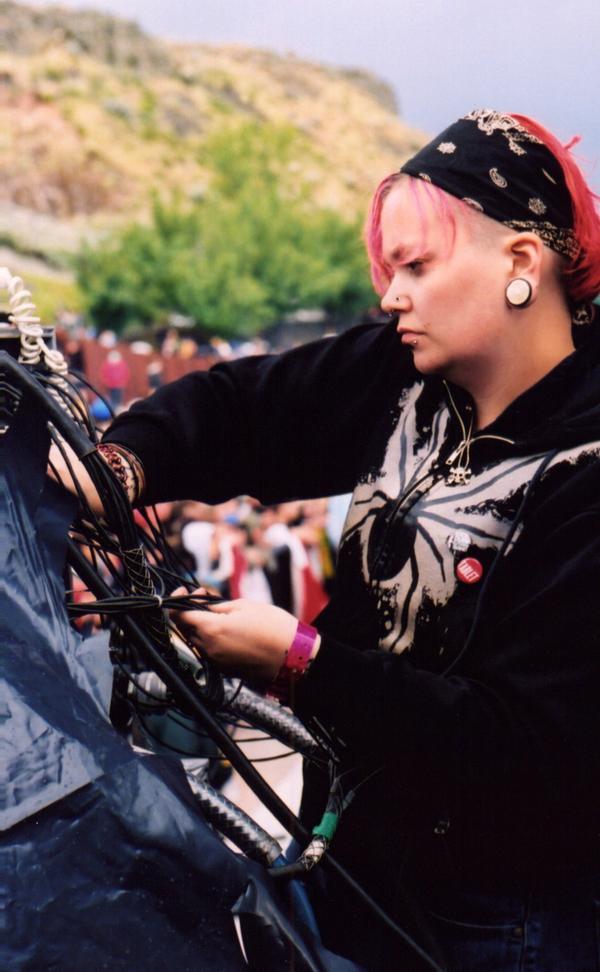 "I love seeing sites like SoundGirls pop up. I am happy to see other women getting together to support each other. I owe much of what I know on a fundamental level to working festival patch positions under Christina Moon. Building my chops under a no-bullshit woman like Christina was an opportunity that I didn't realize was so rare. Once I started touring, it took me over four years to work with another female tech or engineer, in any technical department. And these were MASSIVE tours. Plenty of hard-working women in the production office, wardrobe, and catering, but none out on the arena floor getting their hands dirty like I was. I had no idea what a rarity it was being able to work alongside another woman until I was living it. Take advantage of this community. Make sure you pay attention the next time you work with another woman. Make friends, network together, support each other and help each other grow in an industry that often tramples."
C