Dana Wachs is a Brooklyn-based Audio Engineer, Tour Manager, and Composer/Musician. Dana started her career in music in 1994, as a bass player for the Dischord band Holy Rollers, which ignited her interest in live sound, after a national tour supporting 7 Year Bitch. Her first foray into the practice of live sound began after that at the Black Cat DC, and later the infamous 9:30 club.
Dana's first national tour was as TM/FOH for Peaches supporting Queens of the Stone Age in 2002.  Her first International tour quickly followed in 2003 with Cat Power.  Since then, touring has kept her on the road 9 to 11 months out of the year with bands such as MGMT, St. Vincent, M.I.A., Grizzly Bear, Foster the People, Nils Frahm, Deerhunter, and Jon Hopkins to name a few.
Outside of touring, Dana composes and performs under the name Vorhees, with two releases on Styles Upon Styles (Brooklyn), and is currently composing her first feature film score.
Although she is mainly a FOH engineer, she has toured as a monitor engineer, before the pandemic hit she was on tour as TM/FOH for Yves Tumor and before that was working with Deerhunter and Jon Hopkins.
Early love for Music and Recording
Dana's musical background started early, at age nine she began to learn to play the Cello, moving onto electric bass at 11, and then was gifted an acoustic guitar. She is mainly self-taught and learning to play a range of instruments helped build the basic foundation for the basics of recording.
Dana was also exposed to a wide range of music growing up as her father worked in radio and sent her the promo top 40 LPS every month. Dana explains that "top 40 was everything from new wave to new jack swing, so the sonic representation was quite broad for the mainstream." One year her father gave her a dual cassette recorder and Dana would spend her allowance on blank tapes, recording snippets of songs from the radio and her favorite songs.  Dana remembers this  "lead to me seeking out a 4-track recorder, and recording myself playing with the built-in microphone."
Dana would receive a partial scholarship to Adelphi University for acting but spent more time in the radio station.  She received an FCC license while there (it used to be required to even be on college radio) and learned how to cue records, tapes, and began an unhealthy relationship with collecting 7" records.
The Spark
I was on tour as a 19-year-old, playing bass for Holy Rollers (Dischord) on a 5 week US tour, supporting 7 Year Bitch.  I would watch 7YB's set from the sound booth, often focusing on their sound engineer, Lisa Fay.  I began to ask her standard newbie questions ("What does that button do?") and thankfully, she was not only patient but incredibly enthusiastic and encouraging.  Her passion really excited me, and I realized the potential of engineering as a creative role, and not just purely technical.
Audio was an obvious extension of my love for music. I considered audio as the representation of creativity in a tangible way, though of course, it can seem very abstract when first starting out.  Playing instruments as a kid, as well as vocal lessons, impressed upon me the importance of really listening, and not just hearing.  That aspect of experiencing music, rather than passively enjoying it from afar, was a cathartic epiphany.
Career Start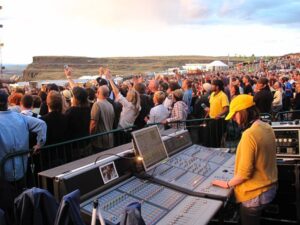 After that tour supporting 7 Year Bitch, I began to work at the Black Cat in DC.  I worked almost every service job I could (door person, barback, line chef) and saw more legendary shows than I can list.  One show that made a major impact on me was Stereolab supporting their album "Emperor Tomato Ketchup".  This was probably '95 or '96?  Anyway, their FOH engineer had a bank of synthesizers that he'd play while he was mixing, and it suddenly clicked that THAT'S WHAT I WANT TO DO.  Eventually, I began to hang out at FOH on days off, and again would ask question after question (this time of Nick Pellicciotto, FOH for Fugazi and main house engineer at Black Cat), and was very graciously and patiently walked through signal chains, outboard gear, etc.
Eventually, I felt confident enough to offer my very amateurish skills for free to regional bands.  Without any formal education, I found that hands-on experience has been the best way for me to learn on the job.  I moved to New York in 1997 and began to intern at Greene Street Recordings, eventually assisting for the first time for a Pete Rock-produced track.  Shortly after that, Pro Tools became prosumer, and I transitioned back to live sound as that's where the work was.  I became the regular house engineer at Tonic in the Lower East Side, mixing legends like John Zorn, Marc Ribot, and other luminaries of the downtown/experimental scene.
The Importance of Mentors
Besides Lisa and Nick as mentioned above, my first National tour was as TM/FOH for Peaches, opening for Queens of the Stone Age.  Their FOH, Hutch, was incredibly helpful and welcoming.
Because I am self-taught, I have recognized that self-education is a discipline in and of itself.  There are constant advances in the technology of the tools we use on the job, and without formal instruction, I can only rely on myself to seek out the education necessary to stay on top of the trade.
Career Now
What is a typical day like
Assuming I am on a bus tour and also TM, I wake up in my bunk anytime the bus parks, so I am first up.  Priorities are to send out the latest version of the day sheet to the touring party, get the bus driver checked into their hotel room asap, get day room keys for the crew/band, and shower/coffee before load in.
I'll meet the production team during load-in and then act as the "catcher" as cases are brought into the venue.  I'll drag/push/carry cases to their appropriate stage position as the backline tech sends gear in with local hands, and then, once the backline tech shows up, will work with the house FOH engineer to load my file and talk through the output patches, before moving back to the stage to place microphones.  I'm super particular about most microphone placements, so this gets checked and rechecked throughout soundcheck, as hey….we're all human and occasionally things get shifted between musicians and stage crew.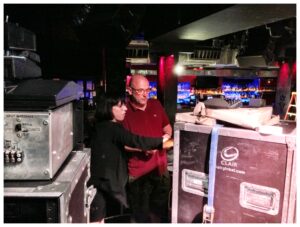 I don't typically use pre-recorded music to tune a system if I'm in a small theater/large club situation.  If I'm in a higher capacity venue, I will have playback and walk around all of the zones with a Lake EQ tablet, making slight adjustments as needed and letting the audio tech know if I hear any misalignments or time delay issues.
Then soundcheck.  As long as it takes. I find, I prefer mainly to use soundcheck to make sure meters are reading healthy and lines are clean.  I double-check all my effects and request the band finish the soundcheck with the first song of the set, so we are all pre-set for the opening of the show.  Most larger rooms will sound very different once the audience covers the floors, dampening reflective surfaces, so I'll get my mix finalized during the first song and cruise from there.
Post-show, I immediately break down FOH as needed and collect microphones, paying special attention to odd/rare mic clips that sometimes are snatched with mic stands by local hands (even though EVERYTHING I use is labeled).  If the stage is crowded with our crew and local hands, I'll run and fetch the team water and beer (if it's a casual, non-disco load-out), and then help direct the load-out under the guidance of the production manager/backline tech.  Every tour is different, so I find my place and routine within the crew during the first couple of days.  Mainly, being present until the truck is loaded and/or the trailer is locked, is the goal.  Then, if I am also TM, it's time to settle.  I'll look over the contract at the top of the day and address any questions before doors.  At the time of settlement, I'll hope to avoid an audit, but if expenses are not as detailed in the contract and advance, I will take the time to collect receipts.
Time to get on the bus.  If we are crossing a border any time in the next 20 hours, I will collect passports before we roll and leave them with the bus driver, as well as make sure they have the float they need and confirm the drive schedule.  Finally, if everyone seems content, it's time for a glass of wine as I confirm the day sheet for the next morning.
How do you stay organized and focused
Any advance email has the date and venue in the subject line.  If I get an email with several subjects in the body, I will answer separate matters in separate emails, with appropriate subject lines.  It's the ONLY way I can manage the thousands of emails that come through when tour managing.  I'll also use Google calendar to keep deadline notes with early notifications and have a simple shorthand system for noting when I have first addressed a need, received response, and accomplished the task.  It makes it easier to search for unfinished tasks from my laptop or my phone.
Focus comes from not wanting to drop the ball, and while on tour, the momentum of the day, (and coffee), keeps me moving.  No matter how many moving parts there are at any given time, you can only manage one thing in that moment.  I do my best to prioritize, and then accomplish each goal in that order.  Occasionally I remember to breathe.
What do you enjoy the most about your job?
I love mixing, hands down, the best.  It's more creative for me than technical, and my favorite shows I've mixed remain an indelible favorite memory always. .
What do you like least
When the lighting guy gets props from a drunk audience member for the show I just mixed.
What do you love about touring
I love International travel, and cherish the few days off in new locales to explore and eat my way through the local culture.  Also, I now have friends all over the world, and getting to see them as I tour is the best
What do you like least?
The lack of privacy and personal space can be hard, as well as trying to maintain personal and familial relationships at home.  True friends will of course understand.
What is your favorite day off activity?
Getting breakfast at the latest hour it is served before hitting a museum (I prefer art and history museums), a botanical garden stroll, or having a swim, and then eating and drinking local specials.  If we're in a less specialized cuisine locale, sushi and sake, all day/every day.  A movie is a great way to escape from tour life for a couple of hours, and a nightcap at the hotel bar is always welcome.
What if any obstacles or barriers have you faced?
Especially at the beginning of my career, gender discrimination was a common occurrence. It's less common now, but unfortunately, still occurs, even recently being hit on by the house engineer during the show, which was distracting to say the least.  I am also self-taught and have been challenged in some of my processes, (which at times tied into gender discrimination).  On my largest tour, I had a really awful audio tech.  He'd sleep on the bus during soundcheck, but chastise me if I insisted my desk be tipped exactly parallel to the stage.  Every obstacle on the road is heightened by the intense physical and mental toll constant touring can strain an individual with, but at the end of the day, the job needs to get done.
How have you dealt with them?
I avoid confrontations as much as possible.  That said, when I was younger, my emotions would lead my actions, with the perceived injustice of the situation fueling frustration.  As I grew, I learned to save my emotions for when I had some privacy (a ladies room stall is generally a good spot to take a couple deep breaths).  I am more secure in myself and my skills by now, and if challenged in any way, I can calmly explain my position, firmly make the point that my position is well earned, while reminding any others that we are on the same team to make the show happen.
Advice you have for other women and young women who wish to enter the field
You really have to be passionate to withstand the rigors of touring, so make sure you love the work.  Know your goals and maintain a skill set that will put you in the position you seek. Don't let anyone talk down to you (they will try!) and don't be afraid to ask questions.
Must have skills
Curiosity, stamina, learn the basics of a standard toolkit, and before anything, please learn how to wrap a cable properly!
Favorite gear
I am well known for my FOH fx manipulation, and I absolutely LOVE all Eventide boxes to achieve unique sounds.  I've used everything from the H9 stompbox to my vintage H3000 at FOH for most of the bands I travel with.  Their reverbs are some of the most natural-sounding I've heard, though they can also provide the most mind-bending modulations, all with precise parameter control.  Tony Visconti said it best when recording David Bowie's "Low" album, "It fucks with the fabric of time".
What are your long-term goals?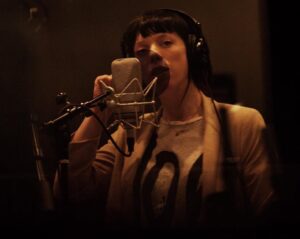 I've been on the road for almost 25 years now, and do not intend to ever "quit".  When I develop a real relationship with a band, it can be quite rewarding.  However, now with all tours decimated by Coronavirus, I am focusing more on my own music creation, as well as production/mixing jobs.  I am thankful to have been hired to score my first feature film, so that is taking up most of my time now.  I'll record a new record this year as well, (I record and perform under the name Vorhees since 2009), and…well…we will see what happens.
Learn more about Dana