I'm not sure if everybody had, at least once in life, the same feelings I had as a teenager: "Will I ever be a professional? Will anyone pay me for my work someday? Will someone ever trust me?" I have quite a clear memory of all these feelings.
I'm not sure about when this all changed, it was a smooth transition from being a student to trainee, a "rookie" technician and 15 years later here we are: huge concerts, immense responsibilities, overnights, difficult problems to solve. Andrea Bocelli world tour comes to Brazil again, and we are in a stadium at Curitiba. Brazilian rental company Loudness was the audio contractor, providing a massive L'Acoustics system for this concert. Loudness has done several Bocelli's concerts over the years, always providing the best equipment and human resources. Our friends from Bocelli's audio crew are true professionals, always trying to find the best solutions for each venue, and it's always a challenge to set-up their sound systems.
This time I had the opportunity to bring a friend, hard working girl Marzia Brini, who I met working for the Rio 2016 Olympic Games. It was the perfect event to bring her to our team, and she is Italian. It is always nice to have someone that speaks the native language of our clients; it can make a big difference. Marzia did great. It was also one of the few times I was not the only woman on the team – and it was awesome!
As usual, we had a massive system to setup in a very short time.  The stadium was enormous and very reflective, the sound design was about having more sources, less level and to avoid reflections as much as possible. Some numbers around this concert at Arena da Baixada / Curitiba / Brazil: (L'Acoustics) 64 K1, 48 SB28, 64 KARA, 16 V-DOSC, 50 KUDO, 24 12XT, 108 LA-8 amplifiers, plus analog boards Midas XL4 x2 and XL3.
It was not easy, but we did it! As the show started, I had these memories from my teenage years and all the doubts about my future, and suddenly I felt very proud. I felt proud about the choices I had made, some good and some not so good, but everything made up the path to get to where I am.  The feeling of being part of a team and accomplishment, to make your client happy, to make the show happen. That feeling!
End of the concert: load out was ten hours of nonstop heavy work, but again it has to be done. Thanks, Marzia and the Loudness crew, I hope to have many more successful shows and hope to see more and more women working on event production.
---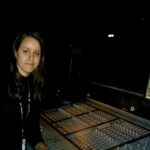 Fernanda Lemos is the only woman working as a sound engineer for Loudness, the second largest sound company in Brazil. Fernanda has faced obstacles and some of them are cultural, as her job in Brazil is viewed as man's work. Some of artists automatically won't work with her as they do not believe a woman is capable of doing the job. In the beginning, she thought this would change by showing she was capable of doing the job. She has come to realize it is going to take much more time and societal norms must change. She is proud that she is a part of making the change happen.