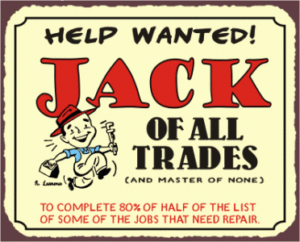 Recently, I was conducting a back of house tour for someone when they asked, "What is your favorite part of the building and what is your least favorite?" I have been asked that question over and over again, but suspect it is one of those questions people don't actually care to hear the true answer to, so I moved forward with my cushy standard response. I had this glossed-over answer prepared because to answer properly would require a lot of reflection on where and what things went right, and how other things went wrong.
Mostly, I think this question gets asked to fill time while moving from space to space. But this time I got called out on my somewhat polished standard response and this person pushed to know the real answer. I took a minute to craft my response then I answered: The most difficult part of this building project has been watching things go wrong and not being able to use my skill set to address the issues before they became something we have to live with every day. To my surprise, the person responded with "Well, we all can't be special. People think they have the right answer to everything."
I understand what they were saying. They were commenting on an ideology that seems prevalent lately – that people think they are always right or believe that only they can do it right – which was not the intention of my answer. I understand that there is a stereotype that Millennials, a generation I belong to, feel they are somehow special, but I see a different meaning in my answer. Isn't the point of hiring a diverse team to work together, solve problems, and rely on one another to complete a directive? Don't we use this diverseness to help people learn from the experts among the group and to fill in for the weaknesses of others? Isn't the point of interviewing to hire someone who seems to fit within the team? Of course, the candidate or employee needs to meet the job requirements and be able to do the tasks assigned, but a hiring manager can get that information from their CV. The interview process is about gaining insight into their personality and the skills that will contribute to (or hinder) the team the organization already has, and to understand how their attitude and drive will contribute to accomplishing the end goal.
In this job, our goals are to work with new equipment, create the best sound, get an impressive mix, set the best EQ, and more. We can't achieve these goals by ourselves – we aren't that special. But, as warehouse managers, we look for a team that supports the organization's desire for equipment rentals or tour packs; as tour managers, we look for effective sound engineers, stage-hands, and RF technicians who can problem solve their way through the touring minefield. Each trained in their specialty, with their own strengths and weaknesses. The audio field requires so many specialties; we have guitar techs, stage techs, tour managers, monitor engineers, safety coordinators, and more, just for one traveling show. Knowing this, why wouldn't an organization make the most of the specialist team it hired by capitalizing on team members' individual strengths? Doing so enables an organization to gain information, achieve tasks faster, grow as an operation, tackle new challenges, increase revenue and productivity, and further its mission and purpose.
So, my point is, shouldn't everyone on a staff be special to their organization? Shouldn't there be the opportunity to share knowledge to help the organization achieve its goals? As an employee, don't you want your strengths to be recognized and used for progress? As a manager, don't you want a team that can support the project or department that you're leading? In other words, I want to work somewhere where I am viewed as special – and so are those around me – because our specialties are how, together, we're going to get the job done.
---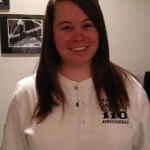 Heather Holm: Fueled by an interest in live sound at a young age, Heather volunteered to work productions through high school. As a student in college she started working in the production department where she learned how to setup and run audio equipment properly. Heather has been working for the University of Wisconsin La Crosse for five years as the Event Support Coordinator. Her job requires her to be a jack-of-all-trades (Audio technician, venue manager, teacher, safety manager, supervisor, lighting designer and so much more). She loves live sound the most – and says "there is nothing like firing up the PA for the first time".