It's easy to miss the SoundGirls news and blogs, so we have put together a round-up of the blogs, articles, and news from the past week. You can keep up to date and read more at SoundGirls.org
July Feature Profile
---
The Blogs
Internet Round-Up
---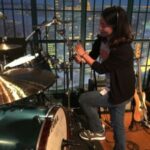 Sisters of Sound Podcast – Interviews Broadcast Tech Caroline Sanchez. Freelance musician, audio technician, and technology consultant who's landed some pretty exciting gigs throughout her career.
She talks about how she got the audio ball got rolling with a Bachelor of Music in Sound Engineering Arts from William Paterson University. She then jumped at the opportunity to intern at Bonnaroo, which lead to more high profile jobs like working for SNL, Good Morning America and even the Grammy's.
---
A Big Shout Out to Tegan and Sara for supporting and hiring women to work on their albums and on their road crew! You can too by finding professional women working in all aspects of audio and live event production on The EQL Directory – makeiteql.com
Their new album was produced by Alex Hope, Engineered by Rachael Findlen, Mixed by Beatriz Artola, Mastered by Emily Lazar, and Assistant Engineering by Annie Kennedy.
On their last tour, their road crew was Female-Dominated! It looks like their 2019 road crew will be diverse as well! Whitney Leigh, Erika Duffee, and Mary Broadbent worked the LoveLoud festival with Tegan & Sara!
---
The Turn It Up Hall of Fame: Honoring pioneers of gender and music. Women will be heard! Turn It Up was founded to raise awareness of women's vital contributions to music past, present, and future. These contributions are too often overlooked. As of 2019, only 7.7 percent of the inductees into the Rock & Roll Hall of Fame were female, according to a Longreads article by Evelyn McDonnell. Turn It Up is creating their own hall of fame, one whose emphasis on inclusion is rooted in a broad and generous understanding of genre and gender. Send them your nominations! TurnItUpTeam@gmail.com.
---
SoundGirls News
---
Mixing Music Live – Discounts Available to SoundGirls Members
---
SoundGirls Events
---
SoundGirls Opportunities

---
---
Shadowing/Mentoring/Internship Opportunities
---
---
SoundGirls Resources
---
---