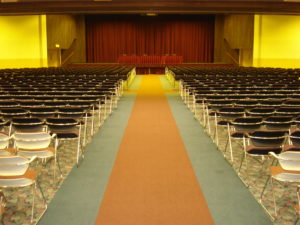 Everyone in our industry has a venue – either their favorite place to stop on a tour, their favorite place to attend a show, or the place they like to work every day. These venues range from small club spaces, studio or recording spaces, to 100,000 seat stadiums and more.
Currently, my venue is a multipurpose room – virtually a swear word when I talk to some tour managers on the phone because they never know what they are going to get when that term is spoken. The multipurpose room could be an empty box with cement flooring and a portable stage made out of 2x4s and plywood, or it could be a ballroom with carpeted floor, acoustic treatments, and functional furniture adapted to any need. In other words, multipurpose rooms could be defined as compromises made to cover all the priorities determined at the time, and hopefully good enough for anything else. It's kind of like saying McDonald's is better than Burger King: It may be true, but it all depends on what each location is like, the service you get, and your preference on which has the best French-fry. My point is, the multipurpose room is a dynamic of unknowns and will never be perfect for everyone, but will be enough to get by for many.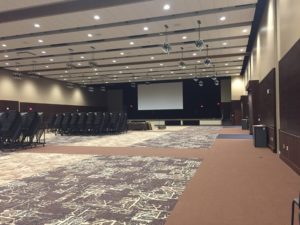 As, with any space with architecture, you get what you get. You're in the hands of the design and the mechanics of cement, wood, drywall, and rebar. Sometimes spaces are wonderfully designed with our industry in mind, and sometimes they're ice hockey rinks first and shows are a way to produce more income in the off-season. Thankfully, our industry has come up with amazing tools to assist us in our goals when we end up in a space that isn't meant for the activity occurring. Tools like pipe and drape assist with creating softer surfaces and hide an outdated look. Line arrays allow us to send the sound in the exact direction we want, and tools like Smaart assist with tuning. Heck, if the budget is there, talented people like us can make any square box into a mystical gem for a night!
Besides the tools we have, there is also a responsibility to know the room, and provide hospitality to groups coming through. As a venue manager, it is part of my job to know the room well; what works well, what doesn't, and to take steps to create the best situation for all. People swinging through for a one-night show rely on venue staff to provide insights on the space, but the venue staff must also maintain a balance of letting the group renting the space get their tasks completed without excessive interruption. A venue manager can help a touring group by having information about the space ready to share in advance of the show; things like directions to the venue, parking options, stage measurements, curtain setups, and recent pictures to name a few. I use a snapshot document to share information quickly. Many questions can be answered this way, and allows groups to ask follow-up questions that may pertain to them. Bluffs snapshot
In addition to knowing the room, it will also be important for the venue manager to share the strengths and weaknesses of the space. If structural support for rigging is limited, share that information before the booking is finalized, and have supporting documentation available as well. If the venue can only hold 100 people safely, make sure this information is clear and stick with the capacity rating. If the space is extremely reverberant, share that so a tour can decide if it might be best to use IEMs instead of wedges. Sometimes information can be the key to a successful event. As a venue manager, I share what I can so the group can make educated decisions for themselves. Many times, groups will want to come back to a room that might not be perfect but they enjoy, because of great hospitality and knowing what to expect.
---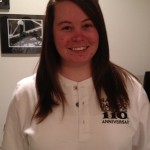 Heather Holm: Fueled by an interest in live sound at a young age, Heather volunteered to work productions through high school. As a student in college she started working in the production department where she learned how to setup and run audio equipment properly. Heather has been working for the University of Wisconsin La Crosse for five years as the Event Support Coordinator. Her job requires her to be a jack-of-all-trades (Audio technician, venue manager, teacher, safety manager, supervisor, lighting designer and so much more). She loves live sound the most – and says "there is nothing like firing up the PA for the first time".