When I was in high school, my family's go-to TV show was NCIS. We'd put it on in the background over dinner, or watch reruns on the USA channel when nothing else good was on TV. By the time I left to go to college, I must have subconsciously taken in hundreds of episodes!
For those who aren't familiar, the show is about a team with the Naval Criminal Investigative Service who work to solve murders of Navy or Navy-affiliated persons. The team is lead by Special Agent Gibbs, a former marine with a big heart and a sometimes short temper. He's far from a perfect person, but he has a strong moral compass that he uses to inspire his team to do their best work to solve these mysteries. One of the ways we learn about Gibbs' particular brand of moral code is through a philosophy known as Gibbs' Rules. The NCIS Fan Wiki defines them thus:
"Gibbs's Rules are an extensive series of guidelines that NCIS Special Agent Leroy Jethro Gibbs lives by and teaches to the people he works closely with." (Source: https://ncis.fandom.com/wiki/Gibbs%27s_Rules). Some of the rules are things you might expect to hear on a crime TV show, such as "Never let suspects stay together" or "Always wear gloves at a crime scene." Others, however, are more universal and can be taken as good lessons for life in general. Some of my favorites of these include "When the job is done, walk away" and "Don't believe what you're told. Double-check."
As I started getting more involved in theatre throughout high school and college, I started trying to figure out how to compile everything I was learning into a sort of guide for myself. Classmates, teachers, and mentors were giving me all sorts of great tidbits of advice, and I was scribbling them all down in an unorganized jumble to be able to refer back to later. I began thinking about how I could organize it into some sort of guide that I could add to and share as my career continued, and naturally, Gibbs' Rules came to mind!
I called the document I wound up creating "Gibbs' Rules of Stage Management," because initially, I was training to be a stage manager. But as I got into mixing and sound design, it seemed like a lot of the rules didn't have to just be for stage managers. And the more people I shared them within different fields of entertainment, the more I realized that a lot of them can be applied pretty universally across our industry. So here, for your perusal and enjoyment, are some annotated selections from the 2021 Gibbs' Rules of Being a Stagehand. If you would like to see the entire collection, it will be posted on my website, beccastollsound.com, in the next few days!
2021 Gibbs' Rules of Being a Stagehand
Rule #1: ALL HUMANS ARE STUPID (AND EVERYONE'S HUMAN).
This is one of my favorites. It speaks to the fact that people make mistakes, and it's important to cut people slack and not hold it against them.
Rule #6: GIVE LOTS OF THANKS, EXPECT NONE IN RETURN.
Unfortunately, those of us who work behind the scenes are often not adequately recognized for our contributions, especially compared to the onstage talent. Try your best not to let it get you down or give you a bad attitude.
Rule #7: EVERYTHING IS SUBJECT TO CHANGE.
In stage management and production management, it is common to put "subject to change" in the footer of most paperwork. We're making organic art after all, and we're making it in the moment, so there's no way to predict everything that will happen!
Rule #11: EVERYTHING IS SUBJECT TO UN-CHANGE
A corollary to Rule #7. Especially applicable on new musicals, where a scene or song that got cut yesterday could go back into the show today. Keep good archives, and don't throw anything out until closing!
Rule #13: IT'S PROBABLY GOOD IF AT LEAST ONE PERSON KNOWS WHERE YOU ARE.
This one was inspired by the actual Gibbs' Rule #3, which is "never be unreachable." But in this age of smartphones, push notifications,  and constantly feeling the need to be "on-call" for work, I think it's important to reclaim the ability to take time for yourself and not have to immediately answer to everyone. On the other hand, if you simply stop picking up your phone, people might worry that something has happened to you because that's the kind of world we live in now. So strike a healthy balance between the two.
Rule #19: IT'S A SMALL WORLD AFTER ALL.
In NYC theatre this is commonly known as the "5 block rule." Meaning that if you are talking smack about someone or something within 5 blocks of the theatre, it's going to become back to bite you. Everyone knows everyone, and no one will ever forget you. People's friends/assistants/partners will refer or recommend you and it counts. Read the room and don't burn bridges.
Rule #24: IF YOU CAN'T SAY YES, DON'T SAY NO.
People are going to ask you for impossible things. People are going to ask you for hints that aren't your job to do. Saying "no" just shuts the conversation down rather than fostering collaboration. Even if something is 100% impossible, the best answer to start with is "I'll look into it" or "let me get back to you."
Rule #25: THE SHOW MUST GO ON (EXCEPT WHEN IT CAN'T).
This rule is credited to my stage management professor, Tina Shackleford. And wow, does it read differently post-pandemic!
Rule #26: WHEN IN DOUBT, DRESS TO IMPRESS.
My mom came up with this one ☺ If appearance or apparel is something that helps you to feel motivated or prepared, by all means, use that to your advantage! Dress in a way that makes you feel awesome on the inside but also shows you are prepared for the occasion, whether it's a corporate interview or an arena load-in. And always wear close-toed shoes.
Rule #33: NOTHING CAN BE TESTED TOO MANY TIMES.
This rule is from Shannon Slaton, author of the excellent book Mixing a Musical.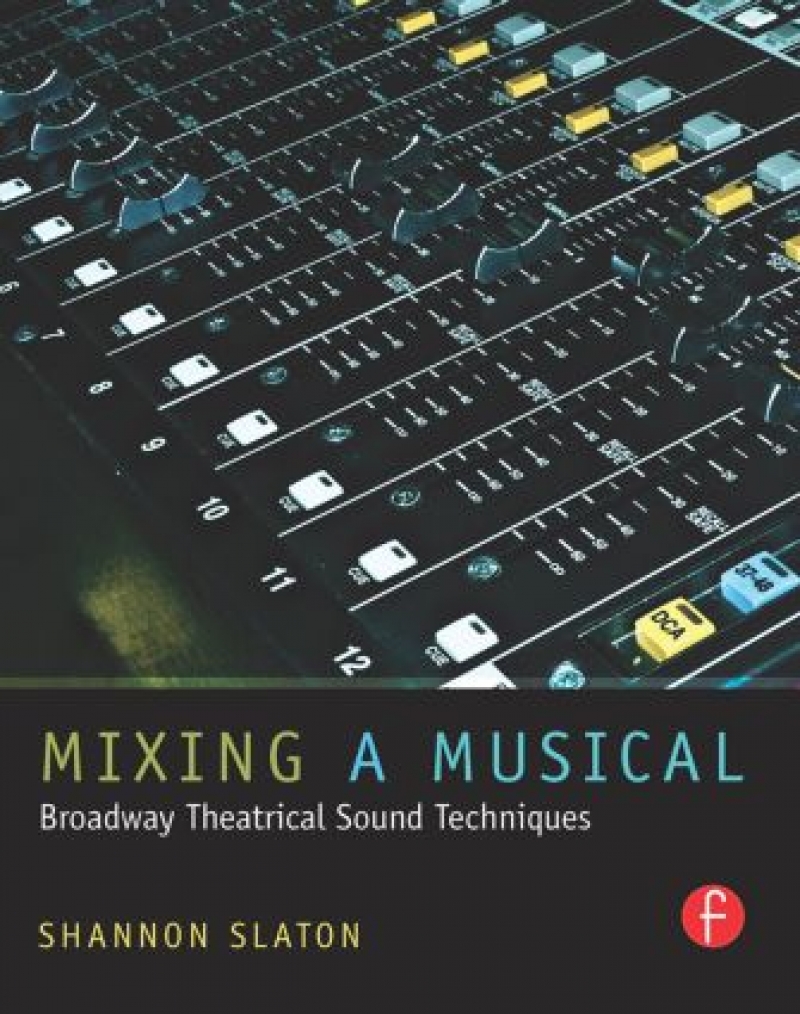 Rule #34: KNOWING WHAT YOU'RE DOING IS ONLY 1/3 OF THE JOB.
Credit for this one goes to NYC-based sound designer Dan Miele. As I've outlined in many a blog post, so much of this job is people skills, improvising, and just making things work in a very short amount of time! Yes, the hard skills matter, but the soft skills (plus a good attitude and a willingness to collaborate) matter almost as much if not more!
Rule #35: ALWAYS READ YOUR CONTRACT.
Always Always Always! Read the whole thing. Top to bottom. Read all the fine print. Ask questions about anything in it that is unclear. Run it by mentors and friends.The last thing you want is to be blindsided by something you signed before you fully understood what you were signing. Just read it!
Rule #40: DO YOURSELF A FAVOR AND STAY IN YOUR LANE.
It's noble to want to help people. In theatre we all pitch in to make it work, right? The problem is that it can be easy to over-exert yourself trying to help others, and suddenly your own job begins to suffer as a result. We've all been there. Over the years I have come to see having my one specific job to do as an absolute blessing in disguise. It allows me to focus on the things that are mine to control, and not worry about the things that aren't. So if it's not your job, don't do it. If it's not your problem, don't make it your problem. Not trying to be everything to everyone is not only an act of self-preservation, but it is better for the overall show if everyone is able to take on their own workload and not burn out doing the jobs of other people as well. So as often as possible, make best efforts to stay in your box.  Do your own job well and trust that others will do theirs.
As always, comments and questions welcome! What are some of your personal "Gibbs' Rules?"