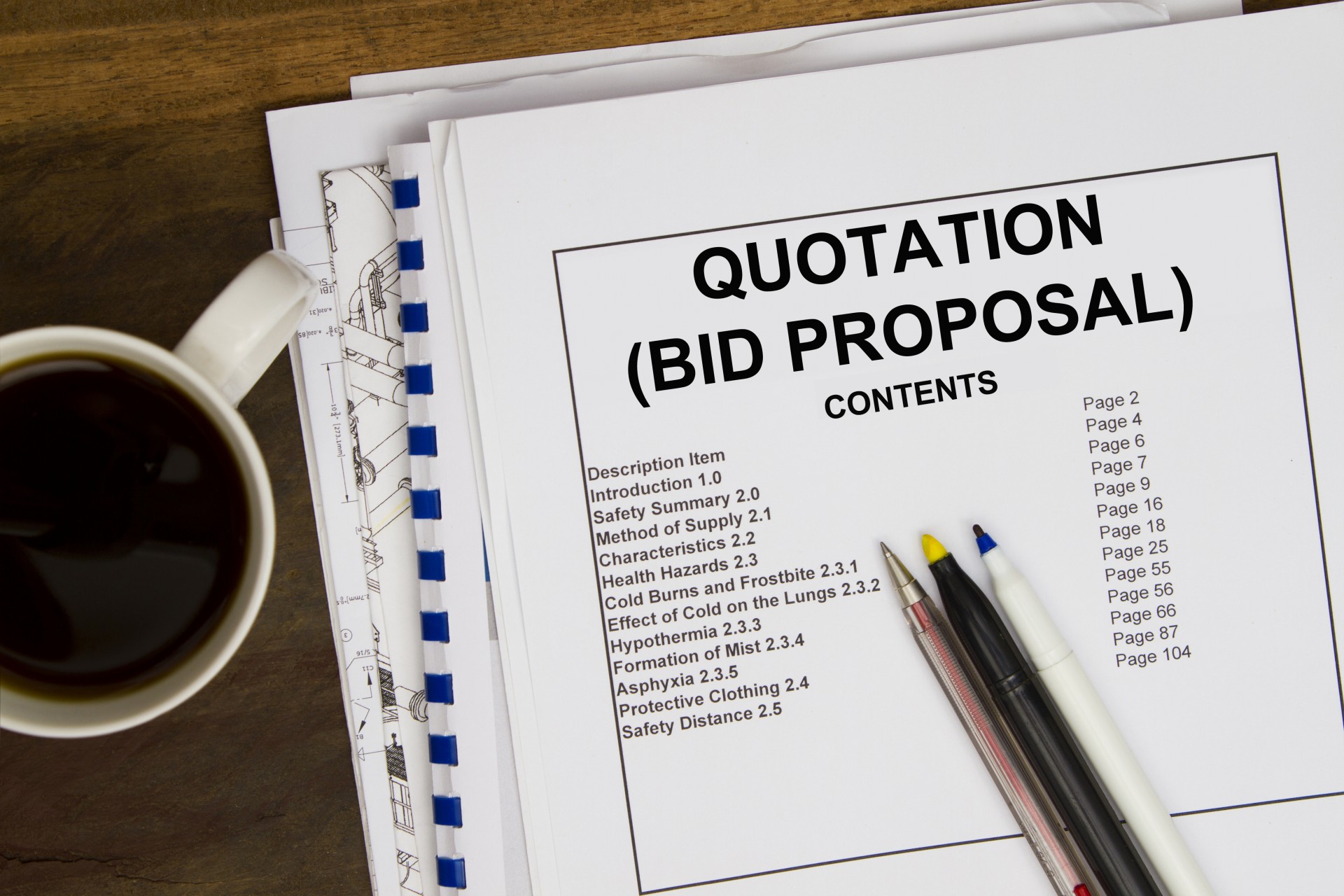 One of the hardest parts of being freelance is knowing how to bid on a project. You want to be competitive but you don't know who the competition is. If it's a client you haven't worked with before, you may have no idea what their expectations or budget are. "Small" budget for one gig could be $100 and for another, it's $10,000. On top of it, bidding can be a game of poker where no one wants to be the first to throw out a number.
To give a good bid, you first have to understand who, what, when, where, why, and how. Some people will request a bid and give little or no information but it's hard to give an accurate bid without knowing those details.
Approaching a bid
Here are some tips when approaching a bid. Never throw out a number or commit to any work without first having a conversation about it (whether it's by phone or in-person). The main reason is to make sure what they're asking for covers everything they need. At least half of the people who ask me for a quote need something different or additional from what they say (for example, a film mix may also need editorial or sound design).
Talking to someone also gives you a sense of how professional the project is and the temperament of the people you would be working with. I once had a singer inquire about a music mix and when we talked I learned she had no recordings, couldn't play any instruments, no band-mates, and had no songs written (I passed on the gig). Sometimes you see red flags that someone is going to be really picky or difficult to work with which could mean extra hours that need to be factored into your costs (assuming you don't pass on it – which is ok to do).
I always ask for materials to check out before giving a bid for a few reasons. One is to get a sense of sound quality, technical issues, organization, etc. Every project has unplanned time-suckers – tasks that take longer than you budgeted for (or didn't budget at all). The more you can do to identify those time suckers beforehand the more accurate your bid will be.
Another reason for looking at materials is to evaluate content. Sometimes a project turns you off and you can afford to say no (like a boring movie or a band who's music you don't like). Sometimes there's more to it – Years ago I bid on a film after only seeing the trailer. They told me it was a mystery/thriller but it was more like a horror film with a lot of graphic violence against women (two types of content I don't like to work on). They were happy with my bid and willing to work around my schedule so it was awkward to back out.
If it's a music mix, ask for a rough mix or for a sample session (which will give you a good idea of how many tracks/overdubs and organization). If it's someone who needs a recording, ask for a demo or temp mix. For film, I ask for a rough cut (a video I can download or watch online) and maybe an output of a few minutes of the AAF/OMF to gauge how much time it'll take to organize (more on that here)
The basic details to find out before giving a bid
Is what they are asking for actually what they need or are there any additional needs/tasks?
Are you the appropriate person to be doing this work? If not, can you refer them to someone else?
What is the final product going to be used for? (For films, there's differences if it's going to television, theater, festival submission, or digital distribution like iTunes or Netflix)
What quality of work are they looking for? (Polished/final, rough mix, etc)
Are there any known technical issues?
What is their budget range? (If they're willing to answer)
What is the time frame/deadline?
Is there anything unusual about this project or are they looking for anything out of the ordinary that hasn't been discussed?
What do they need for delivery and what are the odds of making changes later?
Who will be evaluating your work and how much time do they expect to spend with you? (Director, producer, band members, composer, film editor, etc)
Are they willing to sacrifice some quality to lower cost?
Is it ok to work at a home studio, and if so, do they want to rent a studio or do a screening somewhere else to review the final mix? (This can also help you gauge what their budget is like)
Managing expectations
Part of this conversation is managing expectations. If a band expects a full album recording, overdubs, and mix in a weekend for $500 it's a joke. If they're willing to book a multi-room studio and crew, put up the cash to work around the clock, and accept it's not going to be perfect, it's a legitimate (but challenging) gig. It helps build trust if the client understands the limitations (what's technically possible, the resources needed, and what you're able to do or not do). It's best, to be honest and only promise what you can actually deliver. If they are convinced they can find someone to do the impossible, then good luck to them!
Writing a bid
To write the bid, you'll want to break down each element of the project and the time/resources necessary to do the job. I send some options based on the quality they are looking for. A low-budget "get 'er done" job may cover the basics. Medium budget will be a solid job – taking a more in-depth look at everything and including some extras (if time/budget permits). High is going all out – spend as much time/money as it takes (within reason) to do an awesome job. You should have an idea already of what budget range they are in and what extras they might want from talking.
It's a lot easier to estimate if you've kept track of these hours on past projects (if you don't track hours, it's a good reason to start!) For example, a 90-minute comedy film with a month deadline, a 5.1 mix (intended for theater), standard deliverables, and a moderate "indie film" budget the breakdown might be:
1 day split AAF
3 days dialog editorial
3 days sound edit/design
2 days Foley recording/editing (optional)
2 days ADR engineer and stage (optional)
3 days predub (home studio)
2 days mix (home studio)
1 day review with client (home studio)
2 days theatrical stage rental for final mix (optional)
1 day fixes and output files for delivery
1 day misc (prepping sessions/technical, emails/calls/logistical stuff, etc)
A recording/music mix of a band would have tasks like recording, studio time, overdubs, comping, tuning, editing, mixing, mastering.
I apply a day rate to each task (plus studio time) and tally up the total (keeping the optional items as separate add-ons). The exact numbers/dates are for my own reference and I usually send a condensed breakdown for the actual bid. I also like to pad hours a little bit in the bid because that helps cover unforeseen issues/changes without having to say "we're going to be over budget" (unless it's something major or time-consuming). Some people bid using a day rate but don't mention that a day is calculated at 9 or 10 hours.
Once a bid is accepted it can be a legally binding contract so it's important it's accurate and includes details like when the work has to be done when you expect payment, what is included or not included. If you're working on a project that might have updates/revisions (like a film or music mix) it's important to clearly state what is included and what isn't. For example, it's common for indie filmmakers to make picture changes or ask for mix tweaks if their film gets into a festival or lands a distribution deal. This could happen as long as a year after finishing the film. I generally don't include this work as part of the bid – I'll have something written in the bid like "any conforms or audio changes after the final mix is delivered (or xx date) are considered a new version of the project and not included under this contract" or "any future changes after the mix is delivered will be billed at an hourly rate of xx". It's important to set limits so everyone knows what you're going to do (or not do).
But, if the fixes they need later are minor (only take a couple of hours) I might comp the time (especially if I didn't need all the buffer hours). Sometimes offering a small service for free can really benefit the relationship, which can bring in future projects and work.
Following up after sending a bid
Once I send a bid, I like to follow up with the client and feel out what they think of it. Is it in line with what they were expecting or do you sense sticker shock? If we're in two totally different places and it's a project I'm really interested in, I'll be honest that I want to work on it and suggest ways to accommodate. Some ideas:
Subcontract some work. You could bring in someone else who will work for cheaper or even an intern/apprentice (if you're willing to oversee his/her work). Sometimes that can be a win-win for everyone.
Think of creative ways to lower the hours needed. A client could review a mix at home and send notes by phone/email instead of spending a full day in the studio.
Doing the work in parts (pay-as-you-go). A lot of indie film mixes can be done as two versions – a rough stereo mix (for festival submissions) and a more detailed 5.1 mix at a later date (once they are accepted into a festival or land a distribution deal). A band might only need a demo quality mix to book a show and the EP mix to sell at the show later. If you plan it well, it's just building on work that's already done (not redoing it).
Addressing expectations. A band may want their whole album to be tuned and edited when they only have the budget to do that for a couple of songs. Maybe a film would be fine in stereo (not 5.1).
Work for less or offer some hours or free. Maybe you're willing to drop your rate a little if you can work around another higher-paying client. Or you just want the gig and will work for less – but it's important to let them know you're offering your time (and doing them a huge favor).
Bids become easier the more you do them. Sometimes you'll land the gig and other times you'll never hear from the client again. It's not personal and maybe there's nothing wrong with your bid – it might be that you're not the right fit for the project. All of it is experience which makes it easier to do next time.