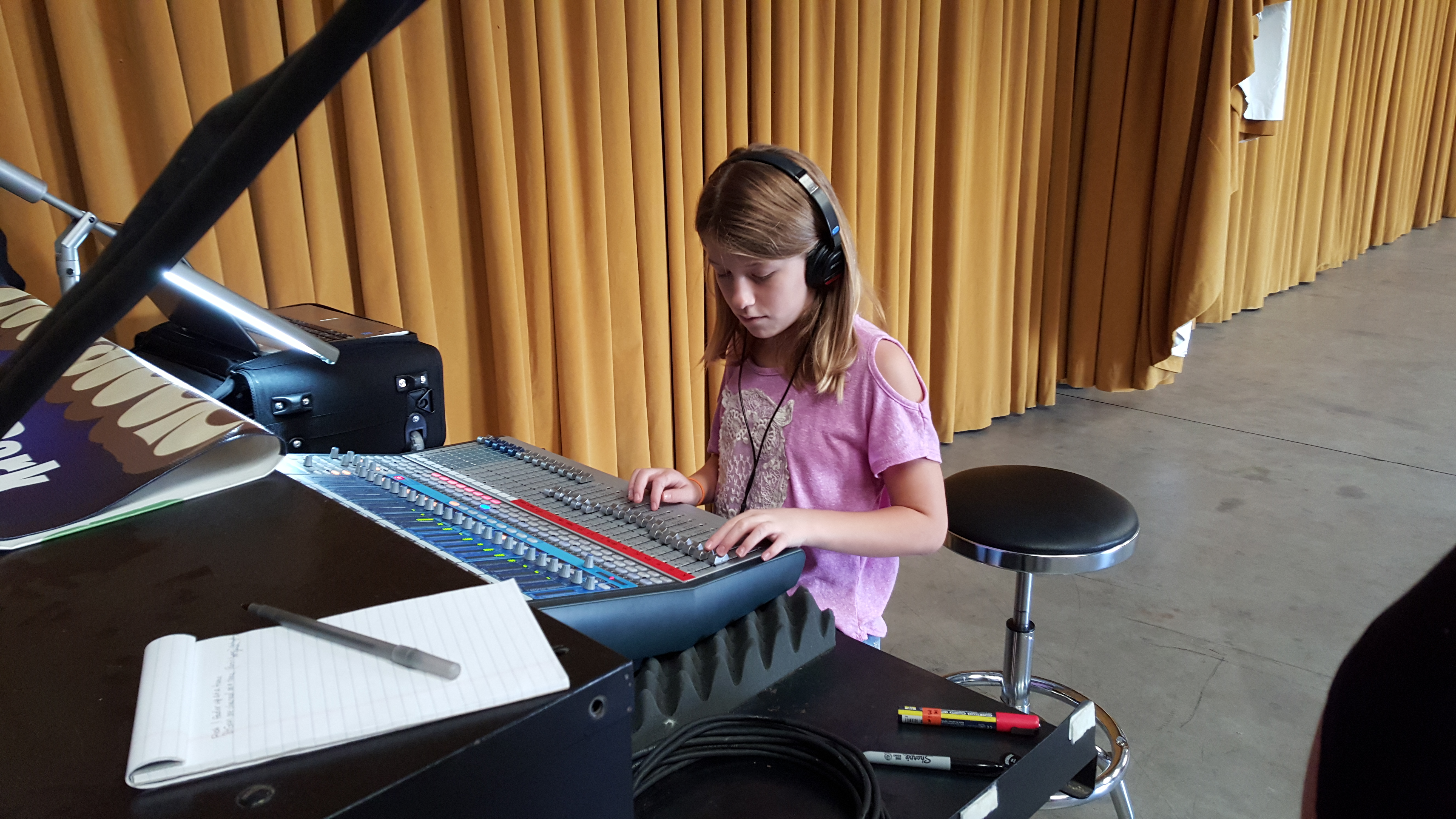 We did it!  Last week's Live Sound Camp was fantastic and all participants (Tiffany and I included) learned a lot! First and foremost there are a lot of people to thank.  So I am going to that first.
A huge thanks to SG Member Tiffany Hendren. Tiffany volunteered to assist with the camp, paying her own expenses to get from St.Louis to Modesto, CA. I could not have pulled this off without her, she spent many hours through the course of the year, working with me to develop and write a program, kept us organized once we were there, and was adaptable when we went off the script. Plus she was a fantastic roommate and we spent many nights just talking sound, politics, and most of all laughing.
A big thanks to SG Member Barbara Adams for her feedback, suggestions, and access to her teaching materials. A huge thanks go to Marky Ray of the Cuyahoga Community College Recording Arts and Technology program, for providing a comprehensive outline for the camp.
Victoria Boyington deserves so many thanks, first for inspiring me to develop the program and providing all the support needed. Victoria started and runs California Women's Music Festival, which is now acting as SoundGirls.Org fiscal sponsor. Victoria handled all of the details; finding a venue to hold the camp, arranging donations for lunch each day, scheduling volunteers, and generally making sure we had everything we needed.  Most of all she was so welcoming, enthusiastic, and really made us feel that we were part of their community.
A big thanks to all the volunteers
Jenn Allsup, who is amazing, promotes shows, and assisted with the camp each day, she also arranged for the girls and women attending the camp to work Respect on the River.
Rosemarie Sturgill for making sure we had lunch every day and hanging out with us on Friday.
Darin Morris who runs the Valley Music Institute, a great program for youth.
Patricia Benz who let us use the Rock n Roll Warehouse as our home base.
Mark Oesau of Modesto Sound for letting the girls and women work with him for Respect on the River.
A Big Thanks to our Sponsors
Rat Sound Systems, Clair Global, Rational Acoustics, Eighth Day Sound, Fela Davis of 23 db Productions, Ellisa Cameron, Rob Sadler, Toni Venditti, Tracey Marie DeFrancesco, Heather Holms, Vince Giannini, and Cire Leahcim Ybmed.  Please forgive me if I forgot anyone.
And most of all the girls and women (and guy) who came to the camp – Meghan, Anastatia, Zee, Rebecca, Mimi, Diana, Isabelle, Bella, and Josh. You all were patient, eager to learn, and it was truly inspiring to see how far you progressed through the week.
Okay – So the Camp – It went great – the key was for Tiffany and I to be able to adapt the program. A useful skill in live sound to. We hopefully were able to assess the skill set and level of the girls and women attending and modify our lesson plans to fit their needs. I think we were able to provide everyone what they needed and wanted to get out of the program, offering one on one time, setting up workstations, and making sure everyone got as much hands-on time as possible.
What we learned for the future – More Hands On, Almost all Hands On. What we think is basic audio – is not basic enough for a starting point. Teaching the skills to work a show, run a soundcheck and show is what we will focus on in the future. Providing "A Girls Guide to Doing Sound" and a blueprint  to continue on is crucial. The guide will allow them to further study on their own. Being able to provide each person a path to follow and offering a strong support network is pretty powerful. Creating a community, in which to learn, practice, and succeed is the most important aspect of the camp.
Tiffany and I believe that all the girls and women can work a show now, not on their own, but there is a good chance they understand more than some working live events. By the end of the week, they were all able to read a stage plot, make an input list, wire the stage, line check, and were able to troubleshoot a few problems (phantom power and a monitor amp that was not on), without our assistance.
We look forward to expanding the camp, and possibly bringing it to Ferguson, MO in Jan. We are already getting inquiries from people who wish to bring it to their communities. Exciting things.
Thanks again to everyone!
After I fully decompress I will write a blog about the actual day-to-day of the camp.
For now, the pictures speak volumes.