On May 26th, 2019, a group of SoundGirls met online to discuss the ins and outs of Wikipedia.  Myself and April Tucker led the talk, and while initial attendance was small, I could see a growing interest among the SoundGirls community.  Much of what was covered was an expansion of the previous articles I had written. I began with the ethos of the online encyclopedia, and quickly progressed to a step-by-step instruction of how to edit Wikipedia pages.  April focused on tips and tricks that make Wikipedia even easier to navigate. I admit, I learned many new techniques from this talk.
If you missed the Wikipedia Edit-A-Thon event, we have you covered, starting at the 2-hour mark.
Furthermore, the best way to start editing Wikipedia is to create an account there. Wikipedia was made for everyone, and there are tasks for every editing level. I have a page available specifically for those SoundGirls starting their editing journey with guides and links.  My Talk Page is also available for specific questions, and I check it regularly.
SoundGirls have an opportunity to spread awareness through Wikipedia, but it takes all of us.  Every little edit, no matter how small, adds up. Similar to Geena Davis' crusade of "If She Can See It She Can Be It," let us build towards gender parity.
---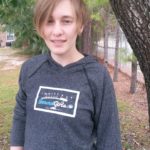 Nicole Kirch is a North Carolina based recording engineer and musician.  In her short career, she has worked on location sound, post-production, stage crew, and electronics.  Her love of sound stretches to almost every niche.  Nicole holds a BA in Sound Design from Michigan Tech (the first female to graduate from the program) and a BS in Electrical Engineering Tech from Austin Peay State University.   She believes in female empowerment and independent music.