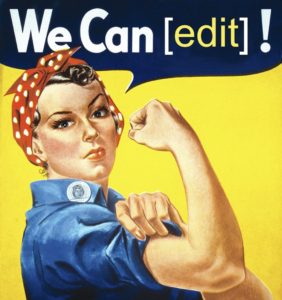 SoundGirls Note: We are planning a Wikipedia Hackathon Day to add Women in Audio into Wikipedia. Nicole has provided SoundGirls with a roadmap. You can check out the page she has made to add and/or edit Women in Audio to Wikipedia. It is a great step by step guide.
Where to Start
In my prior article on Wikipedia editing, I focused on the basics of choosing a Wikipedia article topic and the reason for writing them.  Through this article, my goal is to give you a few definitions and resources in other ways to make women more present in the online encyclopedia.  For further tips and ideas, you can view my Wikipedia profile (Lyrelyrebird), which I formatted as a hub for SoundGirls looking to start their Wikipedia journey.
Green Articles and Red Articles
When a Wikipedia article already exists, any link to the article is blue in color while any link to a non-existent article is red.

It is tempting to search for these "red" articles and start a page from scratch, and many people do, but Wikipedia is littered with pages that have only the bare minimum of word count and are lacking in proper sources.  Internally, Wikipedia rates articles based on their quality with green designating a "good" article. It takes time and effort to turn an article "green." New articles and major edits must be approved by veteran editors, and any mistakes or errors are flagged for fixing.  Once everything is finally up to snuff, then the article is slated for a final review and approval before the green designation is assigned. Even then, if the article is about a living person, the article might need babysitting for updates as time passes.
Green articles are great examples for templates and guides in editing articles needing TLC. One cannot feasibly memorize every code trick that Wikipedia has available, so use others' insight to your advantage. For example, when working on an article about a sound designer, find a page of a more well-known designer or even a cinematographer and see how that article formatted things like filmography and career highlights. I use copy and paste frequently, and Wikipedia encourages it. Consistency is part of why Wikipedia is a respected first stop in researching any topic.
This is also a good approach when working on a "stub" article (one that is too short or needs more verified information) or working on a poorly written articles.
What will you see on a pre-existing article?
Once you are logged in, the top of every Wikipedia article will show several tabs such as "Edit" (where the magic happens), "View History" (an edit log), and on the other side is "Talk."

Talk Pages
The talk page is a mini-forum where collaborating editors can communicate page plans and goals. This is also where error flags are discussed in more detail. More established articles often have many notes on edit histories and unverified content.  If one is not respectful of the talk page, then an edit war may occur. An edit war happens when a segment of an article is repeatedly changed by two or more editors. If changes to the article are malicious, the article gets locked. Many of the most popular articles in Wikipedia are locked to prevent these occurrences.  The best way out of an edit war is to step back from the article and reevaluate it again through the talk page at a later date, but there are ways to request dispute resolutions if one of the feuding editors is acting in bad faith.
Categories
Articles are grouped by way of Categories. A page is assigned to categories and you'll see an article's assigned categories at the bottom of it's page.

Categories with enough articles have subsections called Subcategories:

An article will reside in an appropriate subcategory whenever possible before populating the main Category.  As with articles, it is better to start with existing Categories before creating new ones. Parent Categories (more general groupings) with too many children can make a topic more confusing than it has to be, and articles can be overloaded with related topics.  In my opinion, because adding Categories is a simple task, it is better to save it for future edits when the main Category becomes too unwieldy.
Lists
Lists can be confused for Categories, but they have one large difference. Categories apply to every article they can be used for, but Lists are reserved for the best examples of a subject matter.  Another difference is that Lists are a type of article (it can be edited like a page), while a Category is not an article.
I would also caution that due to their formating, Lists inherently cannot be "good" articles, and should be deemed as a lower priority.  I have mentioned both Lists and Categories in my user page as edit ideas, but please prioritize the existing ones before making new ones, and use my talk page if you have any questions or ideas.
User Page
A user page is your personal page, similar to a profile page (but functions like an article where you have to build it yourself). Not every user page look the same, and some users ignore their pages altogether.  There are a few rules on what should and should not go on a user page:
Do write your interests and possible affiliations (if you have them)
Don't self-promote, antagonize, or copy copyrighted/wiki article content.
If you are unsure about having a user page, then ignore it, you are not required to edit it.
Sandbox
After you create your Wikipedia account, you get space for both a user page and a sandbox page.  Like a sandbox in real life, the sandbox is where you can play/practice using Wikipedia and get familiar with how it works.  Wikipedia encourages you to create and test your new article ideas in the sandbox before adding it to the main encyclopedia.
A note on languages
While I and the majority of the rest of Wikipedia editors are English speakers, Wikipedia is an international encyclopedia. Nearly every language is represented, and many popular articles are written in all languages. That means there are editors for those languages, and resources for those editors to follow language-specific styles. If you are comfortable in a language and want to edit in that language, go for it. Be aware that some articles may not exist in English, and your sources should be in the language you are editing in.
WikiProjects
WikiProjects are groups of like-minded editors who have a passion for a particular subject matter.  The more broad a subject matter, the more editors working together and the more resources the project has to work on specific articles.  Often the WikiProject pages are full of templates and tips for turning articles green and are great places to frequent as a new editor. My favorite resource is their list of high priority articles, or articles that are either close to completion or are of more prominent subjects.  I suggest Women in Red and Women in Green but have links to other WikiProjects on my user page.