The Future of the Music Industry
The low female percentage in Mexican festivals in 2019 is a consequence of historical inequality.
This Slang Special is a deep look at one of the many aspects that happen in the context of the music industry.
In a music festival, it only takes a glance to realize that approximately half of the audience is made up of women, the Mexican population according to INEGI data (2015), women represent 51.4 % of the inhabitants of our country. However, their participation on the stages, as well as in other areas of the music industry, they are a minority.
Based on an analysis of Slang, in which we consider the lineups of 32 festivals of 2019, half of these had more than 75% male participation in the stages. For our evaluation, we included festivals held in Mexican territory whose lineup, or part of it, had been announced by June 5, 2019.
According to our study, NRMAL (CDMX) is the festival with the highest gender balance in Mexico, as well as the meeting with the highest percentage of mixed events (almost 67% participation of mixed and female projects). "For us, it is not an obligation to fulfill the gender quota. It is what we have within reach to generate a change", explains Moni Saldaña, director of NRMAL.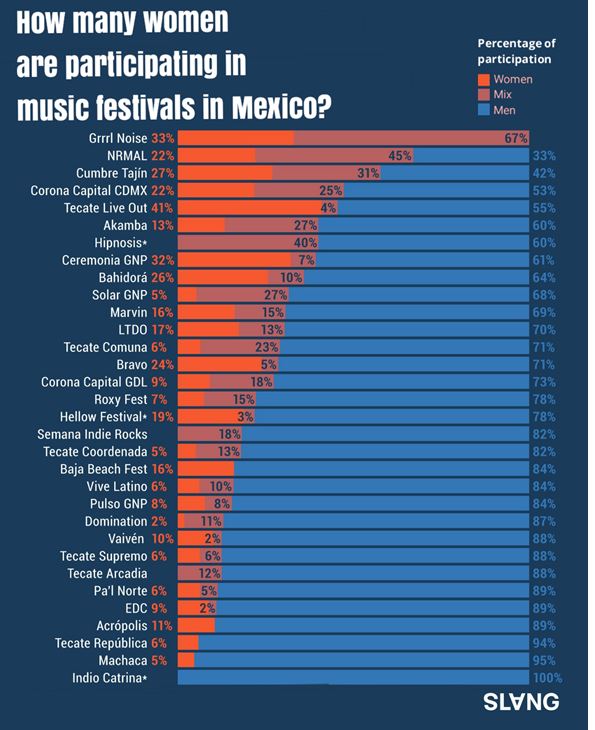 At the close of our count (June 5), Hypnosis, Hellow Festival, and Indio Catrina, still did not announce their full lineup, so there could be some variation in the current/final percentages.
Cumbre Tajín is also one of this year's festivals in which male soloists and bands made up of men alone, represent less than half of the total of the lineup. On the other hand, Corona Capital, Hypnosis, Tecate Live Out, Akamba, and GNP Ceremony stand out as the festivals with 40% or more of the sum of female and mixed projects.
Among the female headliners of the 2019 Mexican festivals we can find: Cardi B (Baja Beach Fest), Lauryn Hill (Solar GNP), Rosalia (GNP Ceremony), Gwen Stefani (Machaca), Mon Laferte (GNP Pulse, Machaca), Kelela (Akamba), Lydia Lunch (Marvin) and Billie Eilish (Corona Capital).
                                                                             "I Only Say"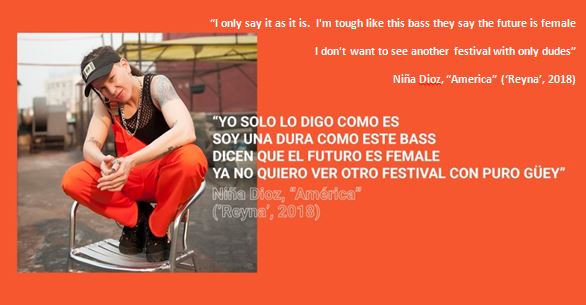 At festivals, I do see that there is a low female representation. It is true that if you see the headliners, there are a majority of male projects. It's a reality, but I think it's changing too, "says singer-songwriter Silvana Estrada.
Grrrl Noise is the only event in Mexico – among those of a specific size, and that includes both national and international talent – in which the entire line up is planned to have female participation, either with women's bands or mixed projects led by women.
"The fact that a woman is the protagonist of an event is a political act that allows the spaces that are mainly inhabited by men, at least one night, to be taken by women, and, that the men who are there can value the work of the girls", Says Merarit Viera, a research professor at UAM Xochimilco. Viera is involved in the management of events which are focused on the participation of women in music, mainly rock and punk rock.
"Back in the nineties, the Riot Grrrls said that putting the body on stage was already a political act," she adds.
The Lag of Women in History
The low percentage of female participation in festivals is not caused with bad intention for those who program the lineups, although it is a consequence of gender inequality over the years, and those, who are in charge of various aspects of the music industry, can make a difference at least in this area.
"It is not necessarily on purpose; it has not been a priority on the agenda as it is now. I keep telling our senior programmers, who have been doing it for 30 years: 'Come on guys, you have to commit to this.' It's a new idea for many of them", explains to MusicWeek, Emily Eavis, daughter of the Glastonbury Festival founder and co-organizer of the meeting.
Eavis recently told the BBC that there men in the music industry who prefer to deal with his father – who is 83 years old – rather than her, although he has been focused on booking the festival for half of his lifetime. "I go to meetings with tables full of men. Some are great, others refuse to accept that they have to deal with me, "explained the 40-year-old woman.
The low participation of women in school, creative, and work environments is a historical impact. For example, in the Political Constitution of Mexico (1857), the right to vote was only contemplated for men. Mexican women were able to participate in some local elections until 1947 and later until 1953, in the federal elections, almost a century later.
Besides, two-thirds of adult illiterates worldwide are women, according to UNESCO figures: a direct consequence of the historical exclusion of girls and women to proper education.
Taking this into account, it is not surprising – and not the main problem – that 70% of those who take part in the music industry worldwide are men, and that only 6% of recognized producers in the United States and Canada are women, and that women represent 22% of the performers of the 600 most popular songs from 2012 to 2017, according to statistics released by the non-profit organization Women in Music.
"There isn't much balance in terms of female talent at festivals, whether it's rock, hip hop, or electronic music. There is quite a disproportion. This is due to different factors. I think the most important is, there are not many women in key positions from where they can boost female talent", explains rapper Niña Dioz.
"There is still a majority of men in these festival stalls, and then, the result is disproportionate," says the MC.
Female Representation in Professional Life
As indicated by the Right to Education Initiative (RTE), one of the main obstacles faced by women to be entitled to education is gender stereotypes. For example, there are sectors in which it is considered that if a woman "is destined to devote herself to the home and be a mother," she does not have to study.
However, stereotypes also affect those who do have access to education and impact both men and women.
"Gender stereotypes are the practice of attributing specific attributes, characteristics or roles to an individual woman or man solely because of her membership in the social group of women or men," is indicated on the RTE website.
"Marriage and motherhood have to do with the gender condition; women are built from the family. A young woman is 'a married woman,' not a rocker, she is a fertile body,' not a rocker," warns Viera about the vision of various sectors of society.
An example of how gender stereotypes affect women in music is the case of singer-songwriter Leticia Servín, whose ex-wife obtained the guard and custody of her son Dante before the judicial authorities of Jalisco arguing that by her work activity "she sees forced to neglect the child and not give him the security he needs."
If the man were the one who dedicates himself to music, there would be no such document, since traditional Mexican society would expect the woman to remain at home in charge of the home. "It's ironic because women generally take care of their children, but there is moral and social punishment because since she is music, she is not' apt 'to be a mother, anchored in that her artistic practice is her profession, "says Viera.
Another gender stereotype is the spread of the idea that boys and men are more skilled in matters related to mathematics and technology, which could discourage some women from developing in these areas and resulting in less female representation in certain careers or disciplines.
"I think many young women are reluctant to pursue a career as producers or DJs for assumptions about women's lack of technical skills," explains Jahan Yousaf, of the electronic duo Krewella, to The Huffington Post.
According to figures released by the Center for Gender Studies Research of the UNAM, there are "masculinized" careers, as is the case of engineering, in which men represent more than 80% of the total population of students. For some girls, it is "logical," even if subconsciously, not to consider the possibility of developing in certain careers if they do not see women growing in them.
"If I were 13, if I were a young girl, I would like to see all these amazing live producers or recording engineers who are women," says Karrie Keyes, co-founder of SoundGirls and monitor engineer at Pearl Jam and Eddie Vedder, during your participation in Sound: check Xpo 2019.
"She and other women with a great career decided to bring together talented women and help the new generation of women engineers grow, which is basically where a change can be made," explains Carolina Antón, SoundGirls representative in our country.
"We will always be supporting the work together with the boys and the movement for the industry, supporting the women that we are the minority", adds the engineer, who has worked with Zoé, Café Tacvba, Natalia Lafourcade, León Larregui, Mon Laferte , Slash and Gloria Gaynor, and at festivals such as Pa'l Norte, Vive Latino and Knot Fest.
The original intention of the organization was to make a website to find other women in the world of audio, and it emerged after Keyes crossed his path for the first time with Michelle Sabolchick, who worked with Spin Doctors after they both had more than 20 years in the field.
Carolina Anton Interview
Moty, drummer of Salmerón, MonteCoral, Silent Lune and Mint Parker, recognizes that it is inspiring for her to see a woman where she would like to be. "It makes me see that it is possible, although I don't think it is necessary for everyone. If you want something and you hold on, you know you are going to achieve it, "he says.
"If you do not see the example if you do not feel represented if in your house they say 'no, that career is not for women, when have you seen a woman do that?', You grow up with that programming, and of certain, you will not dare to dream. Or it will be more difficult, "says Niña Dioz. "In the end, this is not a matter of sexes, if one has the talent or vision, you can be an astronaut if you want, but there must be a representation."
For his part, Moni Saldaña says that promoting the presence of women in different fields is much more than giving an example to follow other people. "Visibility not only impacts more people who are encouraged to do this type of work, but also in the perception of women," says the director of NRMAL.
Against Sexism and Gender Stereotypes
According to And what is gender equality ?, article by Amneris Chaparro for Feminist Debate (magazine edited by the Center for Gender Research and Studies), "sexism is an ideology that informs and perpetuates the inequality of gender as natural and irremediable oppression. "
Those of us who have historically been discriminated against are women, as document 10 recommendations for the non-sexist use of language reaffirms, Conapred (National Council to Prevent Discrimination), and the field of music is no exception.
"It happens to me a lot, for example, in small towns, that I am going to talk to the promoter and they answer anyone next to me who is a man. No matter who it is, it may be the man of the waters, "exemplifies tour manager Connie Fuentes, who works with bands like Enjambre and at festivals such as Akamba, Bahidorá, and Vaivén.
As Chaparro's article indicates, sexism "involves deep-rooted conceptions of what women and men are, what feminine and masculine values are and their hierarchical assignment in society."
According to Viera – who also works at the Youth Research Seminar at UNAM -, the dynamics of the scenario, in general, are very masculine, so women develop acceptance strategies to gain some respect. "How do you get respect? Generally demonstrating that you can play an instrument equal to or better than a vato, "he explains about the' test 'that men do not undergo on stage.
"If you keep doing your thing, you end up earning the respect of those who came to say' ah, it's fine to be a woman. " That is a typical comment, but we have to be more intelligent and hardworking than that, "says Moty, part of the national jury of the online drummer contest Hit Like a Girl.
For Chaparro, a consequence of entrenched sexism is that inequality of power between the sexes is accepted in many sectors, without being questioned.
"Even close people tell you' hey, but with that, you are not going anywhere, why do you make music, there has never been a woman who does hip hop and is successful and gay. " They told me things like that, that there wasn't a woman like me and why I was wasting my time, "explains Niña Dioz, for whom the more feminine energy there is, the more balanced relations in the music industry will be.
"Until five years ago, that someone passed a spear in a play was completely normal, and even the fault fell on the girl for being there," Viera recalls. "The rock scene is nocturnal. Some woman who is there is violated, she is in a context in which she should not 'be,' and I say it in quotation marks, "she explains about a space in which – although each time to a lesser extent – participation and female presence
For Viera, although certain musical genres considered as alternatives break with morals, religions, and the traditional family, they do not do so with gender stereotypes. "Yes, it becomes a space for women, of course, girls become masculinized, because it is a survival strategy on stage, but that does not mean that the stage does not have female and male practices," adds the professor of Postgraduate in Social Anthropology at ENAH.
As Merarit Viera indicates, based on Teresa de Lauretis' definition of gender technology, the imaginary of what it means to be a rocker and/or a rocker is based on masculinity and femininity. "There are practices that produce the gender norm in rock: the "morras" (slang for girls in Spanish) are thought of as beautiful bodies on stage. Men are thought of as good performers, "says the author of Eccentric Youth: Body, Woman, and Rock in Tijuana (2015).
"If women were praised more frequently for their music, for their talent, or for anything other than how they look, many other things in the world would be different," rapper Angel Haze told the BBC.
"There is a machismo that is going to be linked to the stereotype and the expectation that the girls on stage" are not going to play so well, "explains Viera, who also acknowledges that in the independent scene there are models of femininity.
"The rock scenario is a genre technology. That is to say, it produces and reproduces power relations, representations that cross the body of men and women and that generate stereotypes and expectations of what a woman and a man should be in music, "he explains about the situation.
Present and Future of Women's Participation in World Festivals
The low percentage of female participation in festivals – and in the music industry in general – is not exclusive to Mexico. As Ruidosa indicates, 7 to 8 out of 10 numbers of Latino festival posters are made up of solo men or bands formed only by men. For this, 66 posters of meetings held in Argentina, Chile, Colombia, and Mexico were taken into account, as well as two festivals with Latin grill held in the United States during 2016, 2017 and part of 2018.
In the United Kingdom, of the nine festivals that BBC Reality Check measured in 2018, 77% of the 756 events analyzed were completely masculine – even not counting 9% of mixed acts with a male majority.
The same year in the United States, three festivals (FYF, Pitchfork, and Panorama) reached a gender balance in their line ups. This is proof that with an extra commitment, you can achieve greater female representation on stage.
"We are aware of gender balance and ethnic balance. It is one of our priorities (among others such as the public, production, ticket sales). There are so many talented women in music that it is not precisely our biggest challenge," explains Adam Kaufman, Executive Director of Festivals and Activations of Pitchfork, to Slang.
The international Keychange movement – part of the PRS Foundation – seeks to transform the future of music with an initiative signed by representatives of 45 musical meetings in the United States, Canada, and Europe. These are committed to achieving a 50/50 gender balance (same percentage of participation of men and women) by 2022.
"We work on that every day. Booking Glastonbury makes us conscious, we are trying to solve the imbalance, "says Eavis, although this festival is not part of the initiative. "We have a lot to do; there are areas of the festival that already have 50/50, like The Park last year (2017). But The Pyramid is not, and we are working on it, "he acknowledged in 2018 about the most iconic stage of the festival.
Is it really necessary to wait so long to have a higher percentage of women at festivals? "It is an easily attainable goal in 2019, we did it, and I think it is one of our strongest lineups. I find it strange that they treat this as if it were the Paris Agreement [created so that countries strengthen their response to the threat of climate change], "warns Krefman of Pitchfork.
"There are many talented women in music, and they sell as many or more tickets than men," he acknowledges.
Moni Saldaña, from NRMAL, agrees with Krefman that it is not essential to wait to have more female representation in a musical encounter. "It was very funny that there was a goal or a time to start doing things correctly," he says.
However, he admits that it is important that there is a commitment in this regard, especially taking into account that the original idea of a poster can be modified due to budget issues, commitments, and exchanges and even the personal agenda of the artists.
"You have to see the positive side of an action that is being generated. I understand. The type of festival we do allows us to play a lot and experience, and we can program what we want, "Saldaña acknowledges.
"The representation on the poster is more a reflection of the industry as a whole than of isolated festivals," a spokeswoman for the British BoomTown festival told the BBC, something that is true but does not take away responsibility for those who book festivals.
Towards Equity in the Music Industry
It is a fact that there is a minority of women in the world of music. What is coming? Apart from opening the conversation, it is important to work together, as is the case of Women in Rock, a meeting organized by Marcela Viejo. The Despeinadas, a group of artists such as Paulina Goto, Cecy Leos, Sofía Macchi, and Marissa Mur. She's Got the Groove, a Yamaha initiative with which Moty and Moni del Valle promote the participation of drummer women; and SoundGirls, started by engineers Karrie Keyes and Michelle Sabolchick Pettinato.
"There are a lot of super-perronic women that I admire a lot, and I like that the female scene is growing," says singer-songwriter Arroba Nat about female work today.
For Merarit Viera women must produce a political awareness of what it means to be on stage. "There is already more positioning and more awareness of what it means to be a woman on the scene, of the struggles that have had to be demolished to be on the scene," explains the activist, who usually organizes headdresses and conversations focused on the position of female talent.
"I think that especially in the scene I am in, women have the strength. There is Natalia (Lafourcade), there is Mon (Laferte), Daniela Spalla who are in charge of their projects, have an incredible show, and sell many tickets. I find it very funny that people want to maintain the stereotype that women cannot lead our projects or that we are weak sex when there is an example that the strongest projects in this country are carried by women, "says Silvana Estrada, who this year will release the album Marchita.
After more than 30 years in the audio industry, Keyes also perceives a positive outlook today. "Industries are taking it seriously enough to make sure that not only women but all marginalized groups are included. It's exciting to see that, "explained Pearl Jam monitor engineer during her visit to Mexico.
Apart from the actions of artists or those who have a certain capacity for decision in the world of music, we must demand representative posters, as well as actions that promote equity and balance in all branches of the music industry. Do not underestimate the power of the public, who ultimately grow artists and festivals.
"Our audience is generally very progressive; they read our site and have come to expect some cultural awareness in our programming, even beyond the lineup. But that is probably not such a big issue for many of the mega festivals, for a lot of reasons, "says the Executive Director of Festivals and Activations of Pitchfork, a publication by one of the few meetings that have taken important steps in what A gender balance refers.
It is time to pronounce ourselves in favor of equity and take a step towards improvement in favor of a change, as well as taking seriously – as musical means – the responsibility we have when raising our voice. "For the industry in general, the relevance of the gender balance in 2019 should be obvious," concludes Krefman.
---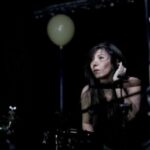 PAMELA ESCAMILLA  – Hellenophilic drummer who has written a lot of songs, but always returns to music. She has also collaborated on TrackRecord, Central Magazine, Excelsior, Time Out, FILTER, Frente, Merca 2.0 and Grita Radio.