I know we are all audio friends here, but I have to take a moment to talk about one of our counterparts, a counterpart who is always involved in live shows. The setup can be very simple or incredibly detailed, but they are often considered competitive or our frenemy in the field. Many times we are on the same timetable, with a lot to do and in a small space, working on top of each other to accomplish a show.
As part of opening a new building, I have had to face this counterpart head on. My least favorite activity to do in tech: lighting. I mean, seriously, I'm good with just hearing the show and not seeing it!
From recent firsthand experience, I can tell you lighting is a lot of work! For the first time, I had to work through spec-ing, ordering and, now, installing a full lighting system for two venues. To give you an idea of how much work this is, it took three loads just to get all that trash out!
In all seriousness though, I learned that our counterparts in lighting work just as hard to master their craft as we do. The diversity in lighting tasks resembles the variety in audio – except, instead of mic variations, different styles of speakers and tuning, it's lamp differences, hundreds of fixture options and focusing.
As I have been working on this install, I have realized that I can't imagine what it would be like to set it all up, wire, address, and program a rig like this every day on a large-scale tour. Let alone troubleshooting, with so many fail points and everything at least 20 ft. over my head, once it's up. Just like audio, the details matter. There are endless options on how to do it, what it looks like, and how to please the audience. I'm happy to dead-hang some lights, make sure they work, and then let my students go to town.
Now that the products have begun arriving, it's expected to take two weeks to complete the install, followed by spending time learning the new lighting board (which could take months to master). Major props to our counterparts, the lighting folk! I'm glad someone likes to do it.
P.S. I really did work with some lights – not just with a bunch of boxes.
---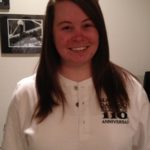 Heather Holm: Fueled by an interest in live sound at a young age, Heather volunteered to work productions through high school. As a student in college, she started working in the production department where she learned how to setup and run audio equipment properly. Heather has been working for the University of Wisconsin La Crosse for five years as the Event Support Coordinator. Her job requires her to be a jack-of-all-trades (Audio technician, venue manager, teacher, safety manager, supervisor, lighting designer and so much more). She loves live sound the most – and says "there is nothing like firing up the PA for the first time."