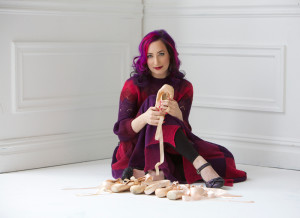 Rachael Sage is a singer-songwriter and producer, visual artist, and founded her own record label.  She has shared stages with A Great Big World,Semi Precious Weapons,] Sarah McLachlan, Judy Collins, Marc Cohn, The Animals, Jamie Cullum, and Ani DiFranco. She has released eleven solo albums on her own label, MPress Records, and regularly tours both North America and Europe.
Rachael shared her experiences as an independent artist and producer with us. Rachael is an inspiration and shows that you can do it on your own.
How did you get involved in music?
I started playing piano by ear when I was 2 & 1/2 years old, after my mom sent me to a pre-ballet class. I came home and played all the melodies I'd heard on the piano, and they knew something was up! So really, I've been playing music since as long as I can remember; it's been the primary way I've oriented to most things in my life – often more than reading, or talking!
How did you get started?
Although as mentioned above I became aware of my ear for music very early on, I didn't become hyper-focused on it until I was about 5. I went away to sleep-away camp in Maine, and one day the musical accompanist was sick, so they needed someone to play piano at the weekly talent show. All of a sudden I realized I was "qualified" to do this. I knew all the songs already, and it was a very pivotal moment where I recognized that this skill I'd developed was something "mature" and "useful", socially. The head of the camp had heard me play many times so he basically volunteered me to take the accompanists' place, leading everyone in the camp song. I heard the power of everyone singing along to what I was doing with my fingers, no one laughed, everyone clapped, I knew I was onto something and later all the kids asked me if I could play songs from the radio and it was good to be able to say yes! I suppose that was the beginning of my identity as a professional musician.
Give us a little background on your career as a musician.
I started writing my own songs when I was 5, and recording them on a 4-track when I was 12. I won the ASCAP Pop Songwriting Contest in my teens, and Tony Visconti came to my house and offered to make demos with me but sadly, my parents were nervous about it all and told me a music career would have to wait until after college. Needless to say, college was pretty long for me! But every summer I'd continue writing, demo'ing new songs, refining my production skills and I basically completed my 1st album my senior year, so once I moved back to NYC, I was ready to put something out I felt confident about, and get some gigs.
My second album, I included a song I'd written for Ani DiFranco which lead to her inviting me to tour with her which was an incredible, trial-by-fire type of experience. I went from playing for 50 people at The Bitter End to 6000k+ die-hard folk fans, and I learned an enormous amount in a very short period of time. Gigs at Lilith Fair and supporting Eric Burdon followed in the US and Europe, and by a few albums in I had distribution for my record label, MPress, and a Label Manager named Walter Parks who really helped me organize my touring and promotional efforts. Eventually we began playing together, and then he went on to tour with the great Ritchie Havens for many years. Since I started the label I've released 12 albums and several EP's, signed four other artists and released 5 volumes of our charity compilation series, "New Arrivals". But really, my proudest achievement is simply that I haven't stopped writing songs.
Have you toured and if so what do you like best about touring?
I've toured for many years, and I love it! My favorite thing about touring is that it's a chance to basically fall in love everyday…Every venue, every town, every audience you meet new people, see new places and can recover very quickly from a prior misstep and grow from your mistakes in a way that's essentially "on speed". The pacing of artist development – and personal development in general – seems to be quicker, in my experience, than if you're just staying home, in one place; it's an intense, extremely dynamic and adventurous lifestyle that's not for everyone, but I can't imagine not touring. It's the thing that permits me to feel most human, because of all the types of people we meet, and places we see. Universality becomes less abstract – you see with your own eyes and experience daily how very much people across the country and around the world want the same things.
What do you like least?
I dislike the long drives. I have bad knees from years of ballet, and it can be a drag sitting in a car for many hours, and feeling creaky and stuff when you emerge. Stretching becomes crucial!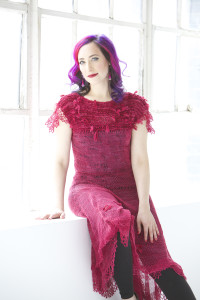 What is your favorite day off activity?
Going to the movies! I saw Brooklyn in Dublin last summer. I went by myself. It was so damn good I sat through it twice, by myself, weeping (of course).
What is your educational or training background
I attended The School Of American Ballet in High School, and graduated from Stanford University with a degree in Drama. I also trained at The Shakespeare Lab at The New York Public Theater and The Actors Studio MFA Program, in NYC.
What are your long term goals
To become a great songwriter with as much command over my craft as possible; to become a more dynamic performer and to merge more multi-media elements i.e. Dance and Visual Art and more ambitious musical/sonic technology into my show; to resume a career in Acting and work in TV, Film and Theater. Basically I want to tell stories through art, in whatever medium, and just get better and better at it.
What if any obstacles or barriers have you faced?
I think playing the piano and a singer-songwriter in general is an obstacle, for a physical person such as myself. An audience comes to expect you to play your own instrument which of course is a passion, but likewise it becomes constraining. I saw PJ Harvey tonight and it reminded me how early on when I could not play guitar, I hired a guitarist to accompany me. I danced around, I was free with my body and the mic in a totally different way; sometimes it's a mixed-blessing being self-contained. I'd like to get back to orchestrating more of my music so I'm not tethered to my instrument. I think I have a lot more to give and project with my full range as a physical being, but it will take the right musical "casting" to let go of always playing everything myself…
I also think it's been an obstacle to feel so reliant on other people for the technological aspects of creating music. In my teens I was a midi-whiz, I ran my own home studio, recorded to analog and didn't really need anyone to get my ideas down. Then the programs changed, everything shifted to Protools and I was in college, sort of out of that loop so lost the thread a bit. I began hiring engineers and recording in proper studios as a once-a-year rarified endeavor rather than having an ongoing, consistent process of writing and recording like I had prior. My orientation to "the studio" shifted, for better and worse.
How have you dealt with them?
I don't think I've really "dealt" with these issues head-on yet. I've been too busy putting out records and touring – but I am aware of the challenges and ways in which I'd like to shift these paradigms to feel more empowered as an artist, so I'm gearing up to refine my home studio so it's more efficient and easier for me to use on my own without an engineer, and I have lots of new musical ideas brewing already for my next project, that hopefully this winter I'll have the opportunity to develop. I think I'm at the point where my next album needs to be radically different than anything I've ever done before. It's an exciting prospect!! Perhaps no piano, and something more edgy/rock than people expect from me…we'll see.
Advice you have for other women and young women who wish to enter the field?
I always suggest to young musicians that they get a regular, steady local gig where they can shed, make mistakes, not have a lot of pressure on them and just figure out who they are as an artist. I did that in college at my coffeehouse, and later in NYC at The Bitter End. I think it's as important to learn how to play a room as to play an instrument…even if that means you barely say anything as your "persona"; but it should be intentional, and committed. It's hard to refine all that in the privacy of one's bedroom!
Must have skills?
Politeness (yes this is a skill!), a serious work ethic, organization, an ability to lead and inspire other musicians, writing thoughtful emails that show consideration for (and where applicable, research on) the party on the other end!
You started your own record label – please explain and walk us thru running a label?
Yes I founded MPress Records in 1996, to release my first album "Morbid Romantic". I was just out of college and it was basically a collection of my best demos, so far. My first album I distributed nationally was "Smashing The Serene". Basically, I always pretended to have a staff, even when I didn't. I got a fax machine, signed fancy press kits and packages with a fake manager's name when I sent them to radio, and was somehow able to chart very quickly alongside artists like Jewel, Ani DiFranco and Sarah McLachlan on the College Radio Charts which launched my label in earnest. I learned the ropes of every facet of running a label by being very hands-on in those early years, from overseeing an intern, to applying to festivals, to sending promos to indie record stores, to working with a publicist. I did all my own album art and somehow had the energy to do all of this by day and play shows by night, without much help, until eventually MPress grew into a small staff and signed other artists. That was a big shift, but by the time it happened, I was "ready" and had a pretty clear vision of what types of artists I wanted to release.
Artists you represent?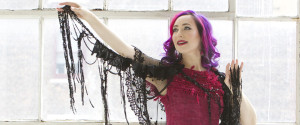 We represent Seth Glier, A Fragile Tomorrow, K's Choice and also have several Melissa Ferrick releases in our catalog. You can learn more about my label at MPress records, and about my upcoming shows and news at RachaelSage.com.