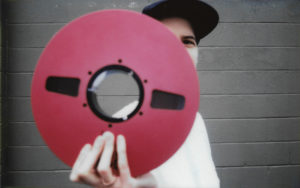 Anne Gauthier is a self-taught independent recording engineer, producer, and drummer originally from Montreal, Canada. She is currently working at La La Land in Louisville, KY.
Anne started touring with bands as a drummer when she was 19. She found her favorite part of being in bands was in the recording studio and at some point decided she wanted to get serious about recording. "The non-official start of my recording adventure was a boombox setup to record casio/vocal duet rock operas with my brother when I was seven. A friend lent me a four-track tape recorder and a couple of 57 knockoffs in my early 20's which I used for a few years to record my own projects". She finds the recording process to be technical, creative and instinctual all at once. She would go on to build a home recording studio.
Anne would become interested in analog recording and would stumble across an article in Tape Op on Kevin Ratterman and his studio and his work with analog recording. She decided to email Kevin, and he responded. They would stay in touch for a couple of years and then one day he invited her to assist at the studio. Anne got a work visa and moved to Louisville. She says she has been "very, very fortunate to find such a kind and talented mentor and co-worker."
Anne would start engineering her own sessions shortly after arriving at La La Land and she just became the head engineer. At La La Land, she has access to a broader selection of gear, and she has found being able to track in a large room has changed her recording decisions. Anne says that her "approach to recording has always been about finding the best recording color to fit whatever project's personality. Using gear as a means to represent the band in their most natural and interesting light. So even if I wouldn't call myself a gearhead to any extent, it's been really fun having a wide array of classic recording gear to experiment with while recording".
As an engineer, she has been able to work on diverse projects, from hip-hop, jazz, metal, rock, pop, roots and country bands. This has made her a well-rounded engineer. She has also learned to work with different people and personalities. She has found this experience has made her more patient.
Anne finds inspiration from recordings that were made using vintage gear and tracked to tape. She loves the old country and Motown records. Some of the recent recordings that has influenced her are Mary Gauthier "Mercy Now" (Gurf Morlix), Mac DeMarco "Salad Days," Vivian Girls "Share the Joy"(Jarvis Taveniere), Black Mountain s/t (Colin Stewart), Wye Oak "Civilian" (John Congleton), The Dead Weather "Sea of Cowards (Vance Powell), Big Thief "Capacity" (Andrew Sarlo).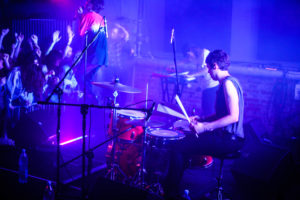 Anne can count on half of one hand the number of women who have risen to the top of the industry. While enrollment has increased in recording schools, she has not seen the results in studios. She says she has been fortunate that she has been supported and has had fantastic mentors.
Anne also volunteers her time with  Girls Rock Louisville that teaches young women and gender-nonconforming youth how to play instruments, write music and form bands, thus building confidence, self-esteem, and critical thinking.
Anne is excited to keep working, growing, and learning. Even after 20 years, you can always get better. Parting Advice is Be Yourself, Be Kind, Be Respectful. Keep learning and don't be scared to stand up for yourself and others.
Must have Skills: Patience, an understanding of different styles of music, a good musical instinct, being able to be both creative and technical.
Favorite Gear: I'm privileged with the gear we have at the studio, but really I think you can make most things sound cool & exciting with any gear.
Mics: Coles 4038 & U67
Preamps: Our trusty & buttery API board, and fun other options like the V76 for vocals & electrodyne 710 for strings and wind instruments.
Compressors: Pheonix, API 525, lisson grove R124
Pro Tools Mixing: Sound toys plug-in family sounds great, Fab filter, PSP vintage warmer is sweet and makes even the most digital recording super warm-sounding, I also love a couple of the classic UA plugins (plate 140, LA2A, 1176).
You can contact Anne through her website