Karla Barrera has been working in live sound for over twelve years and got her start working at clubs throughout Los Angeles, as a house tech, including The Viper Room. She works for Launch, and Motion Audio, and tours as FOH and Monitor engineer and is currently touring with Mt. Joy as their monitor engineer.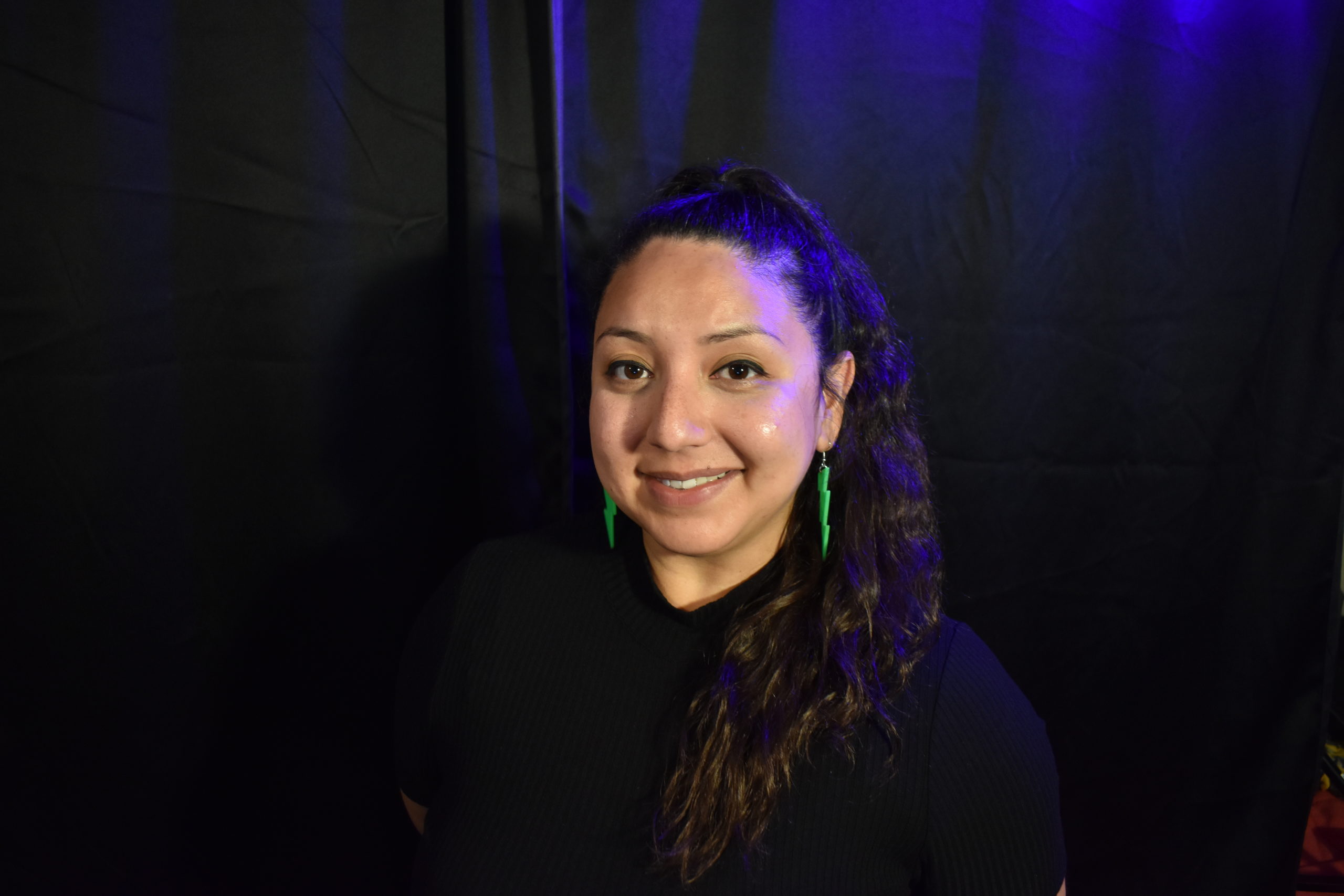 Karla has an extensive background in music, playing in symphonic, marching, and jazz bands, as well as drum lines. Karla says "Music was a huge part of my life and being able to play music in my teenage years really inspired me. I loved reading music and practicing whatever instrument I was into at the time while also reading the album credits on records that I loved. That's when I discovered the people behind the recordings and production of a record. It sparked my interest in wanting to be a part of music behind the scenes." Karla attended concerts and this solidified her path in audio, she fell in love with the ebb and flow of energy from the artists to the audience and knew she wanted to become a FOH engineer.
Karla would enroll in The Art Institute of Los Angeles and graduated with honors. She would cut her teeth interning at The Viper Room, and under the mentorship of Matt Andrade was able to focus on her mixing and teching skills. Karla credits several mentors that took the time to teach her how to be confident in her work, including; Christian Murphy, Jason Hines, Doron Dina, and Francis O'Riley (Franky Fingers).
Karla says some of the things she learned when she was starting out was signal flow on analog equipment, and considers it so valuable. She also learned that it was important to recognize signs of burnout. Karla recounts her experience with burned-out engineers "There were so many people I came across that were burned out and didn't care as much about providing a good service to local bands. I learned that we are in a position of service to an artist and that it's important to provide a good experience to them without ego."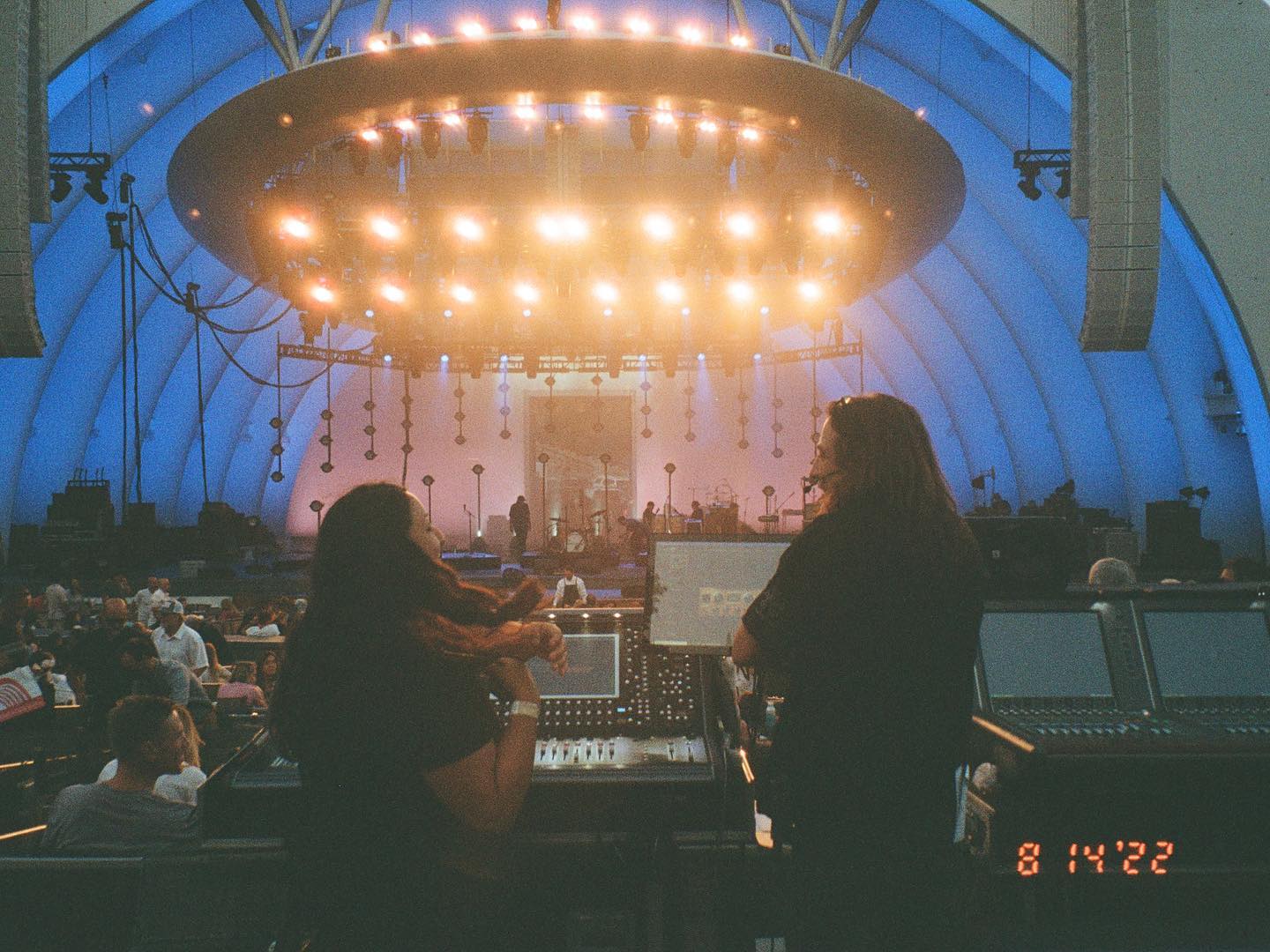 Career Now
What is a typical day like? 
On tour:
Load in / set up / sound check can be from 10 am – 4 pm
⁃ Set up monitor world on stage left
⁃ Direct hands to help me flip my desk, build mic stands, run hoses across the stage, etc…
⁃ Put up antennas and Scan for new frequencies
⁃ Make sure the artist is comfortable in the new space.
Dinner break 4-7 pm
⁃ Make sure all body packs have fresh batteries.
⁃ Allows time for a shower if I didn't get to it in the morning
⁃ Reorganize my suitcase/day bag. Has to be done every other day or else life becomes more chaotic than it already is.
⁃ Go out for dinner w other crew members / wait for the group Uber eats order/catering
⁃ Stretch
⁃ Nap
⁃ Change into show clothes. Or just fresh socks and shoes.
Show/load out 8 pm -12 am
Just to do it all again the next day (unless it's roadie Friday)
How do you stay organized and focused? 
I drink Guayaki Yerba Mate or a cafecito.  Also, PACKING CUBES !!! Oh and I take notes constantly.
What do you enjoy the most about your job? 
My favorite part is constantly learning and growing. I feel like, after every tour, I evolve into a new version of myself. I'm constantly soaking up new information and implementing new techniques.
What do you like least? 
When you build a file on an offline editor and the venue desk does not have the latest firmware.
Just a heads up: Digico SD12 had an update in October 2022 to v1619 and the only offline editor available for download is v1619.
If you tour what do you like best? 
I enjoy working directly with the artist and collaborating on ways to have the best-sounding show.
What do you like least? 
Weird sleep schedules and having to wake up in the morning and find the nearest bathroom in a new city/venue.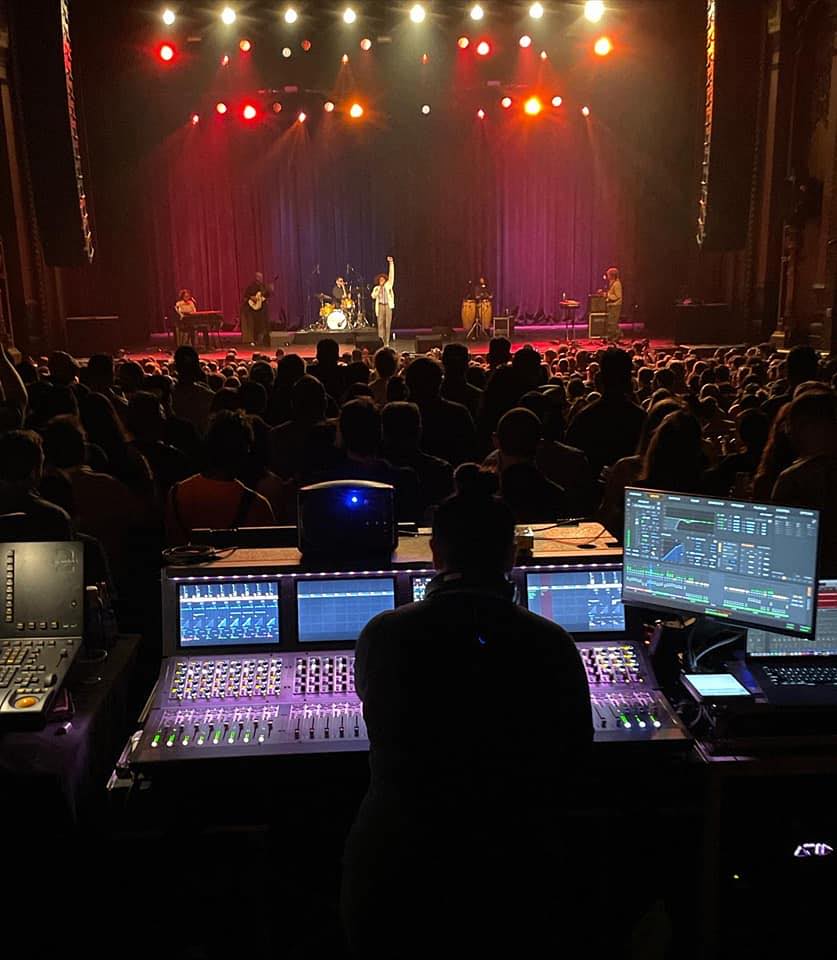 What is your favorite day of activity? 
Being in nature and getting some fresh air. It's important to get off the bus or out of the venue and connect with the earth.
What are your long-term goals?

I have some bucket list venues I would love to mix shows at (Madison Square  Garden, Sydney Opera House)
Also, work with more Latin artists down the line.
Continue to become more knowledgeable and gain more practice networking pro audio equipment in all aspects.
What if any obstacles or barriers have you faced? 
One of the most recent obstacles I've faced was having a family member end up in the hospital while I was away. It was a rough time for me because I had to set aside my feelings and emotions in order to mix a good show.  I learned to keep myself together somehow.
Also, before I started touring with a console, I felt like a lot of house engineers couldn't picture me as a seasoned sound engineer. I always felt like I had to prove myself to new people all the time. That was annoying. Once I started touring with my own desk, I felt like it somehow gave me more credibility as an engineer. I guess you could say that comes with the growing pains, but also mainly because I'm a  Latina woman mixing sound. It just doesn't compute with some people right off the bat that I could, in fact, mix and navigate my way around any desk and mix in any room or at any festival. I've had many "first time doing this" experiences on every single gig I've been on. They've all been different, but I always managed to make the best of every situation.
How have you dealt with them? 
When it comes to personal family issues and not being able to help with what's going on back home, it's just not easy to deal with it. I knew prior to accepting my latest tour that my mom was struggling with her health and I was open to management about it. If my sibling told me he needed me in person, I would have to leave the tour. It hasn't gotten to that point this last tour thankfully, but I had to keep working without letting the stress back home affect my work. I think being open and honest can sometimes help feel more supported by management/clients.
Also, I burned sage and palo Santo on stage left to help cleanse my space and mind to maintain a healthy and focused state of mind.
Re: preconceived notions of me – I learned to care more about what the artists/management think about my mixes and work ethic.
Advice you have for other women and young women who wish to enter the field? 
Always try new things; don't stay in the same place for too long. There is so much room to grow in the world of production.
Watch YouTube videos / listen to podcasts about audio about live sound/rf coordination / SMAART / DANTE /  live sound desks / learn to network consoles  with waves or UA / learn how to multitrack on every console
Must have skills? 
Learn analog and digital signal flow
Customer service skills help while under pressure
Favorite gear? 
Neve Portico 5045 (not the plug)
LP Claws
Karla's Top 100 Favorite Albums!!
Karla's Top 100 Favorite Albums 
Yeah Yeah Yeahs – Fever to Tell
Radiohead – In Rainbows
The Mars Volta – Frances the Mute
TV on the Radio – Nine Types of Light
Thom Yorke – The Eraser
Jimi Hendrix – Axis: As Bold As Love
Bob Marley – Kaya
Arcade Fire – Funeral
The Black Keys – Brothers
The Strokes – Room on Fire
Lianne La Havas – Self-Titled Album
Unknown Mortal Orchestra – Self-Titled Album
Aniceto Molina – Los Mejores Exitos
Nick Hakim – Green Twins
Imaad Wasif – The Voidist
The Budos Band – Long in the Tooth
Charles Bradley – No Time for Dreaming
Shuggie Otis – Freedom Flight
Moses Sumney – grae
Little Dragon – Machine Dream
Beirut – The Flying Club Cup
The Black Angels – Passover
Fever Ray – Self-Titled Album
The Knife – Silent Shout
Toumani Diabate – New Ancient Strings
Al Green – Call me
Pedro Infante – Palabritas de Amor
Badbadnotgood – IV
Bjork – Medulla
Portishead – Dummy
Sufjan Stevens – Age of Adz
Interpol – El Pintor
Chet Faker – Built on Glass
Charlotte Day Wilson – Stone Woman
Donavan – Sunshine Superman
Nick Drake – Pink Moon
SadGirl – Water
Haelos – Full Circle
Idles – Joy as an Act of Resistance
The Kills – Blood Pressures
Band of Skulls – Baby Darling Doll Face Honey
Them Crooked Vultures – Self-Titled Album
Los Angeles Negros – Y Volveré
Calle 13 – Self Titled Album
Hercules and Love Affair – Self-Titled Album
Selena – Amor Prohibido
Durand Jones & The Indications – American Love Call
 Caifanes – Self Titled
Siouxie Sioux and the Banshees – The Rapture
Bat for Lashes – Two Suns
PJ Harvey – White Chalk
Television – Marquee Moon
Devotchka – A Mad And Faithful Telling
The Unicorns – Who Will Cut Our Hair When We're Gone?
Band of Horses – Cease to Begin
Heartless Bastards – Arrow
Teleskopes – Self Titled
The Hives – Tyrannosaurus Hives
Savages – 2013
Shout Out Louds – Howl Howl Gaff Gaff
The Velvet Underground – The Velvet Underground and Nico
Devendra Banhart – Cripple Crow
Helado Negro – Far In
Soft Hair – Soft Hair
Marconi Union – Weightless
Glass Animals – ZABA
Phantogram – Eyelid Movies
Dirtwire – Electric River
HVOB – TOO
Janis Joplin – Pearl
The Growlers – Are you in or are you out?
Dungen – ta det lungnt
Dr. Dog – B Room
Moonface – Heartbreaking Bravery (w/ Siinai)
Karen O & Danger Mouse – Lux Prima
Pink Floyd – Dark Side of the Moon
Radiohead – King of Limbs
Yves Tumor – Heaven to a Tortured Mind
Antibalas – Where the Gods Are In Peace
Wings – At the Speed of Sound
U.S. Girls – Half Free
All Them Witches – Nothing as the Ideal
ZZ Top – Tres Homres
Spoon – They Want My Soul
José González – Veneer
Kokoroko – Could We Be More
Blood Orange – Coastal Grooves
Curtis Harding – Face Your Fear
Nina Simone – Baltimore
Cream – Disraeli Gears
Juan Gabriel – Lo Mejor En Bellas Artes – 40 Aniversario (En Vivo)
Zola Blood – Black Blossom
Future Islands – On The Water
Sault – 5
Franz Ferdinand – Franz Ferdinand
J.S. Epperson – Splendor
Lee Fields – My World
Grizzly Bear – Shields
Local Natives – Hummingbird
Miles Davis – Bitches Brew