Lisa Affenzeller is an independent FOH Engineer, who works mainly with Heavy Metal bands, such as Butcher Babies, TesseracT, Kobra & the Lotus, Devin Townsend Project, Overkill, Annihilator. She has been working in the industry for over ten years.
Growing up Lisa had always wanted to work and be a part of live shows "Every show you do has that little magic that lies within that kicks you, and you know that you love what you do." She had a love for music growing up, although she never had much interest in actually playing an instrument. Lisa would attend SAE in Vienna and graduate with a degree in Music Production and had the full support of her parents. She says, "they love the technical aspect of my job as well as the traveling."
After graduating she moved between a few cities across Europe before ending in Hamburg, Germany. Lisa would make ends meet with office work, stage managing, soldering, anything to get a chance to mix some smaller shows or opening bands. Allowing her to start working in small and mid-sized clubs all over Repperbahn and give her confidence in mixing live sound. It would also put her in the right place at the right time.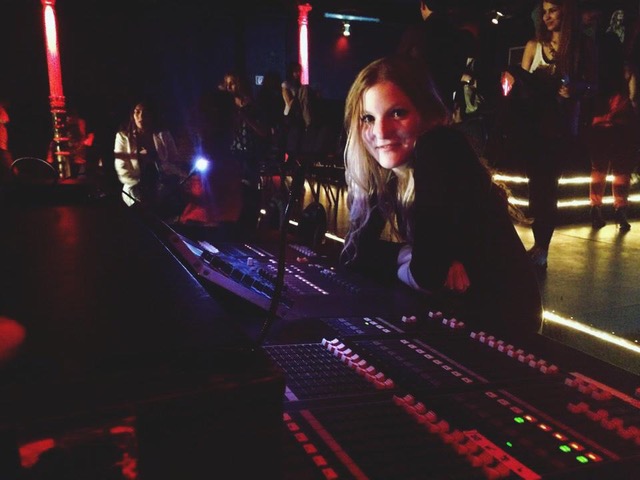 Starting in the clubs taught Lisa the ropes. First, she interned, then assisted, and then got to mix a few bands. From there she would start working at various clubs where she learned system engineering, mixing FOH and Monitors, stage managing, patching. And maybe more importantly how to put in long hours, fix broken equipment, and how to deal with artists and characters from all over the world.
Lisa would find herself in the right place at the right time and was able to start touring on the club level where she would learn how to mix on every possible console and PA, and how to get it set up quickly, and sound good. Although she found it intimidating at first, she now finds it fun.
Some of the challenges Lisa has faced while touring are gear breaking or failing. She says, "it sucks for sure, but it happens to the best of us, and it can happen at any time. It's just a matter of how you deal with it and how fast you can troubleshoot, and that – again – comes with experience.
She elaborates "One time I had a massive show stopper happen on a big club show in Germany during a tour through Europe. One of the photographers in the pit accidentally broke one of the main Cat5e lines, and I was using the spare CAT5e connection to run my show on 96kHz (which, in hindsight, was super unnecessary). I had no backup and after six songs into the set and the cable broke, more than two-thirds of my input channels were not passing audio anymore — almost a total blackout. After we found out what exactly had happened, the audio team and I rearranged the patch together. We trimmed down the channel count and moved on with the show on a spare CAT5e line that we had with us.
I overcame the situation by staying focused (luckily during that time I had so many shows under my belt already I could remain calm), the team effort within the crew, support from my tour manager and indeed a lot of love and understanding from the fans around me. One of the guys in the audience even thanked me and bought me a drink."
Lisa also finds festivals bring unique challenges. "Very often you don't get a soundcheck and sometimes even just a 20-30min changeover time in which you have to set up the stage and line check the show and then go for it and fix a solid mix in the first couple of minutes of the show. It's stressful for sure and challenging, but it's possible. The upside to festivals is enjoying the other acts and getting to hang out with roadies and friends from around the world.
What do you like best about touring?
The fans, for sure! And also, the bonding you experience when you work and travel with a terrific group of people is priceless.
What do you like least?
White bread & cheese.
What is your favorite day off activity?
Exploring local bars & restaurants!
What if any obstacles or barriers have you faced?
I think the biggest obstacle that I have faced in my career was my constant fear of failure and lack of trust in myself.
How have you dealt with them?
I have been fortunate with having had people in my life who believed in me more than I did and gave me chances. There might be a grain of truth in it when they say you have to work twice as hard being a woman, but when you do, and you cut your teeth on it, and you are willing to make some sacrifices, it's absolutely worth it in the end.
The advice you have for other women and young women who wish to enter the field?
You will eventually need to take that leap of faith and leave your safe haven back home to enter the touring world.
It sounds like a platitude, but you have to believe in yourself, it's really true. You will work with a lot of shitty bands, and you will have a lot of bad shows, but you will also have A LOT of perfect shows, and they will love you for it.
You will make mistakes, and you will learn from them. Your ability to troubleshoot will get better, and so will your confidence. You will hit rock bottom, and you will stand up again. And before you know it, you'll become a kick-ass sound engineer.
Must have skills?
Apart from the obvious, such as knowing your gear, I'd say being communicative is a big plus. And confidence & thick skin.
Favorite gear?
DiGiCo SD Series
DPA 4099 & 2011
Waves SSL G-Master Bus Compressor
Waves C6 & F6
Waves H-Delay
MANLEY Voxbox
BAE 1073
JH Audio In Ears
And a very special shout out to my Leatherman and my pink Peli