A bunch of us SoundGirls bloggers who work in theatre are also members of the TSDCA, which stands for Theatrical Sound Designers and Composers Association. I've personally been involved in TSDCA since around 2017 and became a more active member once I began freelancing in NYC. During the pandemic, the friends I had made through TSDCA provided a great source of Zoom camaraderie and company, and through TSDCA, I've gotten to work with them on some really exciting projects that help to further awareness and advocacy for those working in theatrical sound. So for this month's blog, let's dive into what the TSDCA is, what it does, and why you should join!
Let's start with the basics: What is TSDCA? From the mission statement: "The Theatrical Sound Designers and Composers Association (TSDCA) is a professional membership organization of sound designers and composers for the performing arts working in the United States. Through advocacy, ongoing education, mentorship, and outreach, we seek to advance our community and promote sound design and composition as vital artistic components of the collaborative art of live theatre."
The TSDCA began in part as a reaction to the news in 2014 that the Tony Awards for best sound design of a play and best sound design of a musical were being eliminated. One of the reasons that the Tony Awards committee cited for the elimination of the awards was that many Tony voters were abstaining from voting in these categories because they didn't feel they understood the role of sound design in production enough to judge it objectively. Another was that many of them considered sound design to be more of a technical trade than an artistic contribution, and therefore less worthy of the same creative recognition that is awarded to scenic, costume, and lighting designers (side note: there is still no Tony Award for video/projection design). These two discoveries made it clear that we, the theatrical sound community, were going to have to do some major educating and advocating if we wanted to be seen as equal peers to our visual designer counterparts and earn back the recognition of that equality through having a Tony Award category that recognized our work. And so the TSDCA was born!
One of many petitions that circulated back in 2014 to support reinstating the Tony Awards for sound design.
TSDCA's current membership consists of folks from all around the country (including some from around the world) who work in many different facets of theatrical sound design, not just those who consider themselves sound designers. For example, I joined TSDCA as an Affiliated member because as a theatrical mixer, I feel the work I do is closely aligned with that of my design colleagues, and that it's important for me to join with them to help better the industry we all work in. Affiliate membership is for those who work in conjunction with sound designers, such as mixers, sound supervisors, and production audio heads. Think of it as the "friend of the family" membership tier 🙂 In addition to Affiliated members, there are Professional members (those working as sound designers professionally), Early Career Members (out of school/training and in one's first 3 years of professional sound design work), Emeritus members (folks retired from the field), and Supporting members (those who want to be involved but aren't yet working in theatrical sound, such as students).
TSDCA is an all-volunteer organization, i.e. no member is paid to do anything administrative, such as serving on the board or chairing a committee. Membership fees are affordable and scaled by membership tier in order to be equitable. Plus, financial assistance paying dues is always available to those for whom it presents a barrier. We want you to be able to participate without breaking your bank!
And SoundGirls Members receive a 50% discount on membership using the code Soundgirls
So, what are some of the perks of being a TSDCA member? Here's my personal Top 5.
NETWORKING
It's been said before, and I will say it again: this business is 99% about who you know, and who knows you. If you're an aspiring designer, mixer, production audio, or anything else related to theatre sound, joining TSDCA is a fabulous way to meet people and learn about possible work opportunities! True story: I can trace every single job I got in my first year freelancing in NYC to connections I made through TSDCA. It really does work like that!
On the formal networking side, TSDCA has lots of resources as well. All TSDCA members are listed in the member directory, which is available to the public. You can add as much or as little detail as you want to your public profile, such as contact info, where you are based, what you do in sound, and more. Whenever someone asks TSDCA co-chair Lindsay Jones for a hiring recommendation, he sends them straight to the member directory, so you DEFINITELY want to be on there! There is also a job board that is available to members only, and lots of great opportunities get posted there every week.
EDUCATIONAL OPPORTUNITIES
TSDCA hosts various learning events all year round, both in-person and in the past year, virtually. We have an annual meeting in early summer that is packed with sessions on everything from working in content creation software like Krotos, to learning how to read through the fine print of a contract. These webinars are frequently available to the public (particularly the ones during our annual meeting) but some of them are members only. And if you can't make it to a live session, almost all the videos are later posted on the TSDCA website. TSDCA members also often get discounts on software, sample libraries, and training courses from our corporate sponsors, which include great brands that you've definitely heard of like Meyer Sound, Rational Acoustics, and Shure, to name a few.
Additionally, early in the pandemic, some TSDCA members started the Facebook group "Student Sound Designer Connection," where folks in school/training (or of school-age) can connect with each other and professionals. This allowed a lot of folks who were learning from home in 2020 to not stagnate their education and made even more resources available to learners who might not have a lot of opportunities to learn about sound design or take sound design courses at their school/program. The group is open (pending moderator approval) to anyone who is a sound student (you do not have to be formally enrolled in a sound design or even theatre major) or wants to support sound students.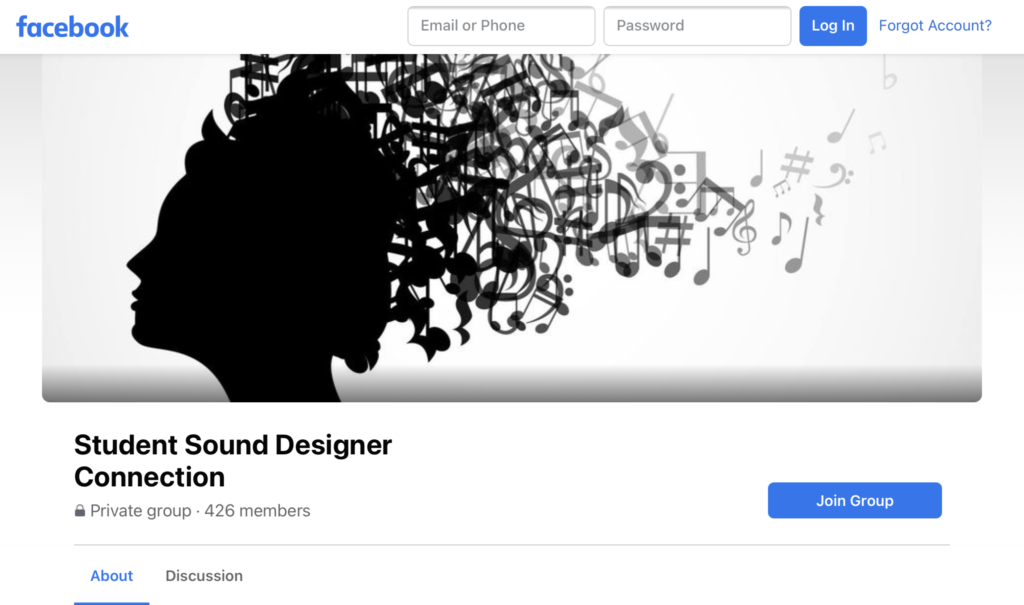 You can join Student Sound Designer Connection without being a member of TSDCA!
CREATIVE OUTLETS OUTSIDE OF WORK.
Especially during the pandemic, TSDCA put together chances for a lot of us to stretch our creative muscles, which was really important during the work drought of 2020. During our first virtual annual meeting last June, we hosted a creative challenge where interested members worked solo or in teams to put together an aural response to imagery picked out by the steering committee. This led to possibly more intra-TSDCA collaboration than any of us had ever done before, since it meant folks on opposite coasts, or in different stages of their careers could work together on something stimulating and fun! For my part, I took it as an excuse to get back into playing my long-neglected trumpet and recorded for two original compositions that came about as part of this creative challenge. Since then, we have also hosted a creative challenge for the Student Sound Designer Connection group, plus we reprised it as part of the 2021 Annual Meeting, which was also virtual.
Even outside of these one-week projects, there are plenty of chances to participate artistically in TSDCA. Member Michael Roth hosted a series of composer salons over the course of the last 18 months on Zoom, which led to members getting to bring in pieces they were working on to be assessed by the group or to talk to professional composers whom Michael was able to secure as special Zoom guests. For those who are not as interested in composing, you can work on the TSDCA podcast, which is an in-house operation spearheaded by member Josh Samuels. If you're into graphic design or writing, you can help out with the website or newsletter. Like creating video content? You can submit ideas for Instagram posts, or do a one-day member takeover of the page (fun fact, the Instagram is managed by none other than yours truly! Give us a follow at @tsdca_official).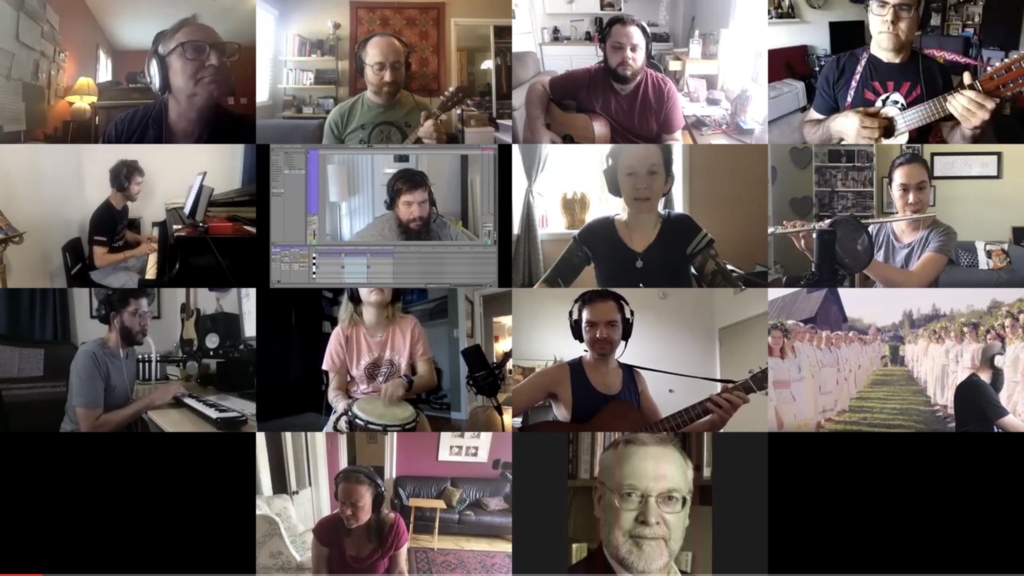 Here's a screen-grab from a composer salon where we put on a virtual performance of "In C" by Terry Riley! You can watch the whole thing here: https://youtu.be/vw0sIONmsBo . And yes, while I'm not visible in the video, that is indeed me on trumpet ☺
MAKE THE INDUSTRY BETTER
TSDCA was founded because we, the sound design community, discovered there was a need to advocate more strongly for ourselves. That mission remains core to what we do, and lots of great projects have been born from our desire to show the world what theatrical sound designers do and why it matters. Some highlights of past and current advocacy projects include:
"Making Music for Theatre – How to Make Your Deal" – a comprehensive set of guidelines put together by the Work Practices Committee for how to analyze the needs of a show and request appropriate resources (and compensation) when you are asked to create original compositions (both as a sound designer or when you are brought in as an outside composer working alongside the show's sound designer).
A Sample Sound Design Contract was put together by a working group of members in conjunction with the EDI (Equity, Diversity, and Inclusion) Committee. This suite of documents includes a sample contract with helpful annotations, a glossary on legalese terms often found in contracts, and resources specific to the NYC Off-Broadway community for contracting assistant sound designers.
A frequently updated list of which universities in the US offer an MFA degree in Sound Design, and information about their locations, costs, focuses, and more. Additionally, the Education Committee puts together resources on scholarships for those wanting to study theatre design, and TSDCA is a co-sponsor (with Live Design International) of the Pat MacKay Scholarship for Diversity in Design. This scholarship is designed to encourage diversity in the live event industry and aims to "support the underrepresented and unique voices in the field of entertainment."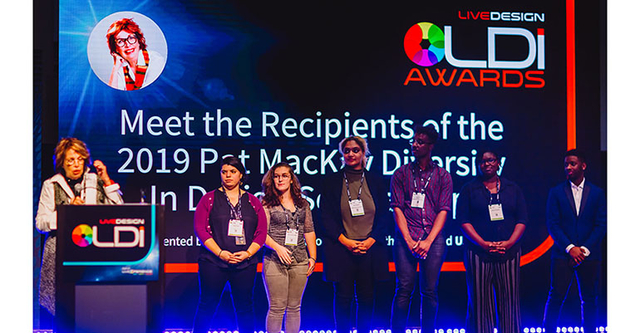 The 2019 winners of the Pat MacKay scholarship. Look out for the 2022 application to go live next spring!
IT'S JUST A GREAT HANG!
Did I mention yet that we're also just a super fun group of people? I've made many close friends through the weekly TSDCA zoom hangouts, some of whom I have never met in real life due to not living/working in the same regions. We have holiday parties, informal gatherings, a chess club, and sometimes even game nights. It can be hard to maintain social connections in this industry, with the crazy hours and non-standard schedules. And of course, it's good to have friends outside of your work community as well. But speaking for myself, the fact that I could hop on zoom once a week and escape my apartment to be with friends (if only metaphorically) and talk about the industry we all missed dearly made a big difference in helping me get through the first phase of the pandemic. We're always chatting on our members-only Facebook and Slack groups, and we love when newly minted members join us for events that are not about learning, but just plain FUN.
If I've made my case well, and you have decided that joining TSDCA is right for you, head on over to TSDCA.org to learn more or apply! And use the code "Soundgirls" to receive 50% of your initial membership fee.