Febe AdeDamola is the founder of Audio Girl Africa, an organization that supports women in the audio industry in Africa. Febe is based in Nigeria, one of the fastest-growing music industries in the world.
Febe grew up a pastor's child, where she learned about production planning and events helping her dad plan church events. Febe was interested in music (singing, playing guitar and keyboard) but she didn't know what audio engineering was until she was in college.
Febe received a Bachelor's of Education majoring in Chemistry. She says, "It was not until I was about to graduate that I was like, okay, this music thing. Let me just do some research. At that time, 2012, there was no particular school in Nigeria that was offering a full-fledged audio engineering course. I was looking for a proper school because that was the only way my parents would let me go." Febe applied and was accepted to SAE  in London, but without a scholarship, she was unable to attend.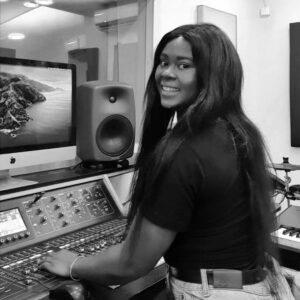 Febe looked for someone to teach her and an opportunity came up with Edward Sunday, CEO of Azusa Productions (one of the top Production companies in Nigeria). But, it came with one caveat: because of the demands and schedule, Febe wouldn't be able to hold a steady job outside of it. "It was one of the scariest decisions and I don't regret taking it. I just decided this is what I've always been looking for to do. If I'm going to make a mark in this, I have to go all in. I can't just be wandering in and out. So I quit my nine-to-five job as an Events centre and tech hub Manager and decided to go into audio and concert production. I've not looked back since then.
"I started my internship in 2017, I finished in 2018, and I started working with him on concerts and projects because I already had a background in managing projects from handling basic church and event production. It gave me an edge to working the rigors of concert production and to be able to catch on quickly, and because of my background in science, it was easy for me to work with a mixer. For some people starting with a mixer can be very, very intimidating. But for me, working on the mixing board was the most exciting part. 
"This is my third year going into my fourth year in the industry and because of the level of dedication that I put into it and the level of experience I have, I've been able to move very fast. It's not enough to just have the skills – you also have to learn the business aspects, which is what I'm focusing on right now."
The Audio Industry in Africa
"I feel people in the Western world live in a bubble about what Africa really is (no offense to anyone) – how big the continent is and how super blessed and creative the community on the whole continent is. Almost half of the African continent population is less than 25 years old. We have a very young and vibrant population. There are a substantial number of people who are making a decent income. There are over 25% of middle-income earners doing well for themselves and have buying power. That's why art and entertainment and music can thrive.
For Nigeria, as much as we have a lot of things going on in the entertainment industry and in the music industry, it's still unstructured. We need a system where you're able to get an internship, from that internship you're able to build a business for yourself, and from that business, you're able to scale up from that. There are a few people in the industry who are beginning to come together to create structures that can begin to attract outside funding and attract talented international artists to want to come to Nigeria to do shows.
Most of the time, a company can decide to set up a full-fledged studio (music production) and also run concert production. So, it's not like you have a company that just does recording alone, or just does concert alone. When you mentioned Azusa Productions in Nigeria, you know that these are the people who do major concerts, who do major productions, they are very good with live sound, and also have a studio that takes care of recording."
Audio Girl Africa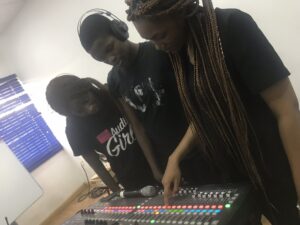 "Audio Girl Africa was established as a nonprofit organization, and a major cause was to create opportunities for women in the industry, and open up doors (like networking doors) for young Africans who may want to create careers, make it easy for them to find their way into the industry, find mentors, find internship opportunities, and jobs. We try to build a safe space where every girl finds people like her that can say, 'this person I can reach out to.'
One goal we have for Audio Girl Africa this year is to help 10 women get a basic home recording kit/studio gear. We train a lot of women and at the end of the day, they have nothing to work with. That's a fundamental problem – how will you begin to develop your skills if you don't have at least basic gear to work with?"
Women in the Industry
"There were not a lot of women in the industry and I was being discouraged every time I talked about it. Others said, 'It's so time-consuming. It takes your whole life. Can you carry speakers? Can you do this? Do you have the strength?' I just saw that a lot of people started projecting limitations and projecting all their feelings. To me, I didn't see any of it as a limitation.
Instead of focusing on the statement 'the industry is male-dominated,' let's showcase women who are already in the field so that people see that even if we have so many men in the industry, there are women who are doing great jobs who are doing their best and brightest. Seeing is believing. When I see other women do it, it will encourage a young girl anywhere to say, 'if she can do it, then I can do it.' So it's more of a visibility problem and awareness, which is why we all have a role to play in it. Everybody has to work to make that happen."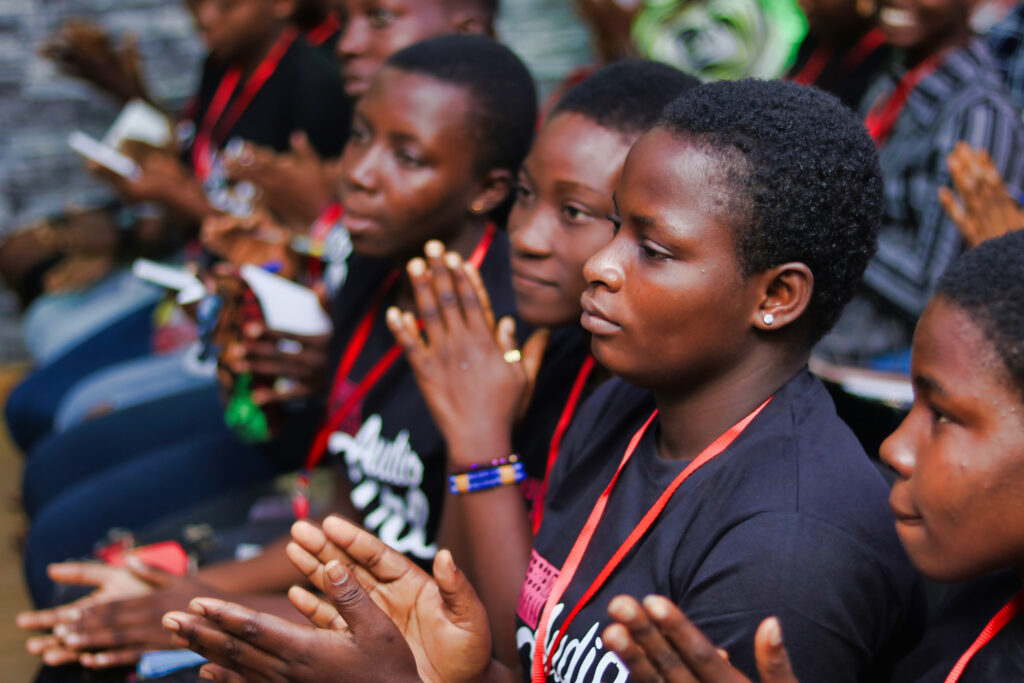 Being A Well Rounded Person
"What sums up everything for me is a love to develop projects and people. Now, my major passion is to educate people, especially young creatives, who would like to learn what I do. It comes naturally to learn creative things, so I want to be able to pass on that knowledge to other people. We can have a generation of people who are knowledgeable and skilled in what to do and they have a bit of structure to look up to.
Production and audio engineering are what you see me do naturally. It's like a skill that you know me with. But when it comes to fundamental, long, long term purpose, it's about educating people, developing people and ensuring that they don't fall into the same challenges that a lot of our predecessors are falling into."
Follow Febe on Instagram, Twitter and Facebook @theonlyfebe and Audio Girl Africa @audiogirlafrica
www.patreon.com/audiogirlafrica