Eve Louise Horne is the founder of PeakMusicUK and We Are The Unheard. She has worked in professional audio for over 20 years and graduated from Gateway School of Recording validated y Kingston University with a HED.  Eve is a singer, songwriter, and producer.
Career Start
Eve got her start in the industry at age 18 when she signed to Polydor Records in a girl group. She skipped her last year at BRIT School and instead went on tour with The Backstreet Boys, Boyzone, and Peter Andre. She has also worked with Jermaine Dupri and Andrea Martin. She would eventually join and another girl group signed to EMI in Denmark, they worked with Soulshock & Karlin (who are Danish), Diane Warren wrote a song on our album and I was super lucky to sing another song on this album that was written by Andrea Martin too.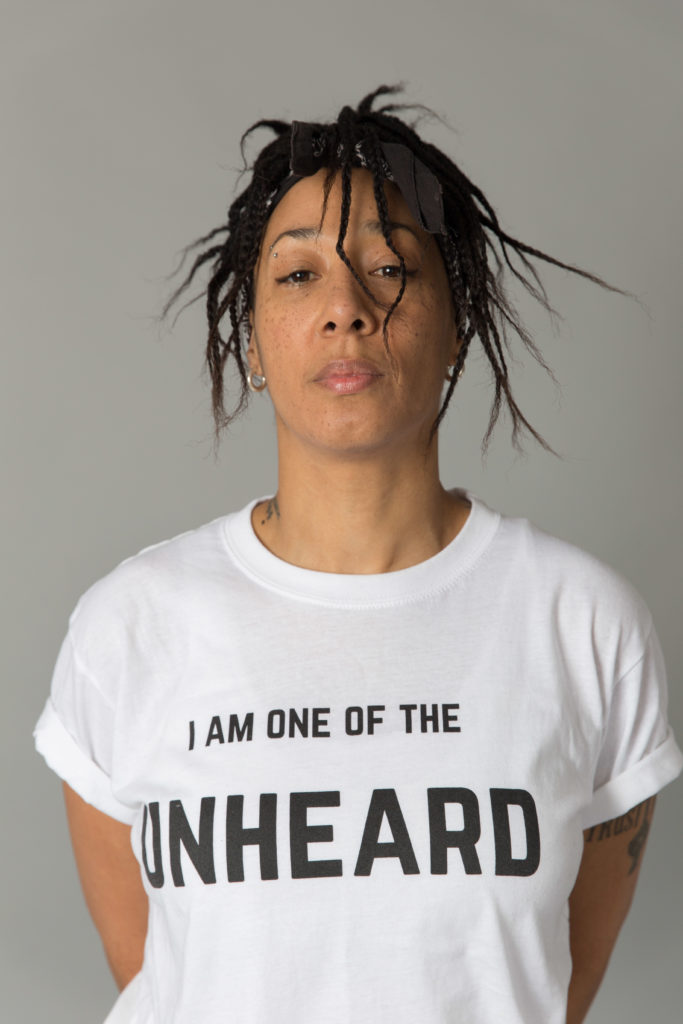 Career Now
What is a typical day like?
My days are always different and I love it that way! I will wake up, smile, and listen to some gratitude affirmations. My 3yr old daughter comes in with her teddy and we have a cuddle and play mummy's songs.
Then I get us both fed and ready to bring her to nursery and I come back home, have a coffee, and start either having meetings via zoom, working my way through my to-do list which could be anything from editing a podcast for a client, editing my own podcast, creating video tutorials to teach production or songwriting using Ableton or Logic Pro X.
It could be recording vocals for my own tracks, writing to briefs, writing a new track, going out to teach in schools or talk on panels and then I come back, pick up my daughter, get her fed and ready for bed and then I go back to my computer and continue to send emails or finish things up. I will then read a bit or do a bit of learning. Then Repeat! Hahaha!
How do you stay organized and focused?
Lots and lots of Post-it notes, lists, calendars, and a lot of it in my head!
What do you enjoy the most about your job?
Helping people, being a role model, and raising awareness
What do you like least?
I am doing it alone so it is hard. I am very much a people person and love collaborating on everything! Especially songwriting and production! So It is hard to keep the motivation.
If you tour what do you like best?
I don't tour anymore. But when I did, It was the tour bus and the crate of Jack Daniels, films and games, and the feeling of being free and traveling to amazing places. But the BEST part was getting on stage and performing to the crowd!!
What do you like least?
Being constantly tired!!
What is your favorite day off activity? 
I love spending time with my daughter and going to the gym
What are your long-term goals?
It depends on the discipline.  I want to start my Academy to teach women and gender minorities production using Ableton and make sure long term that participants can be supported from beginner to career, I want to help improve the percentage of women producers so we can get closer to 50% I feel it is my responsibility to raise awareness for the younger generation so that they know that production and engineering are career options and make sure they feel comfortable applying for college/university without worrying about being a minority.
What if any obstacles or barriers have you faced?
I feel that the barriers or obstacles have been silent ones if that makes sense.  The industry is very much about who you know; if you are not willing to act in uncertain ways, doors aren't opened.  I also feel being a gay woman was hard. When I came out to the people around me that I thought I could trust and that they would maybe understand how I was feeling,  they used it against me and parry (pretty) much shamed me to other industry people.  This was in the early '90s so it wasn't as easy as it is now.
How have you dealt with them?
I continued being myself through the pain and hard times and learned to get rid of any guilt and be proud of who I am, be proud of what I have achieved, be proud of what I stand for, and speak out!!
Advice you have for other women and young women who wish to enter the field?
Believe in yourself and make sure you surround yourself with people who are doing better than you so you can always learn and grow. Be curious and never afraid to ask questions. Help others out if you get into a position where you can. Make sure you are brave and speak out if something is not right (don't let the fear of losing your job/position stop you from doing what is right by you). Listen to your gut ALWAYS and don't be ashamed to ask for help. oooh and don't man hate – educate with love 🙂
Must have skills?
Self-belief is a must!  You have to be able to communicate effectively
More on The Unheard Academy
We Are Unheard Academy is launching a funded programme!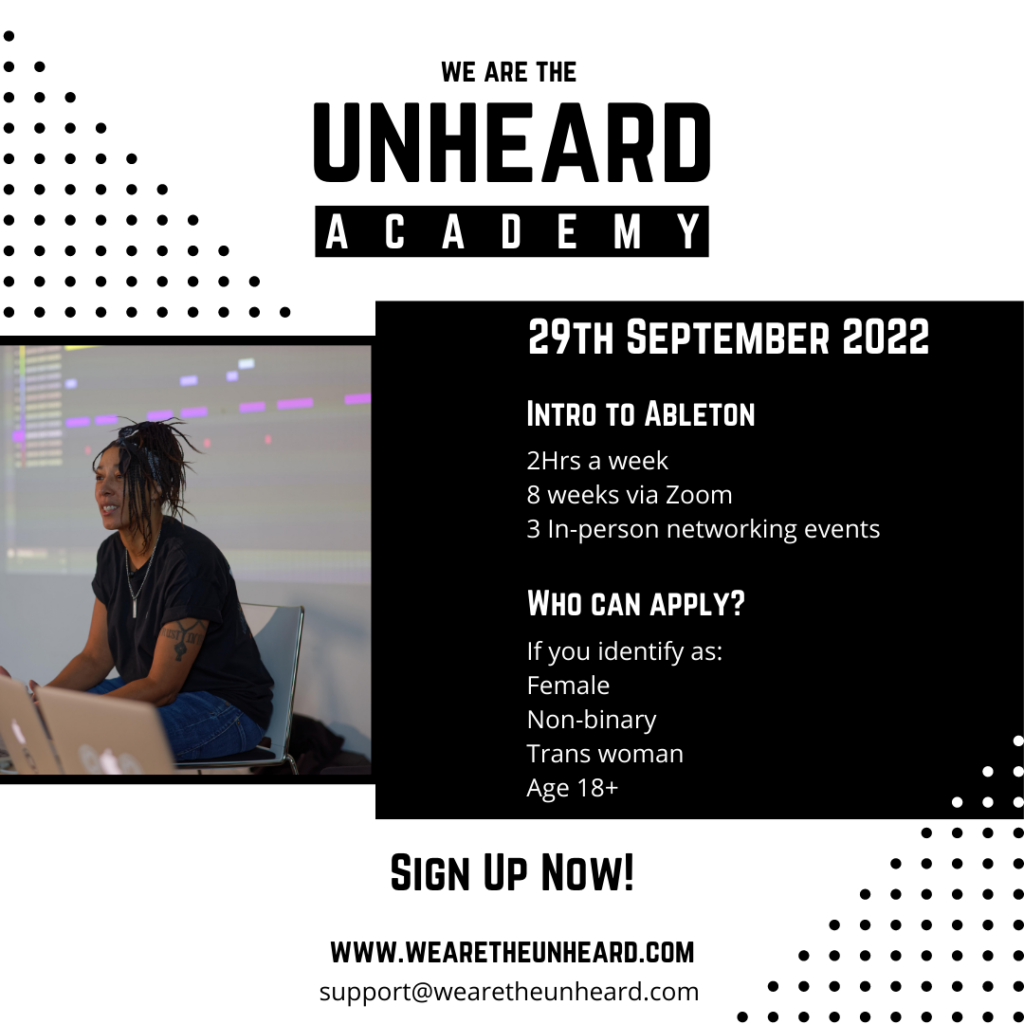 We are so excited to be launching the online Academy that was born from the We Are The Unheard Campaign. The Academy is funded by The Arts Council and supported by leading music industry software and hardware company Ableton, Musicians Union, Help Musicians and Why Not Her.
The aim of WATUA is to be accessible to gender minorities and those from disadvantaged backgrounds. To offer training and support from beginner to career and help improve the percentages of female-identifying producers and songwriters in the Music Industry.
The programme is completely funded. All participants are required to do it purchase a WATUA hoodie and promote it on socials to pay it forward.
Women make up around 20% of all musical artists, yet only 2% of women are music producers. Even though there are plenty of talented female producers creating amazing work, male producers and artists continue to increase and dominate the music industry.
WATUA aims to address this disparity by delivering an 8-week Introduction to Ableton online program.  During this program, participants have the opportunity to attend 3 in-person masterclasses/events where they can network, collaborate and connect with industry professionals.
WATUA have partnered with Veva Collect who will provide participants with a free 1yr membership, MPG  who will promote the programmes to their members and extended industry, Raw Material who are providing the space for the events and ongoing support and Flare Audio who are gifting their amazing products.
"I am so proud and grateful to be able to deliver this program to female-identifying producers. It is important  to me that I do everything within my power to help change these abysmal statistics so we can finally focus  on the beauty of creating." – Eve Horne: Founder We Are The Unheard & PeakMusicUK
All participants attending in-person events will have childcare costs covered and those traveling from outside of London with have travel costs covered.
2hrs a week 
8 weeks via zoom 
3 in-person networking events with masterclasses with industry professionals.  
Who can apply? 
If you identify as a female, non-binary, or trans woman. Age 18+
About the Founder: 
WATUA was founded by Eve Horne. Eve is an Award-Winning Creative Mentor and Advisor. She has over 20 years' experience in the Music Industry as a Singer, Songwriter, and Producer. She is the founder of PeakMusicUK and the UNHEARD Campaign which demands equality for women in the Music Industry.
Want more info? 
www.wearetheunheard.com
support@wearetheunheard.com
We Are The Unheard Podcast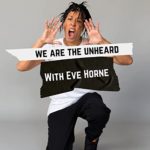 The intention behind the We Are The Unheard podcast is to provide a platform for everybody who has ever felt unheard. Each week Eve Horne will be bringing you unapologetic, open-hearted, honest conversations and stories. Eve aims to educate the world with love, to change perspectives, and to change lives. To bring people together through the power of audio so that they can understand the life journeys others have had, listen with empathy, and be less judgmental. We underestimate the power of kindness and their ability to help others. If we all try to understand someone else's path or their journey or their experiences, we would learn so much more about ourselves along the way and become more compassionate and have more empathy. It is Eve's mission to help people get their stories heard and share their experiences so that we can all learn a little more and become better human beings.