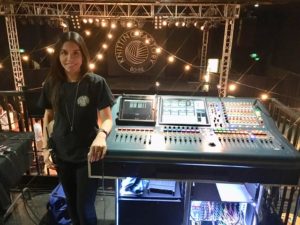 Cristina Allen is a Live Sound Engineer working at the Knitting Factory in Boise, Idaho. She has been working in live sound for over 15 years. She does both FOH and Monitors but prefers mixing monitors.
Cristina grew up in Guadalajara, Mexico and always loved Rock n Roll. For her 15th birthday party, her parents threw her a rock concert, hiring in sound, lights, and staging. She says "it was love at first sight. I can't explain what came to me but that night I figured out that that's what I wanted to do, I talked to the sound guy, and he explained a few things to me."
Shortly after she graduated from high school, she was hanging out with some friends who worked in the industry, and they let her set up microphones and wrap cables. From there she decided to attend a recording school in Barcelona and eventually made her way to Musicians Institute in Los Angeles. She took full advantage of the studio space while in school; booking the recording studio for sessions, finding bands to record, setting up the sessions, micing and mixing, and taking control of the board and pro-tools without an assistant. This taught Cristina to be self sufficient and gave her confidence, and she loved it.
Cristina got a break when she was mixing a friends band at the Avalon, and she was offered a job. She says she worked a few shows for free and got to experience pushing cases and loading trucks. She says it was so hard and she remembers thinking "how come no one is saying that I shouldn't be doing that cause those cases were too heavy for a girl?"  But, I think they were testing me to see how serious I was about working production, and I passed the test. Unfortunately, my work visa was not ready for me to stay, otherwise, I know I would've worked there for years, it was perfect for me! I'm so thankful to Don Tartaro, he was great and really wanted to help.
When Cristina graduated from Musicians Institute, she was nominated as the most improved and outstanding student.  "It was a big surprise to hear my name and to be recognized at graduation. The graduating class was made up 95% male students; I was excited to know that it didn't matter if I was a woman, as long as you work hard you have a place in this business. I was also the only one in my class that had a job in audio while going to school.  I think part of my success has been because I'm not afraid to take on something new and go for it. Also, asking questions when you don't know how to do something is critical, you learn as you go if you pay attention and make sure you master that situation.  You have to learn to be outspoken and hang with the guys if you're a woman in this business, you can't be shy."
After she graduated and got her work visa in order Cristina mixed bands all over Los Angeles; The Roxy, Troubadour, Whiskey a Go Go, and more. Jason Dacosta, the former production manager at the Roxy and Bobby Crown head of audio at the Troubadour both, believed in her and gave her jobs. Cristina also toured with Klymaxx for three years as FOH and Monitor Engineer. But after five years of incredible experiences and lots of fun, she and her husband moved to Boise, Idaho.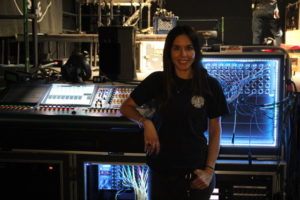 In Idaho, she went to the Knitting Factory and asked for a job. "They gave me a three-day tryout, and I got hired.  I've been working here at The Knit for eight years. My first show was Fear Factory; Dino Cazares was pleased to see a Mexican Girl running monitors for them. Working here has been great, I've made lifelong friends with the other two engineers Cedric Booker and Kris Crowley, great guys that also gave me a chance and taught me so much".
Cristina loves working in a venue and getting to meet so many different engineers and artists.
"You always have to be on your game, making sure the crew gets what they need and contribute to the show with your mix when they are in need of an engineer, FOH or monitors.  I've lost count how many bands I've had the privilege to work with. Some of them can be very demanding and others intimidating, but we always end the show very happy. I've had the pleasure of mixing for Gin Blossoms, Volbeat, Highly suspect, The Breeders, Violent Femmes, Brandi Carlile, Peter Murphy, In this moment, Fear Factory, Lacuna Coil, and hundreds more."
Cristina toured for a few years and found that she liked working with different people and building a show in a new venue, but she prefers working in town, finishing a show and getting to go home. Now that she is a mother this a bonus. Cristina has a four-year-old son and one year daughter. She says that you can do both and not to be discouraged "you'll need time off when after your baby is born; but you can always resume your job when it feels right. I've never felt like that was the end for me, it's also thanks to a very supportive husband, who happens to be a musician and studio engineer as well.
What is your educational or training background?
CRASH Instituto Audiovisual in Manresa Barcelona 2001
Musicians Institute; RIT 2004
What are your long-term goals?
To never quit this career! I love it!  I want to continue to get better and better; there's always room for improvement.
What if any obstacles or barriers have you faced?
My teacher in Spain that said I had two significant disadvantages; one is that I'm Mexican and number two is that I'm a woman. But I think I've been fortunate to work with great people. I get a large number of rotating engineers that I have to assist, set up the whole stage for them, or mix the show; we always communicate without any problems.
Maybe one or two men have been a little sexist, but I try to forget them. Even when I worked at eight months pregnant (twice), I try to not make this job any different than anything else I could be doing. In fact, I don't even see myself doing anything else but being an audio engineer. I feel fortunate that I did not have to choose between my dream job and having a family.
How have you dealt with them?
When I run into someone rude, I just do my job.  I'm not intimidated by them. It's usually their issues, as long as I know what I'm doing, nothing should make me feel less or not worthy of being part of this business.
Advice you have for other women and young women who wish to enter the field?
Love what you do, work hard, be professional, take notes, pay attention to details; people love to see a well organized and meticulous process before, during and after the show.
Must have skills?
Excellent listening skills, a thick skin, and don't be afraid to ask questions.
Favorite gear?
I'm loving our MIDAS pro2, & the D6 on floor toms