by Heather Holm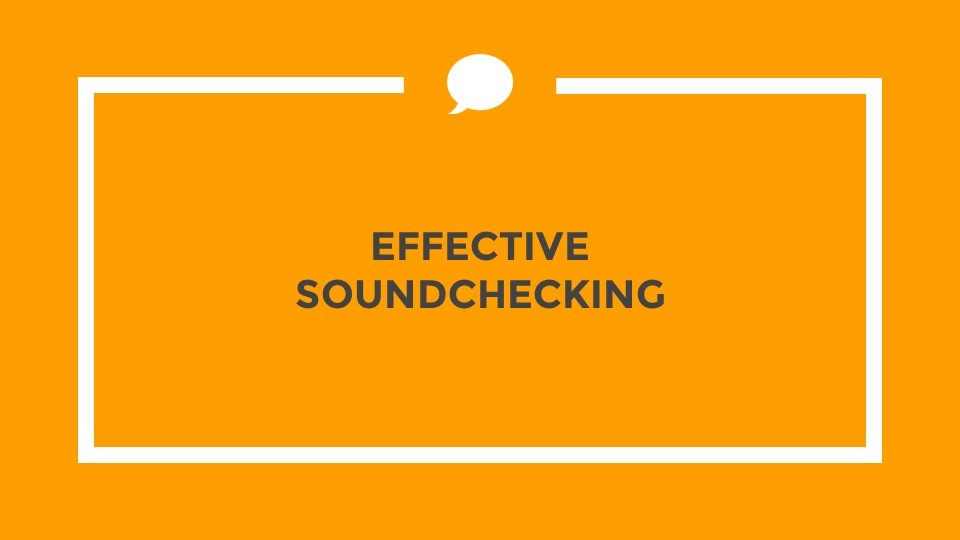 I am constantly teaching new students how to soundcheck. Sometimes I even need to teach the band how to work through a soundcheck. A good soundcheck can make for a very successful event.  Over time, I have developed helpful tips to make a soundcheck successful. The tips include communication, technical skill, knowledge of the performing group, and being aware of some common mistakes in the process so you don't make them.
Communication – A key component of soundchecking.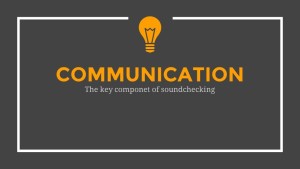 Communication is a key component of sound checking and starts long before the true technical soundcheck occurs. This starts immediately as the group walks in the doors by introducing yourself and getting to know them. Simple small talk and introductions can go a long way.  At this point you are providing your first impression to the group, make it a good one.
Be organized, have the stage clean and ready for the event.  Also setup devices that will help you navigate the impending soundcheck. Include your FOH mic; have it pre-sent through the monitors so you can address the group. Label your board, know the stage plot, and help the group make any changes to the setup so you know where the mics get moved.
As you get into the actual sound check, address them by their names. Tell them your process and how they can help you. For example, if you take the hand raising approach to set monitors communicate that to the group. Provide them some training on your process to have soundcheck go smoother and so they can get what they need.
Technical Skill – Know your equipment and the limitations.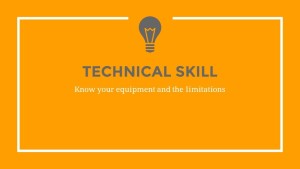 Technical skill is obviously a large aspect to soundchecking, but sometimes the lack of skill is what makes it so difficult.  Before you initiate your soundcheck, here are a few tips to help make you more successful.  First get comfortable and know your board. Before you are at the soundcheck point spend time getting lost in the board and working your way out. Be familiar with everything that can be done and find the best way for you to navigate through all of the options.
Once the show comes, finalize your patching and line check beforehand if you can. Know your monitor placement and the people by them.  Label your board! Go above and beyond by adding the names of performers under the input labels so you can address each member by name during your soundcheck.
Know your room and how the sound reacts in the space. Adjust accordingly to create the best sound. Work with the group to get amps pointed proper directions, or let them know where their wireless mic will drop out, or even let them know if they stand right there they will be blinded by that one light.  Finally, use your FOH mic. Don't scream back and forth or just wait for the band to do what they are going to do. Direct them to do what you need them to do to be able to create your best mix for the night.  
Knowledge – Know who you are working with.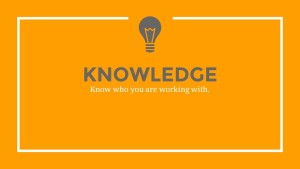 Help yourself create a better mix and be prepared for the performance by getting to know the group you are about to work with before they arrive.  Be able to answer questions like; how many people are in the performance group?  What genre of music are they playing?  What is their performance style? Are they a national act or are they just getting started in their career? Do they have any special tech needs, like a particular instrument you've never worked with before? For me this would be something like a group touring with a pump organ. I had to do some research to learn about the best micing techniques for that instrument.
If you can, spend time getting to know the group you are going to work with before you even meet them. Listen to their performances from their website. Get a feel for their style/genera so you can assist with their sound choices.  See the venues they are playing before and after this stop. Are they playing similar venues or is yours a bit different than what you see. Acknowledge the difference with the group so there aren't many surprises.  Gather some information so you can be best prepared for your event to come.
Common mistakes – Things that could make your sound check more difficult.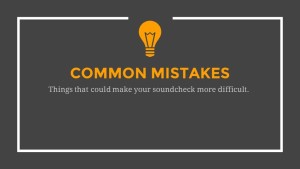 There are many things that could run off course or go wrong in a night, but there are a few common mistakes that can throw a soundcheck off course that can create for a stressful event. Avoiding these mistakes can help you stay on track and in control of your soundcheck to produce the best show possible.
First, don't lose your communication. Let the performers know what you are doing especially, if you need to troubleshoot something.  Don't leave them hanging in a state of wonder and awe of what the heck is the soundperson doing and asking, "Can we finish the sound check yet?" Tell them what is going on.
Second, remain in control. Move the group forward as you can to get each part of their show set. Tell them you are working on monitors and continue to communicate how it will work best for you to achieve their needs.  Use your FOH mic.
Third, stay organized and keep things labeled as they change. Keep track of inputs that are set and move onto the next. Consider your EQ process; copy and paste what you can to speed the process up a bit.
Fourth, don't forget about the big picture. Soundcheck to the volume of the venue, plan ahead for what the show needs to be for the night and prepare for that. Don't get yourself stuck in a feedback mess or with monitor volume issues because you set everything according to the empty room. Also don't forget that louder does not always equal better. Try to produce a clean mix for the awesome sound; don't blow the audience away because it's too loud.
---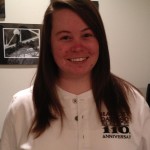 Heather has been working for the University of Wisconsin La Crosse for five years as the Event Support Coordinator. Her job requires her to be a jack-of-all-trades (Audio technician, venue manager, teacher, safety manager, supervisor, lighting designer and so much more). She loves live sound the most – and says "there is nothing like firing up the PA for the first time".