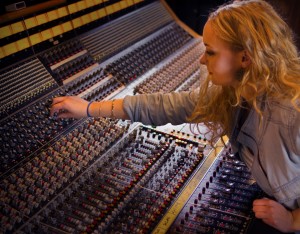 Bella Blasko has only been working in professional audio for six years, yet she is making her mark working with artists such as The National and Natalie Merchant, and working at Dreamland Studios and The Clubhouse in New York. She works as an independent sound engineer and depending on the session demands, works as an assistant engineer, engineer, producer, and musician. Being flexible in the roles she takes on has given her valuable experience. Her passion is to work with female artists to help them make their art, get their voices heard, and offer an alternative to the male-dominated studio culture.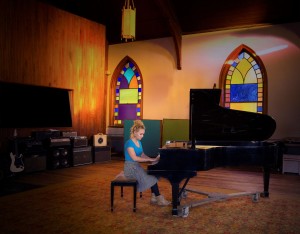 Bella graduated from Bennington College with a degree in music, with a focus on Classical Piano Performance. While at Bennington she explored music production, signing up for recording classes with sound engineer Julie Last, who was a huge inspiration to Bella. Bella says, "Having an amazing female engineer as one of my first teachers and role models made it seem like a viable option to go into music production, and she helped me to get my first internship. She has such a careful and delicate way in the studio, it gave me an example from the beginning of what a feminine approach to audio could look like. I've adapted my own way of working in the studio since then, and I definitely find myself in a predominantly male environment most of the time, but having had Julie as an early role model helped me to feel comfortable and confident that I could become an engineer and exist in the studio world." Julie was instrumental in Bella's decision to pursue a career as a sound engineer.
While at Bennington College, Bella started an internship at Clubhouse Studio which eventually led to her working as an assistant engineer and gaining more contacts in the Hudson Valley. She was also experimenting with writing and recording her own songs and found it extremely fulfilling. Bella loves the whole recording process and enjoys helping other artists to produce and record their music. She says "at first I was intimidated by all of the gear, but now I'm so comfortable in the studio, and I want to help the musicians I work with to feel at ease in that environment as well."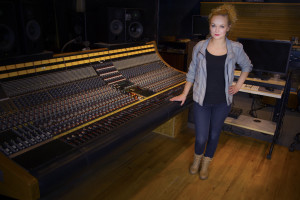 Bella recently started the female-run independent record label Spirit House Records. She explains their mission is to "elevate female voices in a male-dominated industry and to empower each other to make and distribute art on our own terms". Spirit House Records is based in Portland, OR, and is run collectively by Bella, Johanna Warren, and Monica Metzler. Bella and Johanna began collaborating in 2013 and Bella has engineered, mixed, and co-produced three albums for Johanna. Bella says they had many conversations about the role of women in the music industry, "how female artists are often overshadowed by the male producers, engineers, and musicians around them, and how completely different it can feel to work on an all-female team. We talked about how almost all music that we hear has at some point passed through a male lens, and how we know so many talented female musicians who don't seem to be getting the recognition we think they deserve. We had thrown around different ideas about how we could contribute to empowering independent and upcoming female voices in the industry, and when Johanna came to me with the fully formed concept of Spirit House, I was immediately on board. We decided to start a label that would focus on releasing the work of female and non-binary artists. Our goal is to empower artists that we believe in and whose music we love by creating a safe and supportive network and dismantling self-doubt". Spirit House is also a full resource for independent artists, providing expertise with music releases from start to finish; including recording, mixing, production, PR, album art, video editing, radio campaigns, booking a tour, etc.
Spirit House currently has four female artists on its roster who have written and produced their own albums. They have plans to expand to include at least four new artists in 2017. You can hear the Spirit House Sampler with a track from each of their current artists.
What if any obstacles or barriers have you faced?
One of the first obstacles that I quickly realized was needing to be strong enough to move a lot of heavy gear around in the studio! I started working out more and trying to build up my strength so that if someone asked me to move a heavy guitar amp, I could do it. I'm not saying I don't need to ask for help sometimes, I definitely do. The other main obstacle I've faced is the combination of being a woman and looking young. I've often had bands or producers come into the studio and start talking to a male intern as if he were the assistant or engineer. I'm still working on this one, but I've found that introducing and identifying myself right away helps. The proof is once we start working or setting up a session, then people can see that I really know what I'm doing.
Advice you have for other women and young women who wish to enter the field?
Be determined – it's not always easy, but if you're passionate, stick with it. It takes a lot of hard work. Be open to learning something new from every session or situation you find yourself in. Every engineer/producer/musician/band can have subtly (or drastically) different ways of making a record. I think it's important to be able to adapt and to realize what you can learn from each one. Be yourself. Some situations seem to require a more neutral presence, but don't lose sight of your own voice.
Be prepared to work long hours.
Must have skills?
The ability to work fast and anticipate people's needs or what's coming next. For me, I find that has to do with being sensitive and intuitive (which are often thought of as feminine traits), and knowing the process. Also, patience. Genuine patience.
Favorite gear?
LA3A, on so many things. Especially female vocals.
What do you like best about working in the studio?
I like being able to get sounds, to sculpt them and work with them. My favorite part is being there when a band does an incredible take of a song or someone lays down an amazing overdub. It can be a magical moment, and I feel lucky to be in the room to witness those moments that will be documented in the recording forever. What I also love about working in the studio is that no two sessions are ever the same. It changes so much depending on the music and all of the people involved. It keeps it interesting and constantly changing. Each session is a unique experience, and I think the vibe of that comes through in the music.
What do you like least?
Sometimes working long hours for days or weeks on end can be kind of brutal. It can be hard to keep up with normal life stuff like doing your laundry or going grocery shopping. But it's worth it.
What is your favorite day off activity?
Going for a hike or just getting outside. After being in a control room all the time, I'm always craving some fresh air.
Spirit House goals for 2017:
We are working to promote independent and upcoming female artists to get their music out and their voices heard. We have had 4 releases so far this fall – Johanna Warren's LP Gemini I, Lola Kirke's debut EP, Forest Veil's LP Zoolights, and Indira Valey's LP Recordar. My own debut album (under the moniker Vellum) is the next release scheduled to come out on Spirit House, so I'm currently working on gearing up for that release in February. I wrote all the songs, played and sang all the parts, recorded and mixed the whole album on my own in the studio after hours, or when it wasn't booked, so creating it was a very internal and isolated process, and I'm really looking forward to releasing it with Spirit House to share the music that came out of that experience.
I'm glad to have the support of Spirit House in this release, and it gives me a glimpse into the experience of being a new artist on the label. In a way, I can get to experience the label from both sides, which can help me to figure out what to work on in terms of the kind of support artists want from the label, what support we can provide, and just generally how to tailor the experience for each artist. It makes me think of a similar experience that I've had existing on both sides of the glass in the studio – from recording my own music or being hired as a vocalist, to being the engineer on a session. Both can be totally different experiences but they completely inform one another. My work as a musician has greatly helped my engineering skills – being able to communicate with musicians, knowing where to punch in, what kind of edits they want or how to do the edits so they sound natural and musical, being able to follow along on a score or a chart – have all really helped me.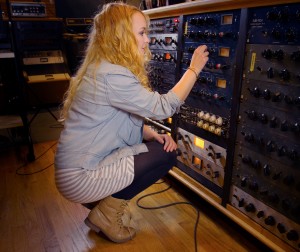 We are already working on exciting new plans for Spirit House Records in 2017. As I mentioned before, my debut album Vellum Not So Far will be released on Spirit House in February. We are also in negotiations and expecting to add 4 new artists to our roster with upcoming releases in 2017. The artists we've been talking to are all incredible female musicians and songwriters who we really believe in and are looking forward to working with. I'm particularly looking forward to these new additions to the Spirit House team because several of the artists are in the phase of getting ready to record their new albums, which I've been talking with them about engineering and starting to plan when and where we will record these new bodies of work. I think it will be great to be able to work with an artist all the way from recording to mixing to promoting and releasing an album. At Spirit House, we aim to be a full-service label for independent artists, able to facilitate every step of the process in creating and releasing an album.