To work in live sound, it is essential to know how to use various types of equipment, as well as the workflow of the devices we use to work. Having theoretical knowledge on the basics of sound, acoustics, and signal flow will help us to understand much better the process of mixing for live sound. We must also have clear concepts such as gain structure, frequencies, dynamics, and time processors work and dedicate a lot of time to issues related to the phase, design, and optimization of systems. And yet, sometimes, we forget the one fundamental: The Mix.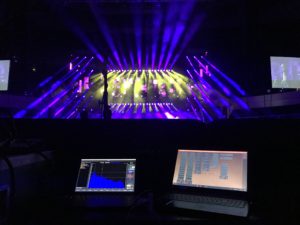 Introduction to the mix.
In studio recordings, mixing is a significant factor (obviously: first we record and then we mix). But in the live sound, sometimes the perspective is lost a bit: We design the sound system, we make predictions, it is assembled, it is optimized, the monitoring is installed, the chosen microphones are positioned carefully, the show is done, and we dismantle. Something as simple to say as "doing the show" is, really, a very complex mixing process that, like everything else, one must learn to develop. Also, you have to learn to mix quickly, because live sound tests tend to be quick.
In the studio, we have time to complete the mix (sometimes, in the studio, if we do not find the inspiration, we can cancel the session and continue mixing at another time). But in the live audio, there are no second chances: you have to take it forward.
Obviously, all the knowledge we have listed at the beginning of the blog will help us mix (if we do not know how our tools work, we do not know the basic principles of sound, and we do not have the system well adjusted, it will be difficult to get a good mix). But when we put ourselves in front of the console and we have the talent on stage, we have to be able to answer the following question: How should it sound? Here, multiple issues come into play.
The first is that sound is a subjective. Put 100 sound engineers to mix the same group, and you will have 100 different mixes. Some you will like more and others less, but surely all will be valid, at least for the one who has made it.
In a concert with a large audience, it is difficult to satisfy the criteria of mixing for all the spectators. But we should try to satisfy the vast majority. If your mix (which is excellent for you) is not liked by most, you will not last long in this job.
You learn to mix, by mixing. Everyone must follow their own learning process, listen, correct, make decisions and make mistakes. As much as we read about sound practices and theories, we have to spend hours and hours mixing to improve our technique.
In this blog, we share some important aspects when considering a mix.
How should it sound?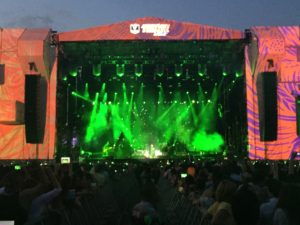 To begin with, whenever we can, we should have information about what we will be mixing. Knowing what kind of music and the musical culture is essential. So, the first step is to listen to music of all types or at least have a mental concept of how different musical styles sound, it may seem silly, but it is fundamental.
Imagine mixing a kick drum with a lot of clicks (reinforcing the high frequency) for a jazz band, it probably would not work, on the other hand, that would work well for a metal band.
If you find yourself in the position where you do not know the genre of music that you were asked to mix, investigate their discography and style, it is an obligation to prepare as much as we can, otherwise, how can we get a proper mix?
Something fundamental is to listen to the source. Get close to the stage and listen. The essential principle of mixing is to capture the sound played by the musicians on the stage and transmit it to the listeners without significant changes in the sound source; Unless the musician asks for it.
Plans and frequencies
Okay, we already know what type of music the band plays, and we've even listened to the instruments from the stage. What do we do now? Perhaps it is a good time to consider the plans for the mix. If we have, for example, a rock band with drums, bass, guitar, and voice, in what plane are we going to put each one of those elements?
It is evident that we can not position everything on the same sound plane. The mixture deals, among other things, with that: Some elements have to be higher and others lower and in frequencies. We have, in the best of cases, from 20 Hz to 20 kHz to distribute our signals. If I pretend that they all share the same frequency range, the masking phenomenon will occur.
We must mix by making different volume decisions, as well as contemplating the dynamics of the songs, which musicians are usually in charge of nuances to generate these level changes from the source.
The next step is to balance and equalize by listening to the whole.
The distribution of frequencies is like making a mental map, where you have to visualize the different sound elements, with this they are distributed within the frequency spectrum. The experience will help you to delimit where each element can be with higher speed and agility, on the other hand, you have to review in detail the elements that can more easily collide with each other by sharing similar frequency ranges.
For example, a bass drum and bass.  Both share fundamental frequencies share the range of low frequencies, so we will try to get them to complement each other without getting confused.
For the balance, in addition to levels, equalization, dynamics, and reverberation are also used. The combination of all these processes is what will allow us to create better sound planes.
For more detail about the plans in the mix, one of the books you can consult is
"The Art of Mixing", by David Gibson, mainly for the graphics in which he explains the distribution of the sound elements according to the type of music.
Finally, we began to prepare the mix with the effects processors are the final touch. As a starting point in basic questions, we can place a short and a long reverb to create planes; it is also recommended to use a reverb plate effect and a delay to give that little touch of magic, usually subtle and not very obvious, that nevertheless takes the mix to a higher level.
The effects change depending on the type of music and the acoustic space where we are or even depending on the song because not everything works for everything. Before the soundcheck, it is advisable to test the effects with a voice or with a recording that we have on the computer (virtual soundcheck), this will allow us to choose more precisely the type of effect we need according to the space where we meet, so we can adjust parameters such as the time of fall or the pre-delay.
Conclusions
I like to think that in most of the time our work of mixing in the live sound is as simple (and at the same time, as complicated) as capturing the signals of the stage in the most faithful way to the original and transmitting them to the public with a little bit of amplification.
The best results are obtained first by thinking about what we want to do and then acting and applying the necessary processes to reach our goal. It may seem obvious. If we manage to have an image of the sound we want to obtain in our mind, it will always be much easier to get a good mix.
---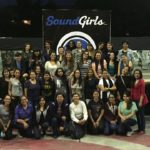 SoundGirls of Mexico
SoundGirls Mexico is pleased to open this space to share information, work opportunities, and experiences; with the purpose of creating a community of professionals, offering education and preparation in Spanish. About SoundGirls Mexico: started in early 2016, with the aim of supporting women in various areas such as broadcast, film, recording studios, theater, live audio and music.
Currently, thanks to the union of the girls, we have managed to develop professionally. Forming a community not only of women but in the industry in general. Thanks to the support of sponsors, SoundGirls in Mexico has achieved substantial growth and most importantly, the union between both genders. So far, we are approximately eighty members, where we find professionals and students.
SoundGirls en México: SoundGirls México se complace en abrir este espacio para compartir información, oportunidades laborales y experiencias, con la finalidad de crear una comunidad de profesionales, ofreciendo educación y preparación en español.
Sobre SoundGirls México: comenzó a principios de 2016, con el objetivo de apoyar a las mujeres dentro de diversas áreas como broadcast, cine, estudios de grabación, teatro, audio en vivo y música.
Actualmente, gracias a la unión de las chicas, hemos logrado desarrollarnos profesionalmente, formando una comunidad no sólo de mujeres, sino de la industria en general.
Gracias al apoyo de patrocinadores, SoundGirls.Org en México ha logrado un crecimiento sólido y lo más importante: la unión entre ambos géneros. Hasta ahora, somos aproximadamente ochenta miembros, dentro de los cuales nos encontramos profesionistas y estudiantes.