By Victoria Boyington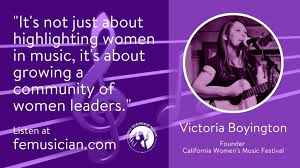 Some times you are introduced to people who have a major effect on the direction you take in life. I was recently introduced to Dani Mari, founder of Female Frequency, a "music collective dedicated to empowering women & girls in the industry through the creation of media that is entirely female generated".
I talked with Dani about Female Frequency and creating an all woman collective. Dani Mari is a featured writer for LADYGUNN magazine and is a Board Member for Women in Music. In addition, she is also a vocalist and lyricist for the songs featured on the Female Frequency album.
What was your inspiration:
" I began looking for a female producer for my next record and couldn't find a female owned and operated recording studio in my initial search. I reached out to Women in Music, and was connected with I am Snow Angel. We talked about working on an album and decided that we wanted to make an album created entirely by women. Production, recording, arrangements, instrumentation, writing, mastering, mixing, marketing, visual media and every part of the album would be created by women. That's where it started. The structure of the album is collaborative with the songs all produced and engineered by I Am Snow Angel. Claire London and I wrote vocal melodies for the songs and they collaborated on a cover song.
Hardest part:
"Claire, I Am Snow Angel and I got together, we came up with the name, made the website and then announced it. We had no idea how many women would reach out. Three of us began Female Frequency and are currently managing the organization. Staying organized and contacting everyone who is interested can be overwhelming. We are working on building a team to help to continue to connect women together."
"As for recording, it was hard to find women to record and mix and master… Since we started we have met more women involved. As far as asking people to volunteer, it can be hard. Not everyone has the continued time for it."
"When we started, making the record was the focus, so we had people telling us what we were and what our message was. We rearranged our message. We had many thoughts; maybe we should be a label, but then focused on women in technology and helping to connect women while providing education for women in music."
What advice would you give to women looking to get into the industry?
"One of the biggest pieces of advice would be work hard and stay positive. Everyone has challenges whether it is gender or race or life challenges, try to stay positive and open to helping others. The community part of music and art goes hand in hand."
What is next for Female Frequency?
"We currently have membership, which is free. We are working on a directory that members will have access to view other members, be able contact them, and see where they are located. We will help women reach out to other women by providing them with access to connecting with women run organizations.  We have really appreciated our male peers reaching out, saying thank you for doing this, and telling us that there is definitely a need to see more women engineers. There is need, and we are part of this movement, which is changing the landscape for all women in music."
To find out more about Female Frequency, their online radio show and membership go to femalefrequency.com
SoundGirls.Org is excited to collaborate with Female Frequency in the upcoming year.
Copyright © 2015 SoundGirls.Org