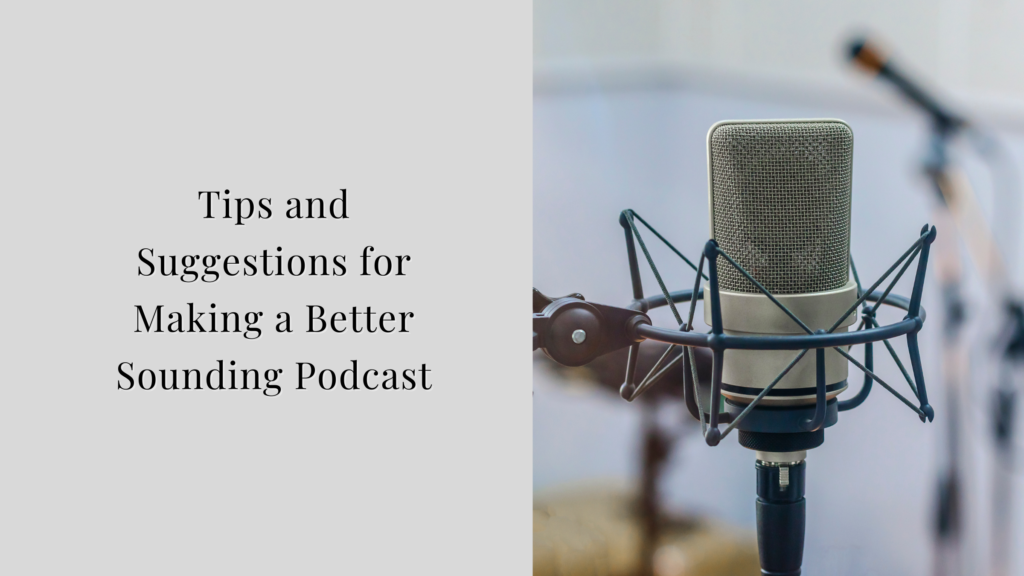 It's 2021, we're in an age where making podcasts is easier than ever! But, with that comes wanting to make sure your podcast sticks out from others. One way is to have a better-sounding podcast. The great thing is, you don't need to spend a lot of money to have a great-sounding podcast! The point of this post is to help you "fix" your podcast in pre-production so you don't have too much to clean up during post.
First off, I'll say I've been working on set and post sound for almost 10 years and I'm still not an expert. I'm constantly learning something every day. It's also what makes each day interesting and exciting! I've worked on other peoples' podcasts and started my own in 2020. I'm still learning about what equipment and software there is out there!
For my own podcast, I had planned for it to be all in-person interviews. But, COVID happened and it changed the format. Actually for the better! Now that my interviews are online or by phone, I'm able to meet and chat with way more people than I would have had it only been in person. Especially since I don't live in Los Angeles.
My setup includes:
Sony MDR-7506 headphones
Scarlett 2i2 interface
Audio-Technica AT2035 microphones
Microphone stands
Shock mount
Pop filters
XLR Cables
Zoom H6 for backup
Computer with Skype/Zoom/Etc.
Audio Hijack to record audio.
Some blankets and sound blankets
Set Up
To start off, your setup is key. You can record in a closet, in some couch cushions, pad out your area with some sound panels or sound blankets. I record straight into a comforter with sound blankets around me. Be sure to check when garbage day is as that'll pick up in your audio! Since most of us are at home, you can't control all the sounds in your neighborhood. Especially if you're in a suburban area like myself. I even live next to two airports! Padding out your area or using a closet can quickly clean up that audio and keep out unwanted noises.
Phone and Anchor.Fm
You can also use your phone! You and your friends or interviewee can record straight into your phone (even better if you plug in a microphone or use headphones with a built in microphone). You don't want feedback from the audio so some headphones are great to have no matter your set up. If you're recording through your phone, you can go straight into Anchor.FM and it's one of the simplest ways to record your podcast. It even helps you with recording intro and outros and adding music.
Microphones
Microphones, as I said, can be plugged straight into your phone now! They actually don't sound that bad. I would suggest for better sound quality you use an XLR based microphone with an interface straight into the computer. You can record it separately like I do sometimes and sync it up later. Rodes and Blue Yetis/Snowballs are great without breaking the bank. Also nothing wrong with USB microphones.
Pop Filters
You also want a pop filter to help stop the harsh P's and S's that can be picked up. They can be hard to get rid of if you don't have a good audio clean-up program. You also want to be about a 'hang loose' hand sign away from the microphone.
Microphone Stands
For stands; I use a small microphone stand that goes on top of a table. Those are great and keep things out of the way. The ones that connect straight onto a table can make for a more minimalistic approach. You should always keep in mind that you're not yelling into the microphone or you'll peak in your audio. But also, make sure you're not hitting the table where your microphone is. Those hits will pick up on the microphone and are even harder to fix in post.
Websites and Apps
If you are recording other people, there are ways to record their audio straight to the computer. Zoom, Audio Hijack, Zencastr, Squadcast, etc. are all great. But, for the best audio, you should try and have the other person record their own audio as clean audio through the internet isn't always easy to get. Recording separate audio for each person makes it easier to edit and clean up. You also want the other person to be comfortable so it's always great to start off asking how they are and getting to know them.
These are just some tips to help you have a better-sounding podcast prior to recording. Clean up would be a whole other post. Continue to social distance and reach out to people outside of your immediate area. Keep wearing a mask, stay home, stay safe, be kind, be courteous, keep recording!
Here are some links for resources:
https://www.rollingstone.com/culture/culture-news/podcast-how-to-start-best-equipment-804418/
https://podcasthosting.org/podcast-starter-kits/
https://www.thepodcasthost.com/equipment/minimum-equipment-podcast-starter-kit/#usbstarter
---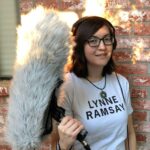 Kristina Morss is a sound designer, video editor, bassist, and bassoonist based out of Sacramento, California. Since graduating from Sacramento State with a BA in Communications-Digital Media in 2014, she has worked as a freelance editor and sound designer on commercials, short films, corporate, local news, documentaries, and now audio dramas!
In addition to her audio work, she also helps run For the Love of Cinema, a local film group in the Northern California area focusing on promoting underrepresented filmmakers. When she's not busy, she's hosting The Closing Credits Podcast. A podcast dedicated to educating filmmakers and film lovers by interviewing someone from each and every job title in the credits of film, television, and video games. She treats every day as a new learning experience and hopes to share her experiences and adventures with readers and inspire more women to join the audio field. More information at: http://www.kristinamorss.com/