Soccer Mommy landed in New York to support their new album "Sometimes, Forever". As part of the "Gov Ball After Dark" series, the band played the Bowery in the early morning hours, and I was lucky enough to have the opportunity to mix the show, and then some.
Advancing
An email came in about a month before the show date, from the band's usual PM/FOH. For this promo run, he was handling the advancing and PM needs remotely.
Initially, the band would be traveling with a manager and a local FOH engineer. Everything read like an easy show. They were a five-piece band with a backline brought in from a local vendor. No additional production. The FOH engineer would bring a mic package, and the band would bring their guitars and personals. Easy. For monitors, everyone would use venue-provided floor wedges, and Sophie [guitar and vocals] would supplement with In-Ear Monitors.
The only tricky part to this day was the production schedule. NYC's Gov Ball music festival takes place at Citi Field usually on a weekend in June from about Noon til 10 pm each day. In support of local venues and nightlife, promoters started curating an After Dark series of Artists who would do underplays in intimate rooms after the festival was over.
For Bowery, this meant having to juggle the needs of an early show with Soccer Mommy's late performance.
The full production schedule for my staff ended up looking something like this: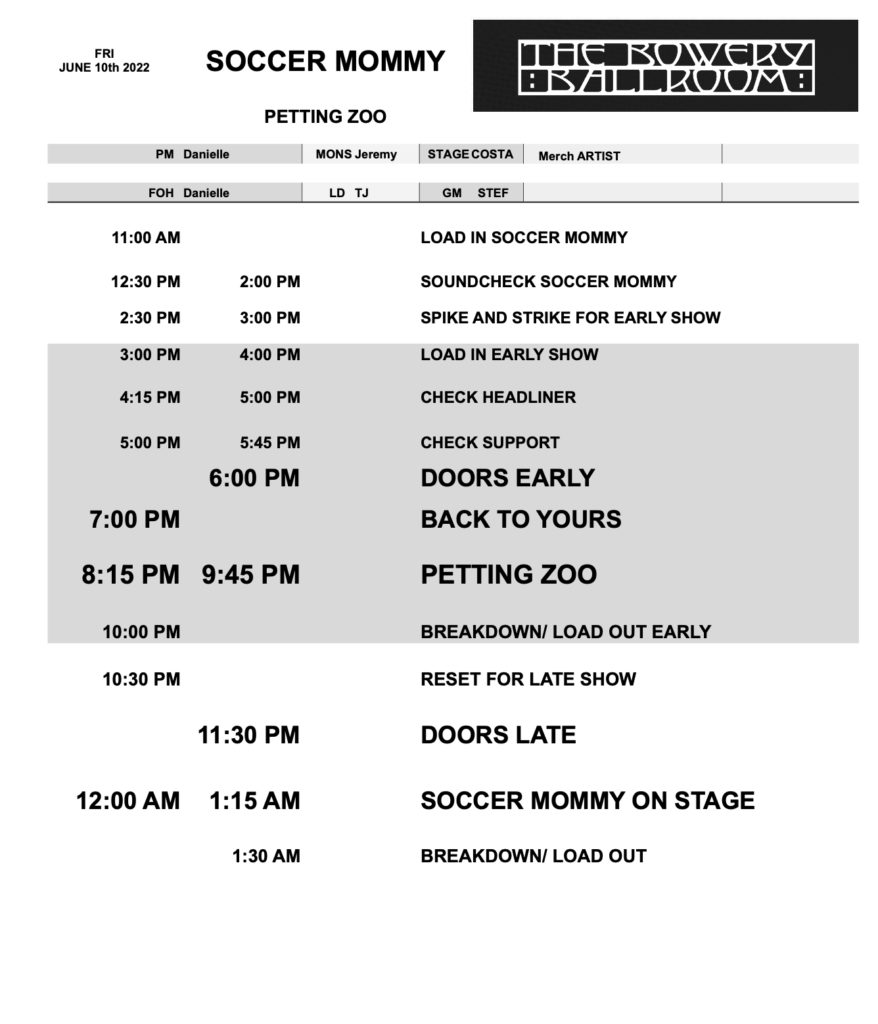 Each show would require the full venue call of – one Stage Manager,  two Audio techs, and one Lighting Designer.  The A2 and myself remained on call for both shows, and two different stage managers and LDs split the day as it made sense hourly.
I received a clear, easy-to-read Stage Plot, Input List, Hospitality Rider, and Backline Rider for Soccer Mommy.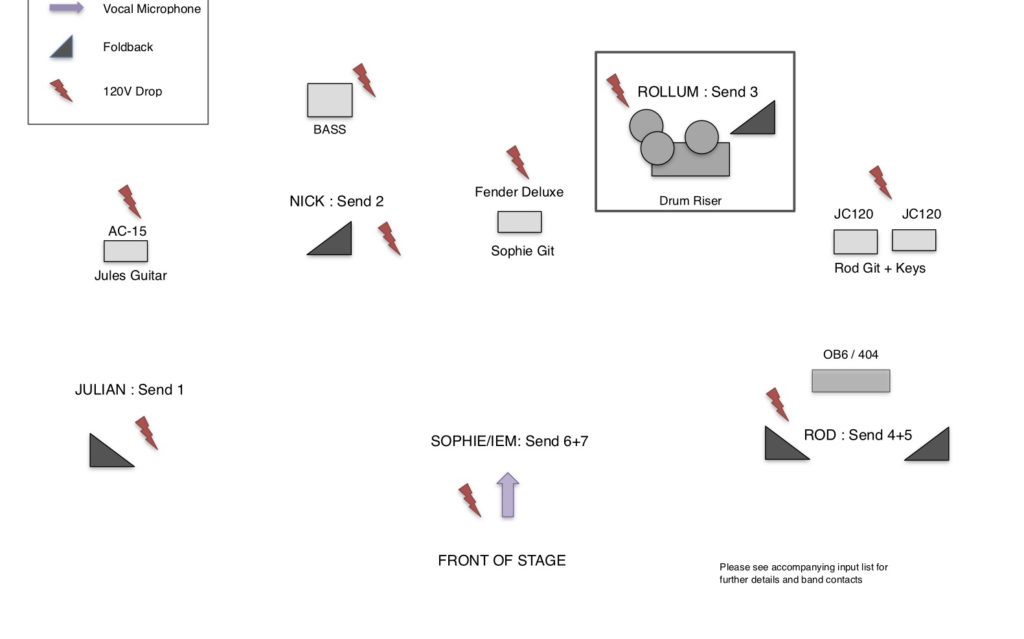 48 Hours Out
During a Bowery load in one afternoon, my phone buzzes with the call of long-time mentor and incredible engineer Phil. I have known him since I moved back to New York in 2010. I feel lucky each time our paths cross, and most recently, it has been FOH at Bowery. His call asked if I was free and interested in mixing Soccer Mommy for their full weekend of shows here in New York. It included an early evening show at Rockwood Music Hall, and possibly the Governors Ball Festival set the afternoon after their Bowery show.
Logistically it was a little tricky on short notice, but that feels a bit like everything in our industry these days.
I was excited at the chance to mix, and really enjoy the music, so I told him "sure, throw my name in the hat". The next morning an email came through to firm up the agreement and get up to speed. The band's manager sent over the day sheets for the Rockwood performance, and I had a nice conversation with their usual PM/FOH about mix notes and general approach. Suspicions were validated. The band is phenomenal and "do the heavy lifting", making it a dream to mix. We chatted effects, mic choices, and our favorite tips for getting quiet singers over loud backline.
The biggest jump was going from the first gig to The Bowery Ballroom show.
Rockwood Music Hall is a 200-capacity performance space known for its great sound, but logistical challenges. The FOH position is very cramped and lofted, accessible only via ladder. The room lends itself to playing to it, rather than trying to recreate your show in it. Higher SPL shows can be a bit tricky, and the band is much closer together than most other stages.
I was still excited at the chance of working with a band for a few nights. As someone who greatly misses touring, this gets me close. I get a chance to learn how to best work together, everyone's personalities, and playing styles, and if you do it right, you see your mix grow and get better at each show.
Show Days
Friday was a nice compact day. 2 pm load in for 5:30 Doors and a 6 pm performance. This was part of WFUV's live series, which broadcasts on their radio station. I was working closely with the radio personnel as well as venue staff. All inputs would run into a passive 2-way split. The radio station would operate independently from what I was doing and record the audio from their broadcast desk. We came to an agreement on the input list based on what would work for both of us.
The 35-minute set flew by and we cleared out for the late shows at the venue.
The nice thing about New York is that Bowery Ballroom is only a 10-minute walk from Rockwood, so we loaded all personal gear into Bowery that night. It made the morning of our 10:30 am call a little less harsh.
Saturday came too early and I saw the band back at Bowery at 11:00 am. A bagel and coffee spread was a MUST.
I think we were all grateful for the longer soundcheck this day. Even if it needed to happen 12 hours before their set. There was a lot of new material for them to get through, and having time to rehearse everything with full production was helpful.
Our stage at Governors Ball would have a similar Avid S6L console to the one I installed at Bowery, so I spent extra time with my show file knowing that it would need to translate on a larger stage. I also went a little heavier with the Waves plugins than I usually do when busking a mix. The Waves doubler on lead vocal, as well as the F6 floating band dynamic EQ on the vocal group really helped to get lyric fidelity just over the band, without sacrificing the power of the guitars. Another trick I used was to send a bit more of the vocal group to our center cluster and front fills. This helped the audience in those coverage zones hear the vocals over the stage volume.
During the show, I recorded my mix, as well as the group outputs using the AVB protocol on the desk.
Doing so helped me to fine-tune my eq and effects settings. Using virtual soundcheck I heard an accurate vocal performance without needing to worry about the band on stage or any stage volume. With that, my show file for Gov Ball, and for tonight's performance was in a place I was comfortable with.
Sunday– We had a 12:30 pm arrival at our festival stage, with stage access 30 minutes before our set at 2:45 pm. It would be a scramble. Working in the wings I saw some familiar faces from old shows and a couple of past employees. It all warmed my heart and helped to calm my nerves.  We exchanged pleasantries while juggling gear and risers.
The Gov Ball set made me miss the report of my venue engineers and I. Needing to rely on a festival monitor engineer is hard, and while I had myself in a good place at Front Of House, I noticed the band struggling on stage and wished for a little extra time, or to split myself in two.
For a "throw and go" I had a lot of fun, and was pretty happy with my mix. It evolved with each show as I learned the arrangements and what I wanted acoustically from the show.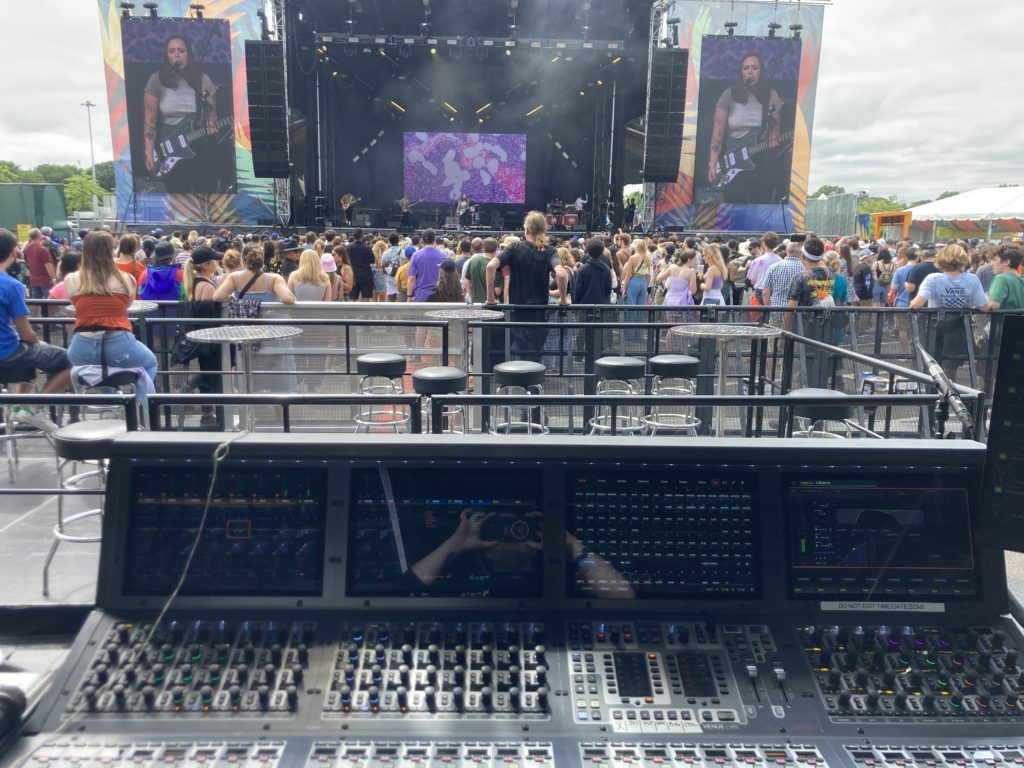 I love the new record and recommend everyone give a listen. I look forward to seeing Soccer Mommy with their touring crew and swapping stories, and if I cannot be on the road, pinch-hitting is the next best thing.