As politics become more and more contentious in America, I've noticed a growing phenomena of people pleading with musicians to keep politics out of their art. It's not a new trend, but as the election draws nearer people seem to be louder about it.
Why should politics be separated from music? Music and politics has never been completely separate. If that were the case, we wouldn't have the music of Bob Dylan. Or Bob Marley. Or of many other musicians, some of them not even named Bob!
I understand the want to tune out the world and relax while you listen to a record, but to insist that musicians "stick to what they know" and stay out of politics ignores the role politics plays in music, let alone the fact that musicians are also the constituents of elected officials and are therefore personally and professionally affected by their policies.
Music is one of the multitude of ways that we, the people, use to express ourselves. When things happen in the world that makes us feel a certain type of way, writing a song about it is a natural reaction that has been happening for generations. I'm no music historian, but even I see the parallels between history, politics, and music.
1900–1920: the labor movement, class struggle, and the great war
1920s–1930s: the great depression and racial discrimination
1940s–1950s: the labor movement vs McCarthyism; anti-nuclear songs
1960s: The civil rights movement, Vietnam war, and peace and revolution
1970s: the Vietnam war
1980s: anti-Reagan protest songs, police brutality
1990s: women's rights and discrimination
Early 2000s: Iraq War, anti-George Bush protest songs
Today: Police brutality and racial injustice
There are so many pieces of music to choose from to demonstrate what I mean, but I've chosen six songs from the past and present to make my point: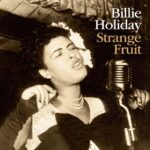 Billie Holiday – "Strange Fruit" (1939) was written in protest of the lynching of African Americans at a time when it was socially accepted by many people. It was a haunting statement that came 15 years before the Civil Rights movement in America even began.
Written by Abel Meeropol, "Strange Fruit" has been performed by Nina Simone, Siouxsie and the Banshees, Diana Ross, and Jeff Buckley.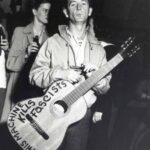 Woody Guthrie – "This Land Is Your Land" (1944) is a rebellious alternative to "God Bless America." He wanted to craft a song that represented the average working American and their equal rights to the rich. Guthrie sarcastically called his song "God Blessed America for Me" before renaming it "This Land Is Your Land." Throughout his life, Guthrie was associated with United States communist groups, noted as a "fellow traveler"-an outsider who agreed with the party platform while avoiding party discipline. Guthrie is also known for displaying "This machine kills fascists" on his guitars.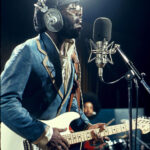 Curtis Mayfield – "(Don't Worry) If There's a Hell Below, We're All Going to Go" (1970) is a warning about American race relations. In this song, Mayfield conveys the idea that if we as a society don't get our act together, then all hell will break loose. The song opens with a woman stressing a return to reading the good book and straightening up before it's too late. The heavy fuzz bass is not only funky, it's apocalyptic.
Bruce Springsteen – "Born in the U.S.A." (1984) was misunderstood right from the beginning. "Born in the U.S.A." was a defiant anthem about America's poor treatment of Vietnam veterans. Rather than being proud to be born in the USA, the attitude is one of "I was born in the USA so I deserve better than what I'm getting." The song is so misunderstood that countless politicians (including Ronald Reagan and Donald Trump) have used it to soundtrack their campaigns.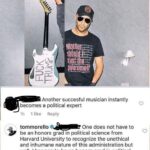 Rage Against the Machine – "Killing in the Name Of" (1992) with lyrics like "Some of those that work forces, Are the same that burn crosses," and "By wearing the badge, They're the chosen whites," the song alludes to the history of US police forces being a white supremacist organization such as the Ku Klux Klan, whose symbol is the burning cross. The song was released six months after the Los Angeles Riots, which were triggered by the acquittal of four white police officers who beat black motorist Rodney King.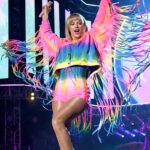 Taylor Swift – "You Need to Calm Down" (2019) released in June, Pride Month in the US, "You Need to Calm Down" is a rebuke of internet trolls and homophobes, with Taylor clearly voicing her support for the LGBT+ community. Yup, even Taylor gets political in her sugar-coated pop kind of way.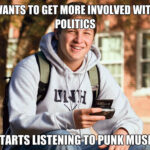 The Recording Academy itself is entwined in politics and has mobilized members to become District Advocates. District Advocates are encouraged to communicate with their representatives about issues that face music creatives. During this pandemic, the music industry, especially the live music industry, has been brought to its knees. On District Advocate Day back in August, over 2,000 Advocates had meetings with representatives to encourage them to pass legislation geared toward helping the music industry recover. They've also set up a website, in partnership with Headcount, where you can check your registration status and request an absentee ballot: Grammy.com/election2020
So maybe the question shouldn't be "why is music political these days?" Maybe the question should be "why didn't I realize music was political until now?"
---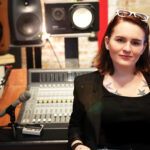 Audrey Martinovich – In 2012, Audrey's professional recording career began at Audio for the Arts, a Wisconsin-based recording studio specializing in acoustic music, where she quickly became a trusted engineer for several clients in the Midwest and beyond. From recording live stand-up albums for Comedy Central, to recording concerts on a stage floating in the middle of a lake for Reebok, Audrey has done a bit of everything. Intrigued by unusual acoustic environments, Audrey especially loves recording musicians anywhere from silos to cavernous basements.
In 2017, she became the first female contributor to Pro Tools Expert, with articles focusing on tips for recording live performances and acoustic instruments. In 2018, Audrey was a finalist to receive the award for Breakthrough Studio Engineer from Pro Sound Europe. She has spoken and been on panels at Between the Waves Music Conferences, Empowering Women in Audio Clinics, and E-Women's Network. Audrey is a Warm Audio artist, member of SoundGirls, AES, and a voting member of the Recording Academy.