SoundGirls is a community by women for women, to enable greater gender balance in male-dominated audio and related fields. Groups like SoundGirls exist to provide womxn with the space they need to develop and share the skills and experience necessary to work as professionals in music and audio.
It goes without saying that these spaces exist as womxn-only because their real-life counterparts are essentially male-only, though not officially or by definition. There is no rule of a soundboard that says you have to be male, and yet the majority of students, interns, teachers, mentors and other people working soundboards are men. So men are provided with the experience of learning something new in an environment that feels somewhat familiar, and womxn interested in the same thing are not able to learn in an environment that feels familiar, except through programs like those that SoundGirls offer.
So, here we are with programming that is expanding, and a growing professional database of womxn in audio and music. How do we translate this to the real world, to actually being at work? There are many womxn-only collectives, labels, and studios & businesses propping up, which is very exciting. But not all people want to be surrounded by only their gender. Also, isn't the goal equity?
One day I hope to work in a studio with as many womxn as men. I hope to produce male artists; I hope to produce womxn artists aside from myself. I hope to hand over skills that others want to learn, regardless of who they are as a gender.
When you love a womxn, you take her seriously. You aren't surprised at her skill level, and you encourage her to keep challenging herself. You let her learn from her mistakes. You let her go, switch jobs, leave for tour, meet new people. Just like we do men.
Working with all genders means that everyone understands they have strengths and weaknesses. One person may be good at something that someone else is terrible at, and that person may know much more about something than the first person. A young brain would feel threatened by this disparity, and try to compensate with egotistical actions. But truly, there is nothing to feel threatened by—your differences make you a stronger team. Embrace them. Challenge yourself to learn from the people around you! Challenge yourself to learn more about yourself by recognizing your strengths and weaknesses! Enjoy the beauty that is collaboration. Teach people around you to work from a place of love, so they too can spread that light.
Note: SoundGirls is inclusive and open to anyone who has a desire and drive to succeed in professional audio. The ratio of women to men members is approximately 65% women and 35% men.
---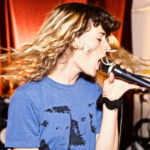 Elana Carroll is a songwriter, producer, and performer who has been making original music for 15 years. She holds a BA in music and critical theory from Bard College at Simon's Rock.
Elana's interests as a writer/producer span from electronic and dance to pop and country, and she co-writes with other artists as well. Her current focus is on teaching (she will be teaching a Beats by Girlz class this fall), and her project, Party Nails. She feels it is part of her purpose in this life to "normalize" non-males in the music business through performance, teaching, and mentoring. She is particularly fascinated with popular culture and music in the age of technology.