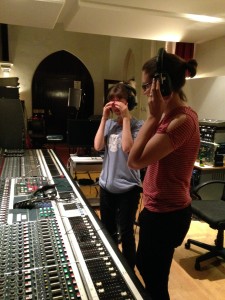 Back in August this year, members of our Europe Chapter were offered a unique opportunity to get an inside look at one of London's most iconic recording studios, The Church Studios.
As the name suggests, the studios are located in half of a historic 19th-century church building in Crouch End, north London. The other half of the building is still a place of worship, as it has been for over one hundred years.
In the early 1980s, half of the building was purchased and converted into a film studio by animators Bob Bura and John Hardwick, best known as the creators of classic British children's programmes Camberwick Green and Captain Pugwash. After a couple of years, the duo rented the huge upstairs room, which formed half of the original main church space, to another soon-to-be-famous duo: Dave Stewart and Annie Lennox of Eurythmics.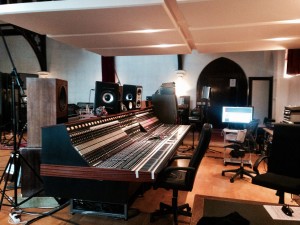 Eurythmics recorded their debut album Sweet Dreams in the studios in 1984, with the title track apparently recorded in an office room. Following the success of the album, Stewart and Lennox bought the entire studio facility and spent the next twenty years recording material, as well as opening the studio for artists such as Bob Dylan, Radiohead, and Depeche Mode.
In 2004 the studio was sold to David Gray, who owned it until 2013 when it was bought by Paul Epworth. The award-winning producer of Adele and Florence and the Machine, among many others, rescued the studio from the threat of becoming luxury flats.
2013 saw the start of a major refurbishment for the studios, a move that would take it from an iconic studio to a world-class recording and production facility. As well as transforming the beautiful main church space into a unique tracking studio (Studio 1), the refurbishment included a total redesign of the SSL studio (Studio 2) into a state-of-the-art space and the creation of a separate writing room.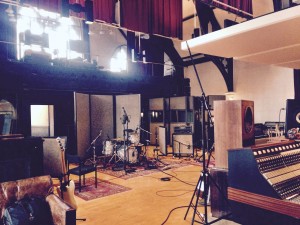 Walking into Studio 1, I was first struck by the space. Even knowing the building was a former church, the sheer size, and height of the room was still a surprise. The acoustic treatment is effective but not intrusive:  an acoustic ceiling suspended about the Neve desk and a few curtains, carpets, and baffles. House engineer Riley MacIntyre was kind enough to let us experiment with a binaural microphone so we could explore recording in the space.
The second thing I noticed was the gear. So much amazing, vintage gear. From analogue synths to outboards, it's pretty clear that Paul Epworth is something of a collector. For a dose of serious gear-envy, there's a full list of the gear available here. I was struck by a few notable examples.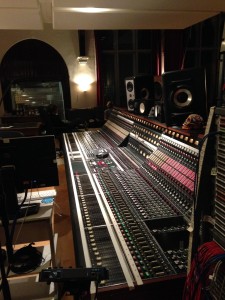 The 72-channel vintage EMI Neve console is pretty unique. The only one in London, it is, in fact, two desks put together – one-half originated from Abbey Road and the other half from the Pathe Marconi studio in Paris. And it's huge – you need a studio the size of The Church just to house, plus an extensive patch-bay.
Riley told me his personal favourite piece of kit was the1960s EMI RS168 dual limiter. I'll have to take his word that it makes everything sound amazing, this processor is so rare I think the closest I'll get to another one will be a virtual model.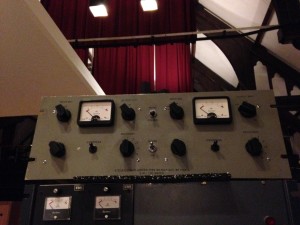 We ended the tour with a quick look in the machine room to admire the Studer A80 and Otari MTR 12 1/4" tape machines and the EMT 140 Plate Reverb and to take in the unique décor (baroque-styled wallpaper and iron curlicues) left over from Dave Stewart's tenancy.
The infamous tartan carpet is long gone, but The Church continues to welcome famous faces – U2, Kanye, and Thurston Moore were all mentioned as being recent clients during our tour. Long live the regeneration.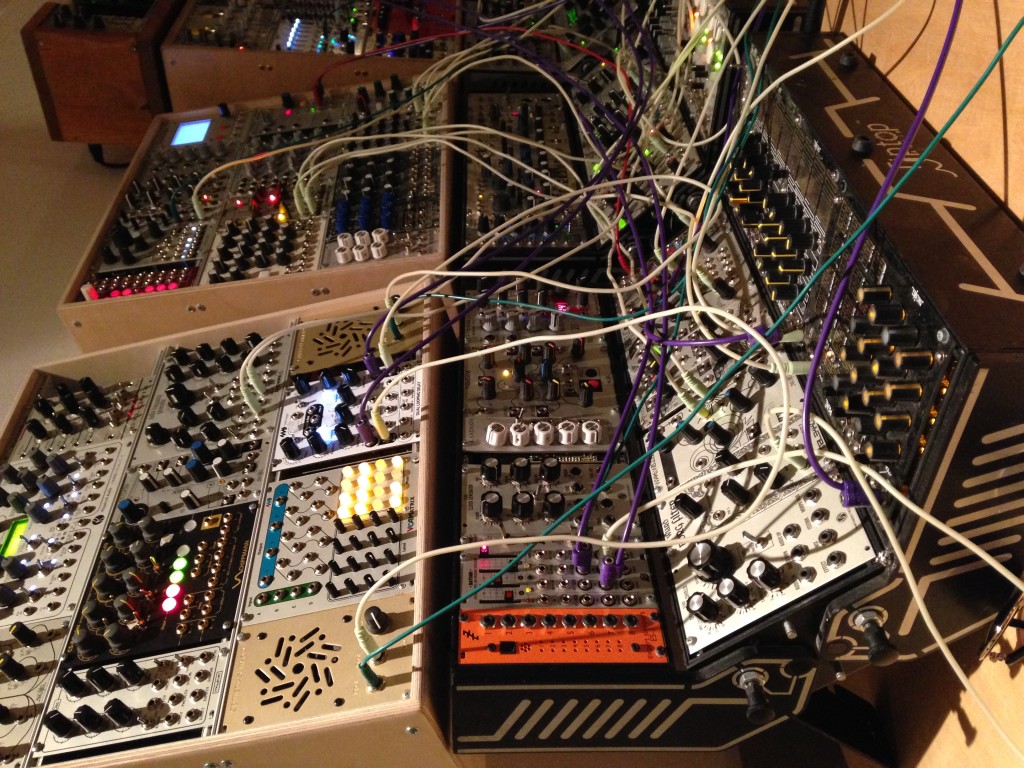 With thanks to Riley MacIntyre and The Church Studios for being so welcoming.
---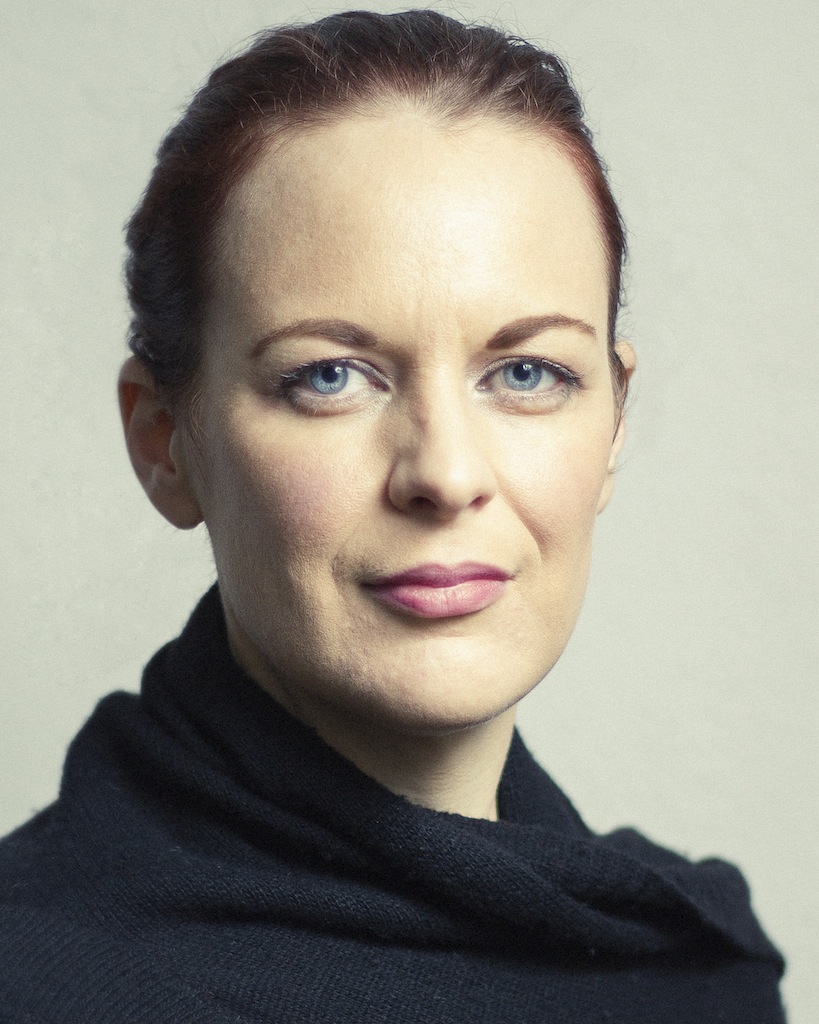 Kirsty Gillmore: A sound designer, engineer and voice artist, Kirsty will be blogging about Sound Design for Theatre and Film, in particular how to do it on a budget. She will also be sharing lessons learned throughout her career.
About Kirsty: Originally from New Zealand, Kirsty has been based in London, UK since 2002. Her 15 year career has seen her work in music production, post production, live sound and broadcasting, including 8 years training with and working for the British Broadcasting Corporation. She established her own sound design & voice production business, Sounds Wilde, in 2010 and now works as a freelance sound designer for theatre and film, as a voice reel producer and voice artist.