By: Chris Van Drie
Recently I spent some time crawling around behind the cash register of an expensive liquor store to help Jon Oliver steal some bottles of wine.…well, I didn't actually steal anything, but I like to think I aided and abetted.
Every couple of years Jon Stewart hosts a benefit show to raise awareness and money for autism. It's a wonderful show to be a part of; this year it raised over four million dollars for programs, schools and services for autistic children and adults. It manages to raise all of this money by being a Night of Too Many Stars, which not coincidentally, is the name of the show (or as we call it Night of Too Many RF Mics).
The show is done in two parts. The first part is performed in front of a paying audience at the Beacon Theater, and a pile of celebrities come to perform and participate in all sorts of crazy cool experiences that they auction off to the audience. My favorite auction item this year was hopping in a car with Louis C.K. to go to a sold out Broadway show being performed at that very moment where you got to walk out on stage during the standing ovation at the end to take bows with the cast. By far the fastest way to get a standing ovation on Broadway! After all the bidding is done and the show's over, the footage is edited and packaged to be played during a second show that's a telethon airing live from the Daily Show studio.
The Beacon show involved a TV truck to capture the show, but no satellite truck because it wasn't live. At the Daily show studio, it was the reverse since they obviously don't need a rolling studio on wheels. They did, however, need a satellite truck because generally the Daily Show is taped and not aired live.
Because Night of Too Many Stars is a charity involving a lot of celebrities, it surpasses just about any other show we work on when it comes to last minute changes. More celebrities keep showing up, and the outstanding writers of Comedy Central just keep working on new bits right up until the last moment. Kind of like a house party. The night before the show there was a production meeting after the rehearsal where some ideas were being thrown around and they came up with the idea of having one lucky bidder win the opportunity to 'commit a crime' with Jon Oliver.
So that's how I ended up in a liquor store on show day to help steal wine. The audience member who won got to steal a couple of bottles of wine with Jon Oliver. For us, this meant facilitating an entire setup at a new location in a couple of hours the morning of the show. The bit required Jon Oliver's wireless mic and IFB (in ear listening device) to work seamlessly from the stage, through the hallways and lobby of the Beacon, outside on the sidewalk, and then in the liquor store. At the same time, we had to make sure the Stage Managers running over for the bit were still in communication with the show (including the TV truck parked outside the Beacon).
I'm sure many people on this site work with wireless mics on a regular basis, but for the uninitiated, I thought I'd mention the basics. A simple wireless microphone set-up consists of the transmitter (a microphone) with an antenna and a receiver with at least one antenna. Wherever the talent goes with their microphone, you need to be able to receive their wireless signal to the receivers that are in your rack. For most people's shows you only need it to work on the stage, for us we often have to include the entire house, back-stage areas, and sometimes even the street outside the venue.
For Night of Too Many Stars, our company provided over 36 channels of wireless mic combos. 'Combos' is the term for when we bring both body pack and hand held mics for each channel. For this show, we had over 72 transmitters. This allows as much versatility as possible. We also brought a massive communications setup that I'm leaving out entirely for the sake of blog brevity. I could write a short novel about it.
Here's our transmitters before being put into action. You can't really see it, but this is two stacked tables covered with tins full of transmitters.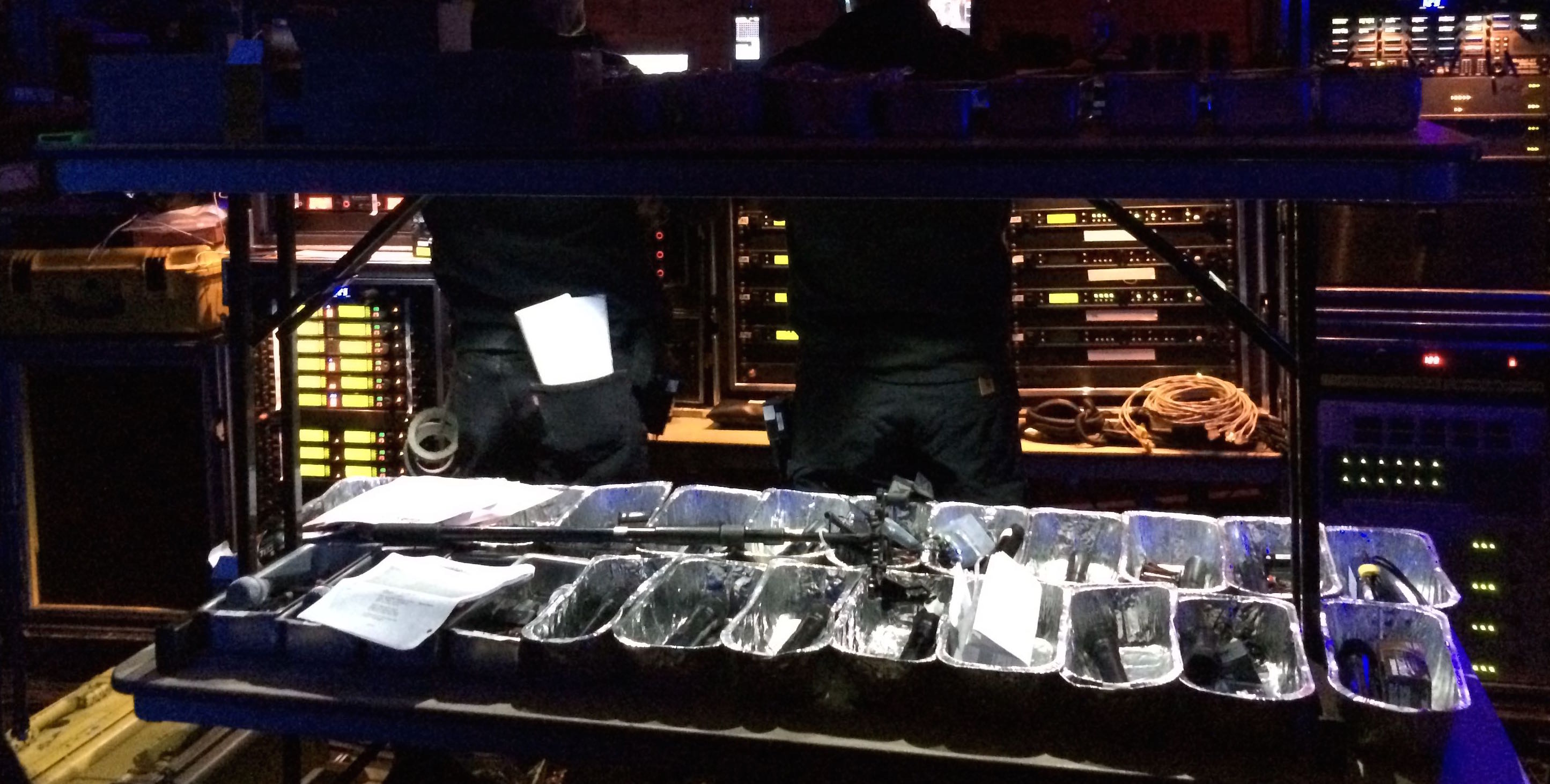 Pro-tip: when all of your transmitters are on and next to each other, keep them cozy and intermod free by putting them in baking tins.
All of the audio crew and all of our gear were squeezed into a tiny wedge of space by some very windy elephant doors. The Beacon is one of those iconic NYC theaters with gorgeous chandeliers, plush seats, hand carved wood sculptures, sumptuous curtains, and artistic flourishes everywhere you look.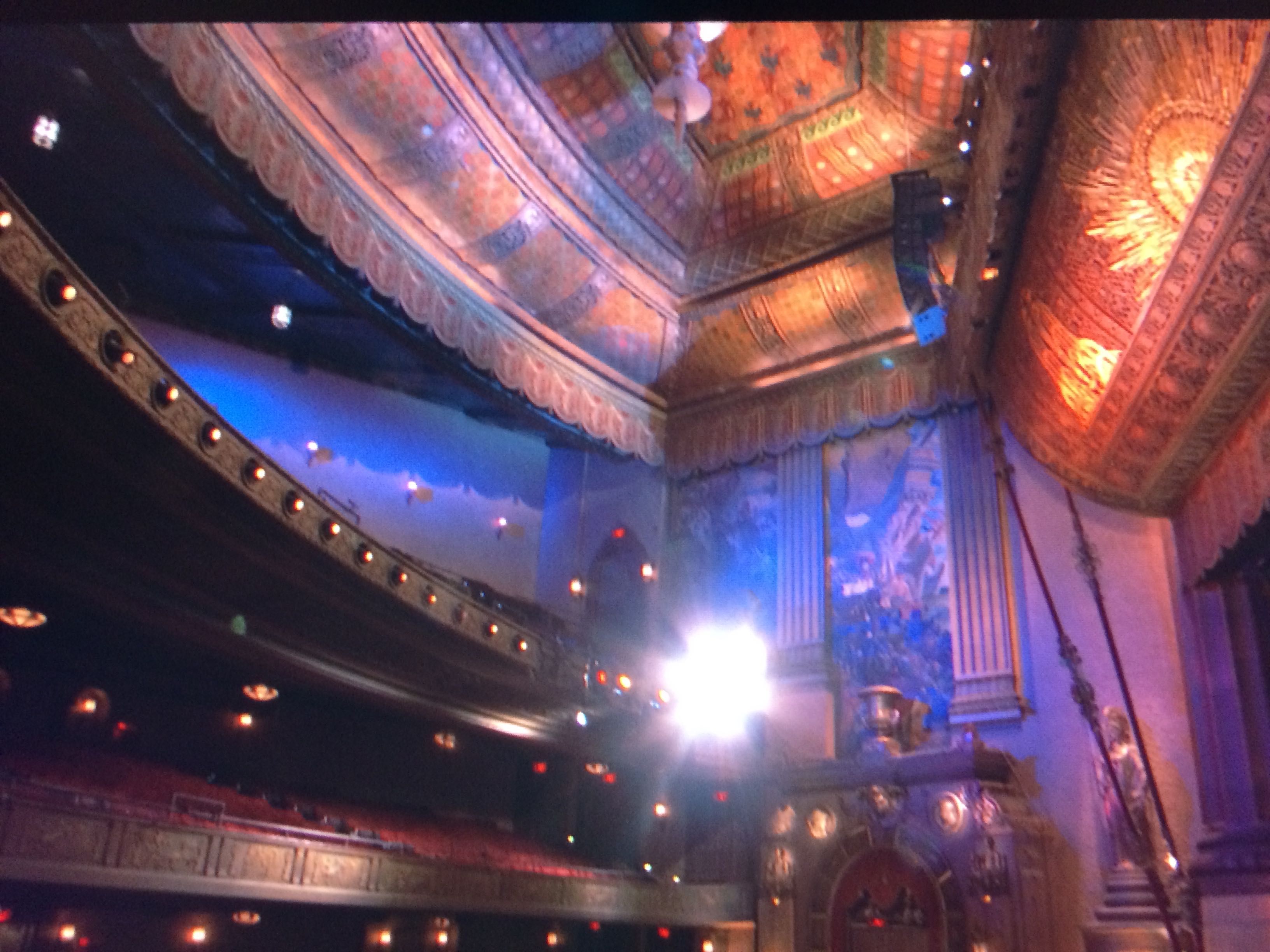 However backstage, space is at a premium. There's so little space that when the Tony Awards were here, they tented the sidewalks around the back of the building to create more back stage. Every single musical I worked on in high school had more space!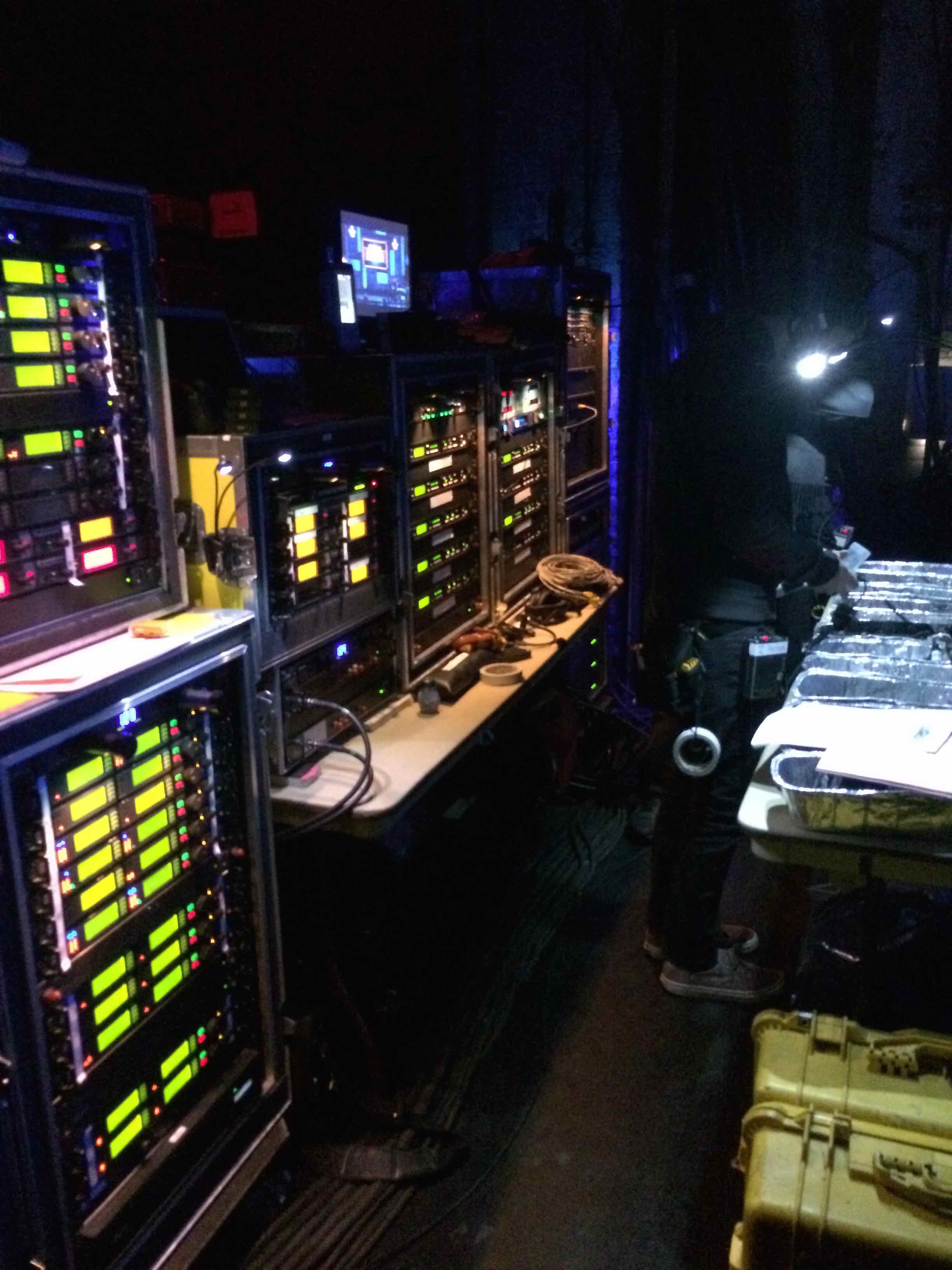 We didn't have to live on the arctic sidewalks of NYC for this show, but the lack of space became a problem we had to work around when it came to antenna placement. Also as a not-so-fun last minute surprise, the backdrop curtain consisted of panels of metal mesh that sent us scrambling to move our antennas right before the dress rehearsal. Metal mesh and LED walls are the natural enemies of the mighty antenna.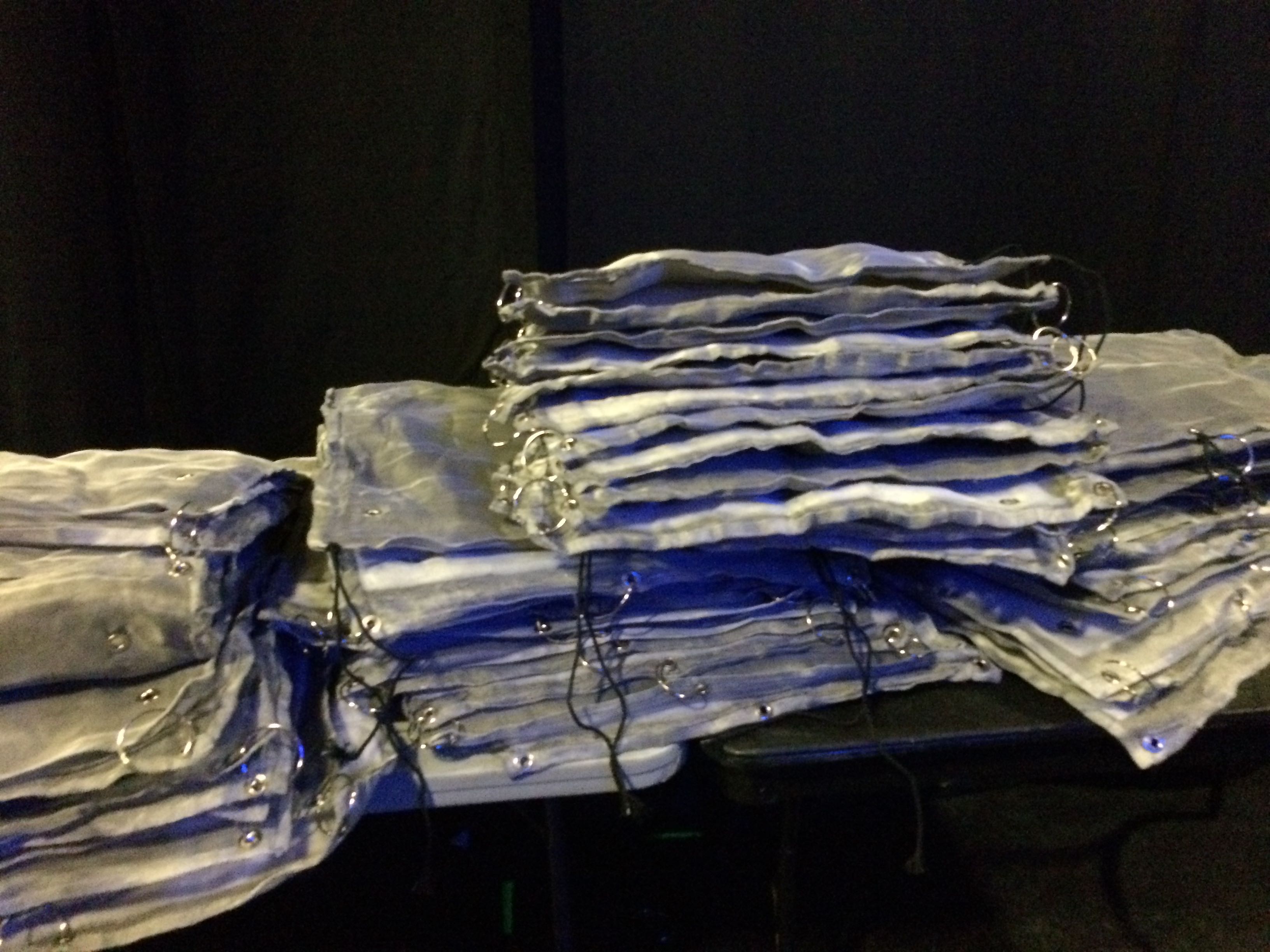 These 2 ft by 2 ft mesh panels were linked together to form a curtain/Faraday cage for the stage.
But wait…there's more!
With a little tweaking, the initial antennas we placed were able to receive full strength signal from our microphones all the way to the back of the house. Worked like a charm for the opening number where Maya Rudolph sings from the stage, then walks down into the audience, then sings all the way down the aisles as security guards haul her out.
However when it came time to do the Louis C.K. and Jon Oliver bits, we needed working mics in the lobby and hallways too. We ran about 200 feet of antenna cable from our stage position to the lobby then tucked the antennas behind the guard booth and pulled them out for the show.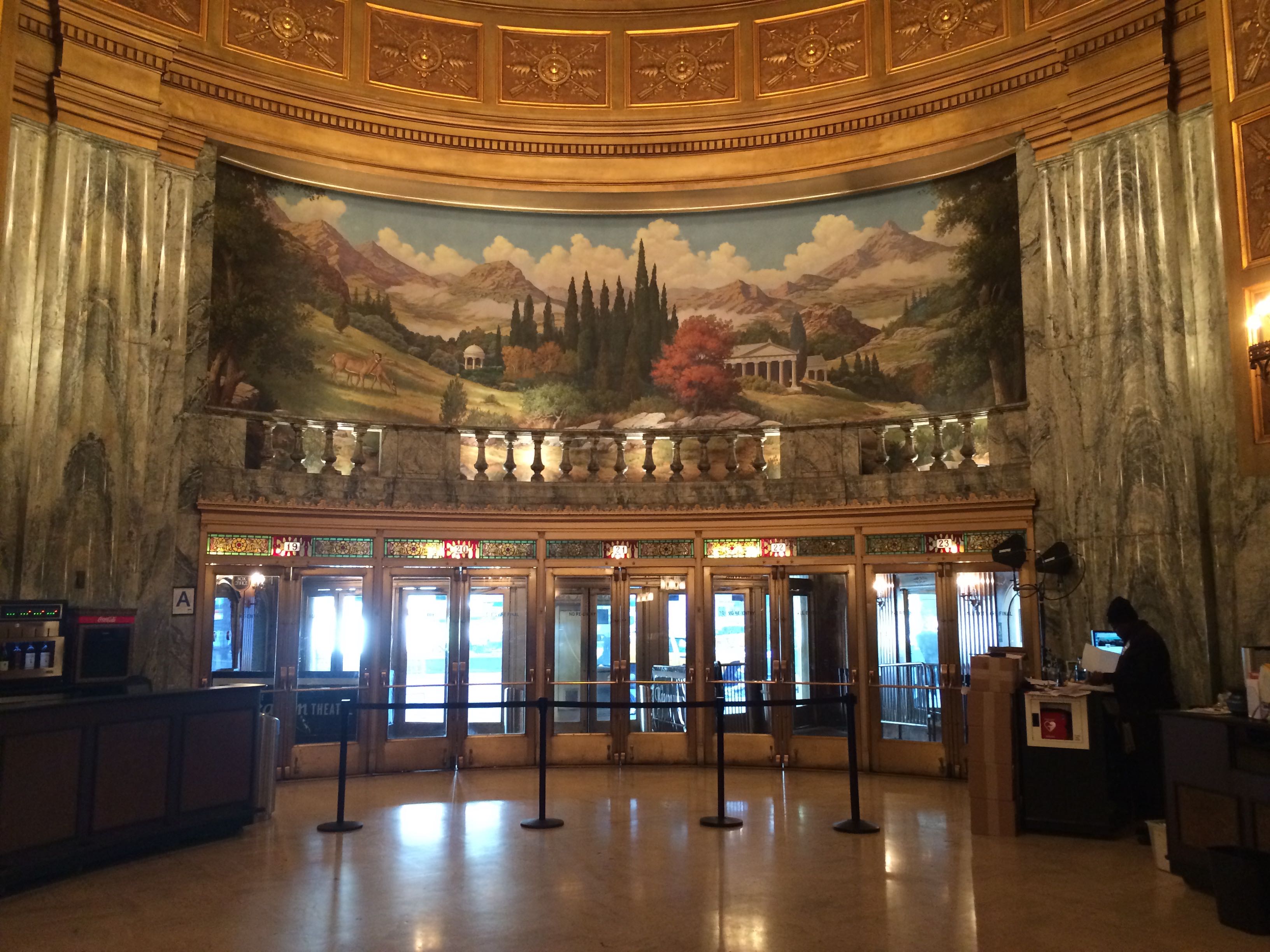 Our antennas look right at home.
For the excursion to the wine store, we had redundant 'camera back' receivers capturing the audio from both Jon Oliver and the audience member with him. This involved an audio crew member chasing after the guest off camera with a mic on a fish pole since there was no time to place a lav mic on them.
So remember how several paragraphs ago I said most receivers are generally in a rack, well here's the exception. These types of receivers look like a body pack transmitter but are actually receivers that attach to a camera and capture audio. Often ENG(electronic news gathering)/Reality style camera crews use these.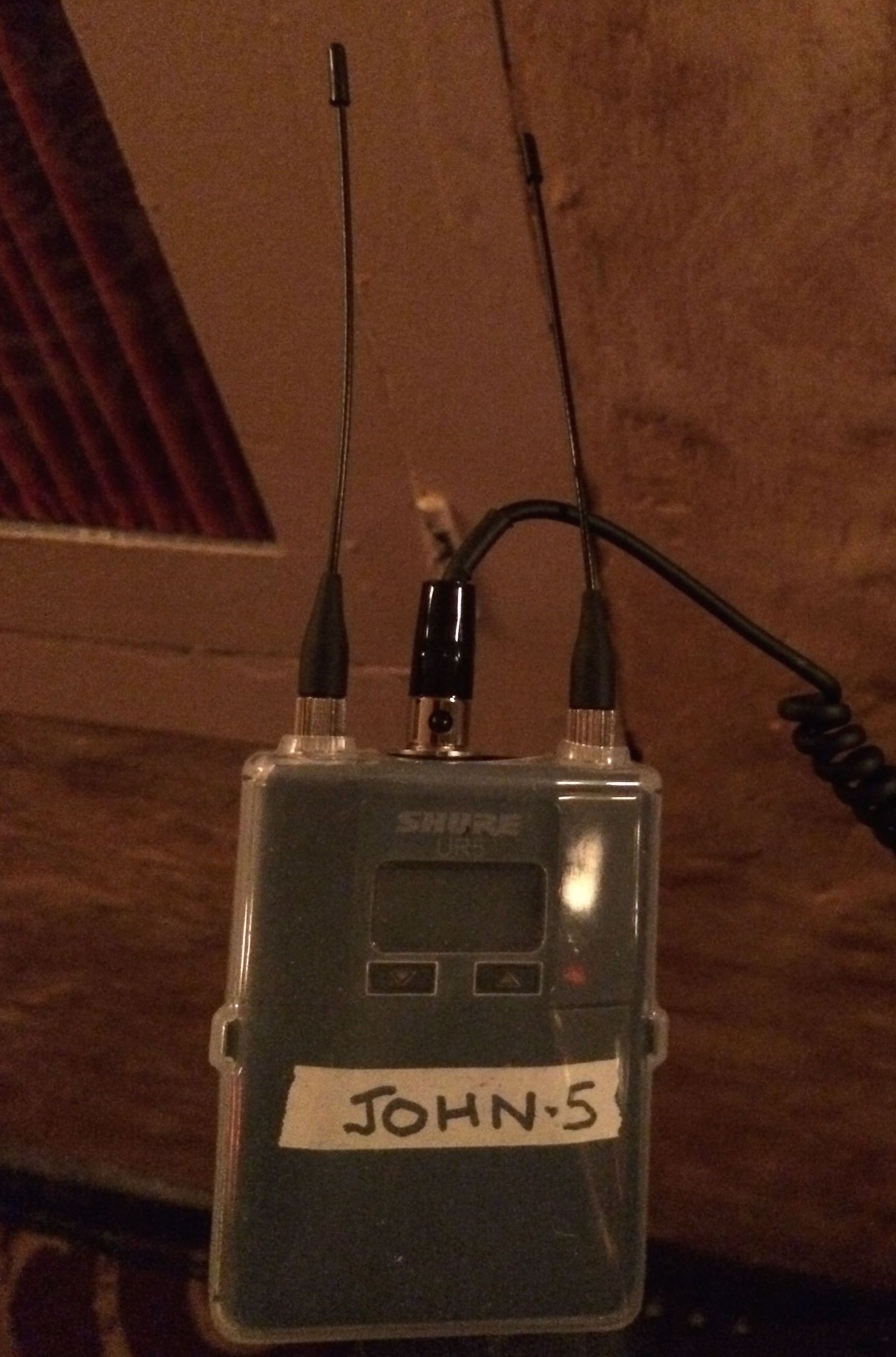 Once in the wine store, we had a completely separate setup for all of the wireless, comms and in ear listening devices.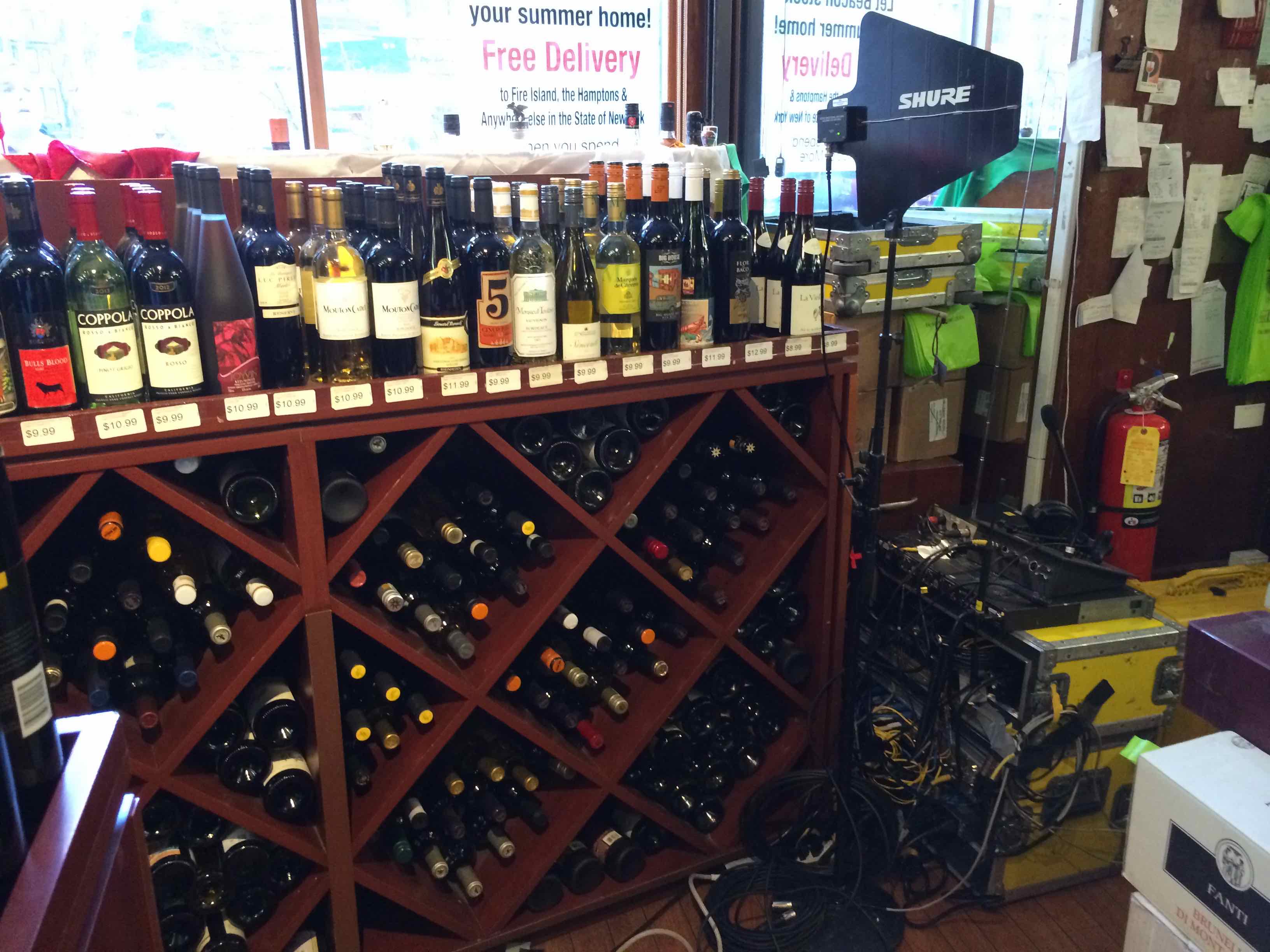 Don't judge me based on the cabling here. We were trying to be fast to be ready for the show and get out of the wine merchants way.
I don't think myself or anyone else on our crew stopped moving from the time we set foot in the door on the first day of setup until we packed up and left in the early morning hours after the show. At the end of it all though, it was one of those shows that you're proud to be a part of, both because everyone pulled together to make it a success, and also because it was for an incredibly good cause.