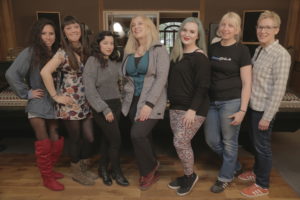 I would like to begin with a huge thank you to SoundGirls for making this opportunity possible. I was selected in a raffle to win a spot with Mix with the Masters with Sylvia Massy. The whole experience was completely magical and eye-opening!
Mix with the Masters is a week-long seminar held in Southern France at La Fabrique Studios. Each week-long session is given by a number of legend status producers. The studio houses a Neve 88-R Console with tons of outboard gear, pres, and boutique microphones. There were 14 attendees from all over the world. It was such a mix of creative minds and brilliant ears and personalities that made the seminar even more special. I would like to take a brief moment to address the fact that there was a pretty significant turn out of women for the workshop. I was not expecting 6 of 14 attendees to be women. Gender was never an issue in this seminar. I personally believe it was amazing to see the inclusive nature between everyone and the fact that everyone was so supportive of each other. It honestly made me feel grateful and fortunate to be working in audio in such a time where women are now more prevalent in a "male-dominated industry".
Some of the highlights of the seminar
We started out the seminar with experimental drum micing. Sylvia brought out her bag of tricks and quirky ideas to the table right away. We put microphones inside of hoses and submerged microphones underwater to capture a "filtered" room sound for the drums. Everyone was encouraged to get hands-on experience which allowed us to be a part of the creative process.
During the week we worked with Adrien T. Bell and his band from Prague. We watched the whole process from the concept of a song into the final product. During the tracking of guitar, the signals were passed through various objects like cheese and lightbulbs. The output of these objects was captured and created very unique sounds. The cheese made the guitar sound like a fuzz effect, and the lightbulb sounded like a distortion pedal. I also really enjoyed the dialog in the studio between Sylvia and the artists. It was an art in itself to see the interaction between artist and engineer/producer. Words of affirmation brought comfort to the artist, and Sylvia always made sure everyone was completely comfortable. The environment was definitely designed to be stress-free and a safe place for the artists to unleash their best performances.
At the end of the seminar, Sylvia took time for a critique of peer mixes. Every participant brought a Pro Tools session or a finished mix and had the opportunity of getting a mix from Sylvia herself. Sylvia offered expert advice and insight to everyone and at the same time provided encouragement to each one of us.
Mix with the Masters is such a unique educational experience. I never felt like I was in a classroom as a spectator but was very much allowed to be a part of this learning experience. The leisure time allowed us to share experiences and get know each other. I learned from every participant in attendance. Countless conversations were exchanged regarding philosophy, approach, and style. I really enjoyed the camaraderie among everybody. No one was secretive including Sylvia of their own personal mix or tracking tips but more than willing to share insights and discoveries.
It was truly an intimate environment for learning from the best in the business in a retreat-style setting with lots of time to mix and mingle with the rest of engineers. Also, I cannot stress enough how fantastic the staff was at making us feel right at home and spoiling us with the finest meals I've ever had in my life. Just like one my colleagues said "It was like being in a dream". It was magical, and the air in France was glorious coming from the LA smog city. I am looking forward to having another experience like this in the near future. I brought back a new air of confidence
---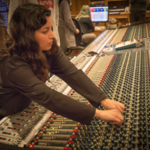 Melissa Samaniego is a freelance audio engineer and works in film sound post-production, tracking, overdubbing, mix engineer. She also works a theater technician at Fullerton College and is a songwriter and upright bass player.