More of the industry is now beginning to talk about the mental health of everyone within it, specifically those of us who are affected by being on tour. Unfortunately, even with those who advocate for it, the majority of the industry is still greatly affected by terrible mental health conditions. In general terms, the tours, the companies, etc. do not seem to care beyond presenting to the public that they have been to panels, or participated in workshops, but do not actually apply it to their team. How do we practice what we preach? How do we hold the correct people responsible?
Wouldn't it be fantastic if mental health in the industry had a handbook or a map of sorts?
Tamsin Embleton does just that with her book Touring and Mental Health: The Music Industry Manual.
Topics Include:
Mental health, poor mental health, mental illness, and neurodiversity
Anxiety (performance, fear of flying, guide to anxiety disorders)
An analysis of research into mental health in the music business
Stress, burn-out, and resilience
Trauma and its potential aftermath
Addiction (substance and sex & porn)
Disordered eating patterns
Relationship difficulties (romantic relationships, group dynamics, conflict, and resolution, why bands fail)
Physical health (hearing health, vocal health, sexual health, nutrition, sleep science, body in motion, RSI, gut health, DVT, injury prevention)
Preparing for optimal performance
Dealing with the Media
Post-tour recovery including how to return to the studio post-tour
And many more!
Embleton clearly did her six years of research and three years of writing with over 80 interviews with other professionals in the industry. The book covers A LOT of ground: addiction, the general stress of the industry, depression of post-show/tour, the anxiety of travel days and pre-show, eating disorders and why we don't get much nutrition while out on the road, relationships you form within the industry and outside of it, and the most common health issues we see in the industry
On the opposite end of that spectrum, however, Embleton recently made public "A call to arms from a touring friend, who has worked on the road for several decades at a high level. We need those in positions of power to carefully consider the health implications of routing and scheduling. We need systemic and cultural change."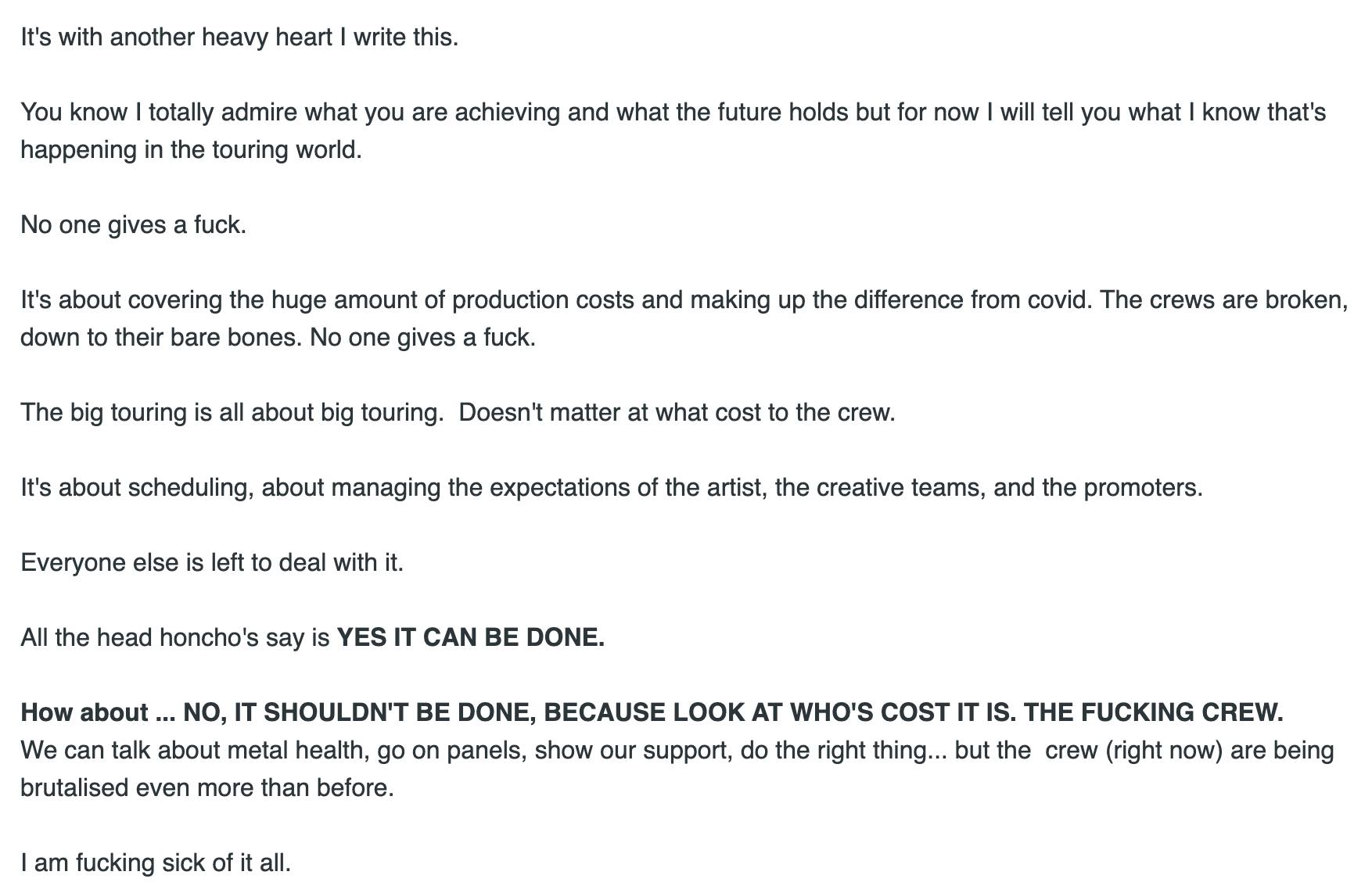 Do we need to hold the companies responsible for these conditions? Do we as the technical team need to speak up more and say "No. I'm not doing that." when we could lose our jobs if we were to utter such a phrase? Do the artists and performers need to be more understanding when they ask for something to be done and be prepared to be told no? Who do we hold accountable? If we were to hold the companies responsible, or the artists were to be prepared to hear no, or the techies say no loudly, what would the new cost of this be, and who's new cost would it be?